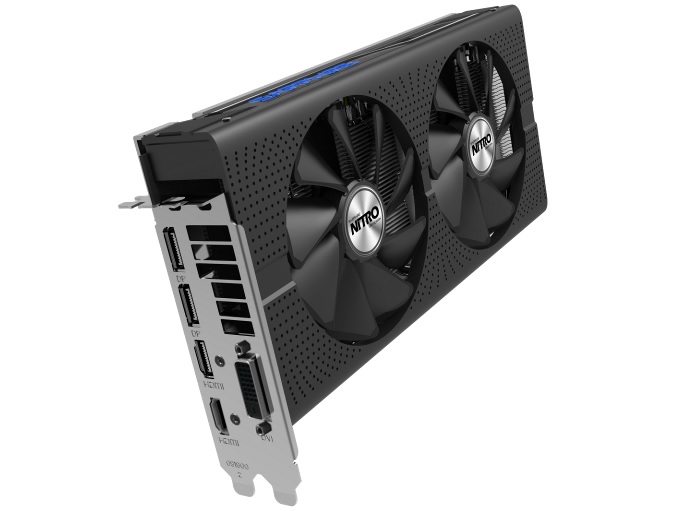 This morning SAPPHIRE is announcing their latest card in the NITRO+ family, the NITRO+ Radeon RX 480. Some key features of SAPPHIRE's new NITRO+ RX 480 cards include higher clock speeds, an improved cooler with a back plate included, and software fan health monitoring. Along with this we'll also get RGB lighting and power delivery that is improved over what we saw on the reference RX 480.
The cooler is improved from SAPPHIREs last generation with two 95mm dual-ball bearing fans. Meaning longer fan life and potentially quieter operation. In fact, SAPPHIRE isn't content simply improving the quality of their fans. They also are including a feature called "Fan Check" in their upcoming SAPPHIRE TriXX 3.0. Fan Check allows users to check the health of their fans and if an issue is detected they can contact customer support for a replacement fan. Thanks to quick swap fans the user can replace just the fan with a single screw, no more need to return a whole card for a dead fan, and no more need to disassemble a card to remove the fan. I think this sounds like a neat feature, but considering the use of dual ball bearing fans and that the fans shut off when temperatures are under 52 degrees Celsius, I won't be surprised if the number of users needing replacements is rather low.
It has occured to me that you can't throw a dart without hitting an RGB LED card anymore. Regardless it does come in handy when color coordinating a build. Along with having the usual option to control the RGB lighting through SAPPHIRE's utility, there is also a hardware controlled red button on the back of the card which will let one work through the various included modes such as fan speed or GPU temperature modes.
Radeon RX 480 Specification Comparison
SAPPHIRE NITRO+ Radeon RX 480 8GB

SAPPHIRE NITRO+ Radeon RX 480 4GB

AMD Radeon RX 480 8GB

AMD Radeon RX 480 4GB

Boost Clock
1342MHz
1306MHz
1266MHz
Memory Clock
8Gbps GDDR5
7Gbps GDDR5
8Gbps GDDR5
7Gbps GDDR5
VRAM
8GB
4GB
8GB
4GB
Launch Date
Next Week
6/29/2016
Launch Price
$269
$219
$239
$199
We will be seeing factory overclocks from both the 8GB and 4GB versions of this card. While base clocks are presumably higher they were not shared, though the boost clocks come out to 6% and about 3% over AMD's reference cards respectively. The memory clocks are right in line with the reference Radeon RX 480 8GB and 4GB cards.
For those that enjoy running on overclocked hardware the NITRO+ Radeon RX 480 includes a NITRO Boost dual bios switch that further increases the boost clock and power limit for some extra performance. To help feed overclocking endeavors the card also comes with an 8-pin power connector and a new model of their own Black Diamond Chokes which they profess drop coil temperatures by another 15%.
Amusingly, with the increasing growth in VR this generation having multiple HDMI outputs is becoming a highlighted feature all around. Following suit, we can find dual HDMI on the business end of the NITRO+ Radeon RX 480 sharing space with two DisplayPort connectors and a DVI-D port.
Finally, for pricing the SAPPHIRE NITRO+ Radeon RX 480 will be listed at $269 for the 8GB card and $219 for the 4GB model, a $30 and $20 premium over the reference models, respectively. So far the NITRO+ RX 480 appears to be a robustly built card with all the bells and whistles we're seeing this generation including RGB lighting, fan shutoff, and warranty fan replacement while they were at it. Exact release dates have not yet been revealed, but those interested in these cards will find them available from etailers next week.