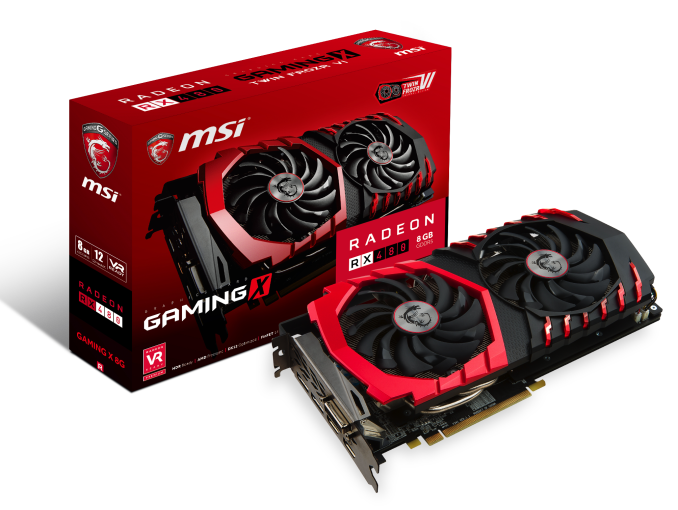 Today MSI is announcing the latest entry in the Gaming X GPU line with the Radeon RX 480 Gaming X 8G/4G cards as well as non-X variants. The main difference between the non-X and X cards is in the core and memory frequencies, with the X card having the higher performance. In return, there will be a small price difference between the two variants.
MSI Radeon RX 480 Gaming Specification Comparison
GAMING X 8G
GAMING X 4G
GAMING 8G
GAMING 4G
Core Clock

Silent
1266 MHz
Gaming
1303 MHz
1279 MHz
OC Mode
1316 MHz
1292 MHz
Memory Clock (Reg/OC)
8.0/8.1 Gbps GDDR5
8.0 Gbps GDDR5
VRAM
8 GB
4 GB
8 GB
4 GB
Launch Date
TBD Mid August 2016
Launch Price
Unknown ???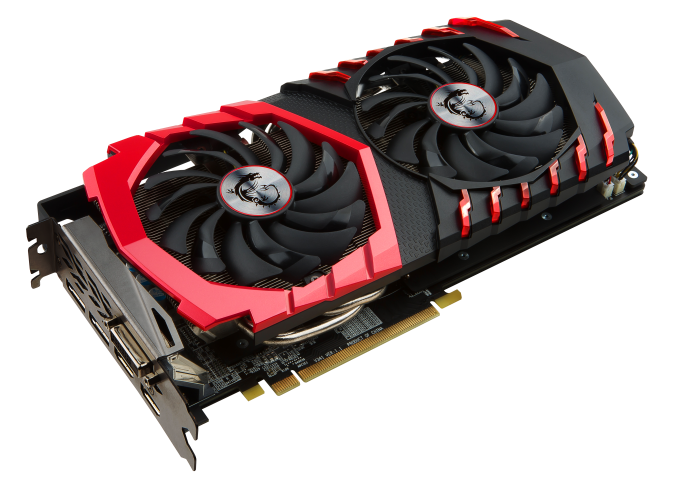 Starting with appearance, all four models shown today feature an angular, aggressive, red and black design for the cooler, which glows through the red highlights. On the side of the card is an MSI logo lit by customizable RGB lighting which is adjusted through the MSI Gaming software bundled with the card. Around back there is a full cover back plate on the Gaming X cards, and moving back around to the cooler we have two large fans over a full-length cooler and PCB. Running through the heatsink are three heat pipes at 8mm thick each. These heat pipes are squared off at the bottom and mated to a nickel-plated copper baseplate, aiming to increase contact with the GPU core and hence increase heat transfer. This cooler is toned down from that used on the highest end cards, but should still make for a very capable cooling solution.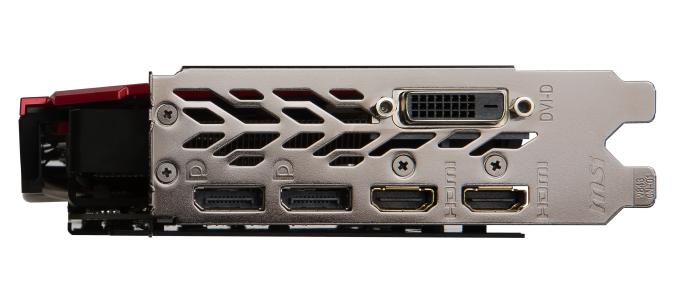 Moving from form over to function, MSI's RX 480 Gaming X cards are built from what MSI calls "Military Class 4" components, which is marketing speak for their choosing quality components to assemble this card. For power, the cards have a single 8-pin connector, and for the output we have two HDMI, two DisplayPort, and one DVI-D connection. This appears to be a very popular arrangement this generation, allowing one HDMI port for a monitor and another for a VR headset. MSI also use their TORX Fan 2.0 design which they say will generate 22% more air pressure, and like other Gaming and Gaming X cards the fans will shut off at temperatures below 60C. If true these fans coupled with the Twin Frozr VI heatsink could do an admirable job of quietly handling any heat an RX 480 can muster. For performance numbers on the Gaming X, we have a moderate clock speed gain over the reference card in OC mode, while the memory is bumped up to 8.1 Gbps in OC mode.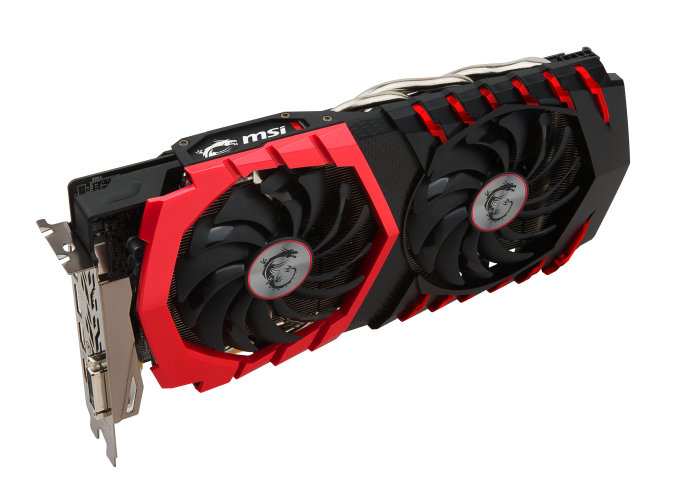 With no word on pricing, both 8GB and 4GB versions of the MSI Radeon RX 480 Gaming X are expected to be in stores worldwide around the middle of August 2016.