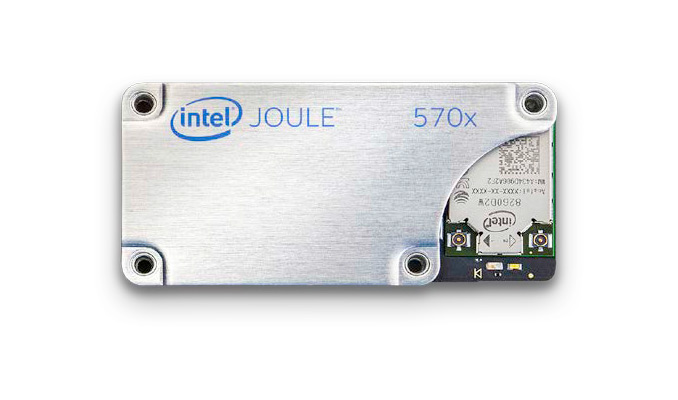 Today at Intel's annual Developer Forum, the hardware manufacturer announced the latest in their Internet of Things-focused product kits: Joule. Based around Intel's canceled-but-not-quite Broxton Atom processor, Joule is designed to further augment Intel's existing lineup of kits by offering a much higher performance part based on the latest generations of the company's technologies.
Back in 2013 Intel announced Galileo, the first of what has become a collection of IoT kits/platforms for hardware developers. Galileo and its compatriots Edison and Curie turned out to be solid hits for the company – even with competing kits already on the market – driving a big part of Intel's overall IoT growth in recent years. The System on Module boards proved popular with tinkers and product developers alike who needed small systems for everything from small prototypes to a commercial off the shelf boards.
Intel IoT Kits
Joule 570X
Joule 550X
Edison
SoC
Intel Atom "Broxton-M"
T5700
Intel Atom "Broxton-M"
T5500
Intel Atom "Tangier"
Z34xx
CPU
4x Goldmont @ 1.7GHz, Turbo to 2.4GHz
4x Goldmont @ 1.5GHz
2x Silvermont @ 500MHz
1x Quark @ 100MHz
GPU
Intel Gen9
Intel Gen9
N/A
RAM
4GB LPDDR4
3GB LPDDR4
1GB LPDDR3
Storage
16GB eMMC
8GB eMMC
4GB eMMC
Wireless
802.11ac w/MIMO + BT 4.1
802.11n + BT 4.0
I/O
UART + GPIO + I2C + MIPI CSI + MIPI DSI + USB 3.0
SD + UART + SPI + GPIO + USB 2.0 OTG
Dimentions
48 x 24 x 5 mm
35.5 x 25 x 3.9 mm
Joule then extends Intel's presence in this market by offering a higher performing part in their IoT portfolio. Whereas the previous top-tier Edison board used a combination of Atom Silvermont and Quark CPU cores and paired this up with a respectable amount of RAM, NAND, and I/O options, Joule goes much further. The SoC at the heart of the board is Intel's Broxton-M, which although was canceled for consumer devices, as we can now see will instead be making a home for itself within Intel's IoT product family.
Intel is offering two different versions of the Joule board. Both use the same SoC, but they vary in clockspeeds and memory. The more powerful of the two, Joule 570X, uses what Intel is calling a Atom T5700, which is a quad core Goldmont Atom configuration with a base clock of 1.7GHz and can turbo to 2.4GHz. This in turn is paired with 4GB of LPDDR4 memory and a 16GB eMMC NAND module for non-volatile storage. Meanwhile the Joule 550X drops the quad core Atom to 1.5GHz with no turbo, and features 3GB of LPDDR4 memory along with 8GB of NAND.
Both Joule boards also feature the same I/O connectivity. On the wireless side, this is composed of a radio supporting Bluetooth 4.1 and 802.11ac (MIMO is listed supported, so I'm wagering this is a 2 spatial stream solution). And on the wired side, USB 3.0 is supported, along with the vast collection of GPIOs, UARTs, and MIPI's camera (CSI) and display (DSI) interfaces.
The Joule module itself is said to only be a bit larger than the Edison module – which was usually measured relative to a postage stamp – and in the brief glimpse of the module we got when Brian Krzanich held it out on stage, I'd say we're looking at something not too much bigger than a stick of gum (or perhaps the old Sony memory stick). Intel hasn't released the full documentation for the kit yet, so we don't have power consumption information available, but given the higher performance goals for the kit (and the quad Goldmont CPU cores), it's a fair bet that it's going to be higher than Edison.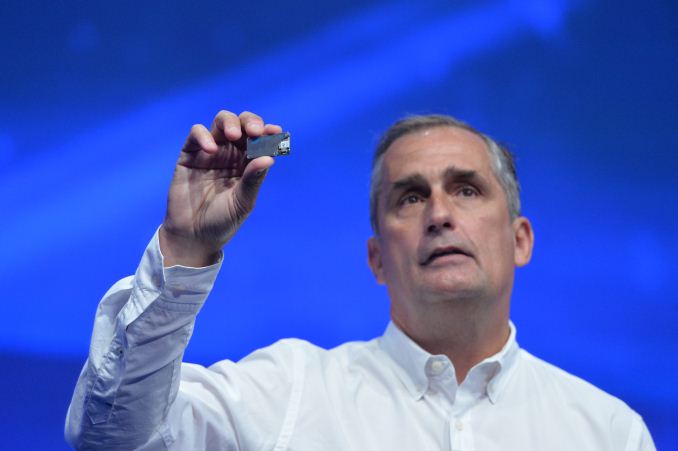 As you might expect from the specifications, Intel is aiming Joule at a higher performance class of use cases. Ultimately as a maker kit it's a bit of an "if you build it" situation – it's up to developers to figure out what to do with it – but Intel sees it as being useful for drones, AR/VR, robotics, and for the first time in one of their IoT products, computer vision. While we don't have a ton of hard details on the underlying iGPU, it is powerful enough for certain CV tasks, and it supports both 4K video capture and display. It also supports Intel's RealSense camera, giving developers the option of using the underlying depth sensing capabilities for improved vision/analysis.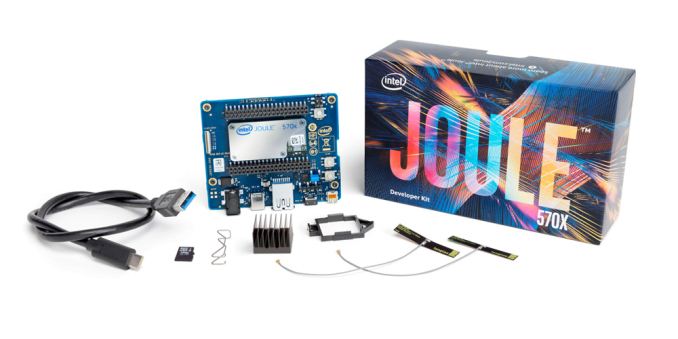 Finally, on the software side of matters, the Joule will support a few different OSes. The boards will default to a new Linux distribution specifically designed for the hardware that Intel is calling Reference Linux OS for IoT, and Cannonical's "Snappy" Ubuntu Core is also supported. Meanwhile Microsoft's Windows 10 IoT Core is also supported for developers who need Windows interoperability.
Wrapping things up, along with today's announcement, Intel has already begun selling one of the Joule SKUs, with the others to follow. The Joule 570X development kit, which includes the Joule module, carrier board, WiFi antennas, and other components is on sale today at IDF for $369, and will be available through Intel's partners next month. At that price it's fair to say that Intel is not aiming to have Joule compete with more mainstream kits – or even their own Edison kit – but rather at the more upscale kits such as the (even more expensive) NVIDIA Jetson TX1, which is a much tighter market in terms of the number of competitors.
Meanwhile the lower-end 550X development kit and the stand-alone Joule modules are scheduled for release in Q4. Pricing for those products has not yet been disclosed, though given the intent for Joule to be used in mass production devices, it'll be interesting to see what Intel prices the stand-alone modules at.
Source: Intel