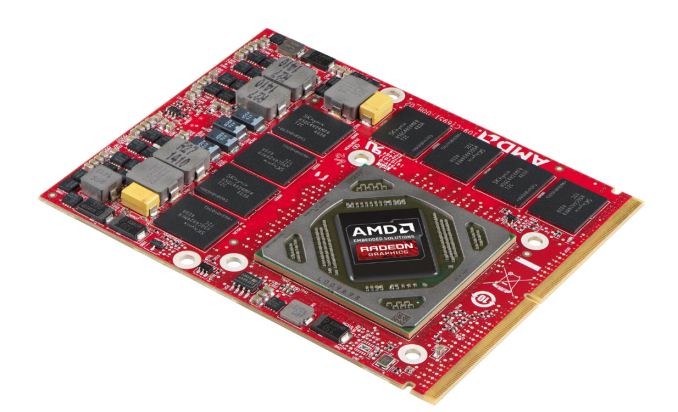 While it's AMD's consumer products that get the most fanfare with new GPU launches – and rightfully so – AMD and their Radeon brand also have a solid (if quiet) business in the discrete embedded market. Here, system designers utilize discrete video cards for commercial, all-in one products. And while the technology is much the same as on the consumer side, the use cases differ, as do the support requirements. For that reason, AMD offers a separate lineup of products just for this market under the Radeon Embedded moniker.
Now that we've seen AMD's new Polaris architecture launch in the consumer world, AMD is taking the next step by refreshing the Radeon Embedded product lineup to use these new parts. To that end, this morning AMD is announcing two new Radeon Embedded video cards: the E9260 and the E9550. Based on the Polaris 11 and Polaris 10 GPUs respectively, these parts are updating the "high performance" and "ultra-high performance" segments of AMD's embedded offerings.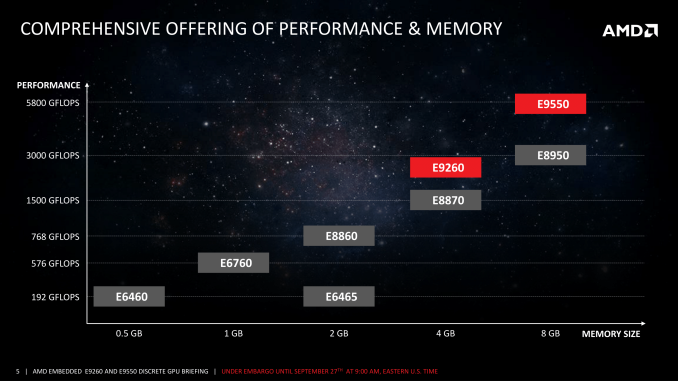 AMD Embedded Radeon Discrete Video Cards
Radeon E9550
Radeon E9260
Radeon E8950
Radeon E8870
Stream Processors
2304
896
2048
768
GPU Base Clock
1.12GHz
?
750MHz
1000MHz
GPU Boost Clock
~1.26GHz
~1.4GHz
N/A
N/A
Memory Clock
7Gbps GDDR5
7Gbps GDDR5?
6Gbps GDDR5
6Gbps GDDR5
Memory Bus Width
256-bit
128-bit
256-bit
128-bit
VRAM
8GB
4GB
8GB
4GB
Displays
6
5
6
6
TDP
Up To 95W
Up To 50W
95W
75W
GPU
Polaris 10
Polaris 11
Tonga
Bonaire
Architecture
GCN 4
GCN 4
GCN 1.2
GCN 1.1
Form Factor
MXM
MXM & PCIe
MXM
MXM & PCIe
We'll start things off with the Embedded Radeon E9550, which is the new top-performance card in AMD's embedded lineup. Based on AMD's Polaris 10 GPU, this is essentially an embedded version of the consumer Radeon RX 480, offering the same number of SPs at roughly the same clockspeed. This part supersedes the last-generation E8950, which is based on AMD's Tonga GPU, and is rated to offer around 93% better performance, thanks to the slightly wider GPU and generous clockspeed bump.
The E9550 is offered in a single design, an MXM Type-B card that's rated for 95W. These embedded-class MXM cards are typically based on AMD's mobile consumer designs, and while I don't have proper photos for comparison – AMD's supplied photos are stock photos of older products – I'm sure it's the same story here. Otherwise, the card is outfitted with 8GB of GDDR5, like the E8950 before it, and is capable of driving up to 6 displays. Finally, AMD will be offering the card for sale for 3 years, which again is par for the course here for AMD.
Following up behind the E9550 is the E9260, the next step down in the refreshed Embedded Radeon lineup. This card is based on AMD's Polaris 11 GPU, and is similar to the consumer Radeon RX 460, meaning it's not quite a fully enabled GPU. Within AMD's lineup it replaces the E8870, offering 2.5 TFLOPS of single precision floating point performance to the former's 1.5 TFLOPS. AMD doesn't list official clockspeeds for this card, but based on the throughput rating this puts its boost clock at around 1.4GHz. The card is paired with 4GB of GDDR5 on a 128-bit bus.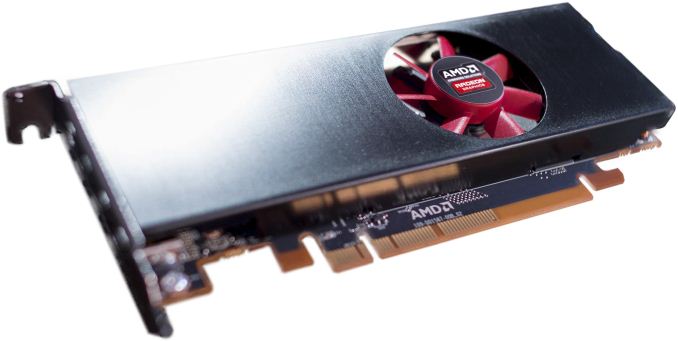 Meanwhile on the power front, the E9260 is being rated for up to 50W. Notably, this is down from the 75W designation of its predecessor, as the underlying Polaris 11 GPU aims for lower power consumption. And unlike its more powerful sibling, the E9260 is being offered in two form factors: an MXM Type-A card, and a half height half length (HHHL) PCIe card. Both cards have identical performance specifications, differing only in their form factor and display options. Both cards can support up to 5 displays, though the PCIe card only has 4 physical outputs (so you'd technically need an MST hub for the 5th). Finally, both versions of the card will be offered by AMD for 5 years, which at this point would mean through 2021.
Moving on, besides the immediate performance benefits of Polaris, AMD is also looking to leverage Polaris's updated display controller and multimedia capabilities for the embedded market. Of particular note here is support for full H.265 video encoding and decoding, something the previous generation products lacked. And display connectivity is greatly improved too, with both HDMI 2.0 support and DisplayPort 1.3/1.4 support.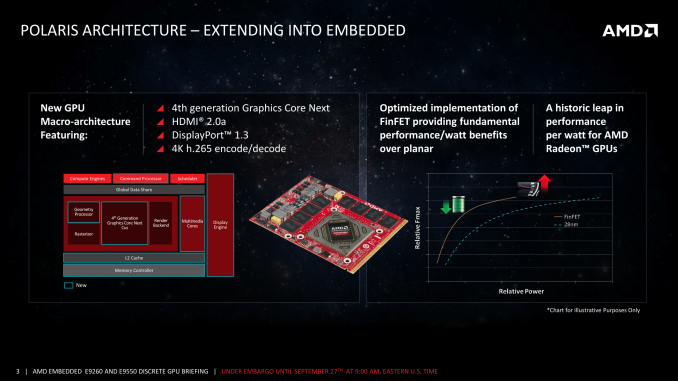 The immediate market for these cards will be the same general markets that previous generation products have been pitched at, including digital signage, casino gaming, and medical, all of whom make use of GPUs in various degrees and need parts to be available for a defined period of time. Across all of these markets AMD is especially playing up the 4K and HDR capabilities of the new cards, along of course with overall improved performance.
At the same time however, AMD's embedded group is also looking towards the future, trying to encourage customers to make better use of their GPUs for compute tasks, a market AMD considers to be in its infancy. This includes automated image analysis/diagnosis, machine learning inferencing to allow a casino machine or digital sign to react to a customer, and GPU beamforming for medical. And of course, AMD always has an eye on VR and AR, though for the embedded market in particular that's going to be more off the beaten path.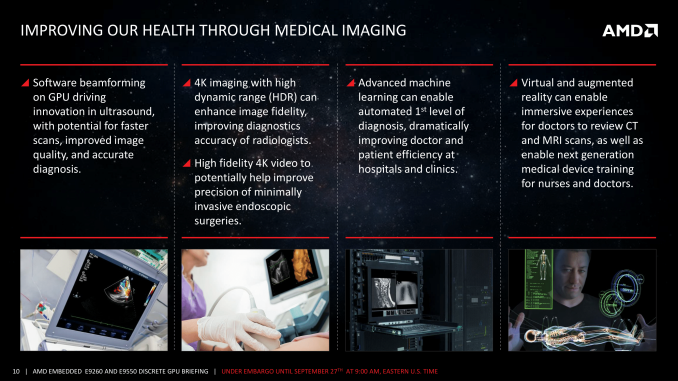 Wrapping things up, AMD tells us that the new Embedded Radeon cards will be shipping in the next quarter. The E9260 will be shipping in production in the next couple of weeks, while the E9550 will be coming towards the end of Q4.