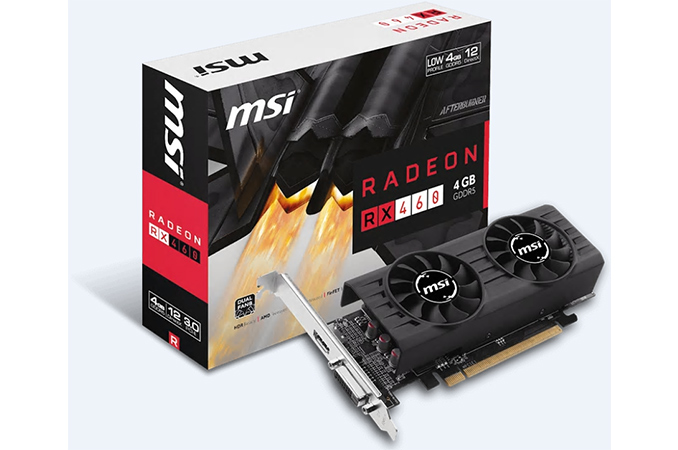 MSI has quietly added two low-profile AMD Radeon RX 460 graphics adapters to its product family. The add-in-boards (AIBs) are powered by AMD's latest entry-level GPU, Polaris 11. As these are base RX 460 models. they do not require PCIe power and are compatible with a wide range of computers that have enough space for a dual-slot card. The new adapters will be among the most affordable discrete graphics options today and will be aimed at those upgrading entry-level systems as well as building SFF HTPCs.
The MSI Radeon RX 460 4GT LP and Radeon RX 460 2GT LP are based on AMD's Baffin (Polaris 11) graphics chip (896 stream processors, 56 texture units, 16 raster operations pipelines, 128-bit memory bus) clocked at up to 1.2 GHz (base/boost) and carry 2 or 4 GB of GDDR5 memory at 7 Gbps. As for connectivity, the boards have one DL-DVI-D and one HDMI 2.0 output with HDCP 2.2 support (HDCP 2.2 is required for playback of protected UHD video). When it comes to cooling, the AIBs use dual-slot cooling systems with two fans, the same as the company installed on other low-profile graphics cards. As an added bonus, MSI states that it uses MIL-STD-810G certified components to ensure a long lifespan for its LP adapters.
Over the past couple of months, MSI and a number of other companies (GIGABYTE, GALAX) have introduced low-profile graphics adapters based on NVIDIA's GPUs - MSI is one of the first with similar LP RX 460 cards and extending its range of contemporary LP AIBs to four models. The addition of two low-profile cards to the lineup may indicate that demand for such products is relatively significant and rather stable.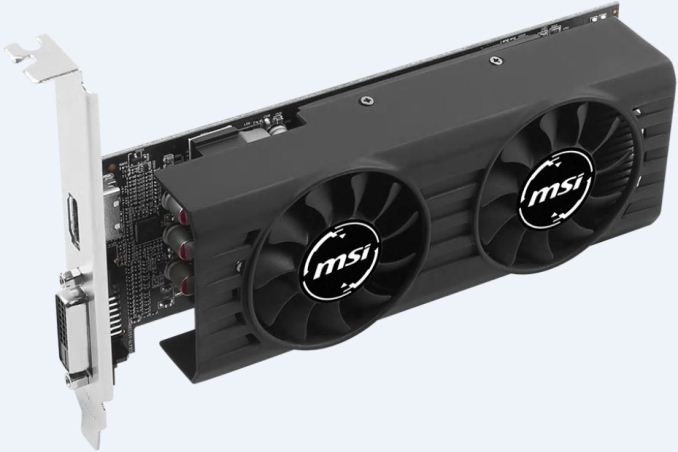 Both AMD Polaris 11 (Baffin) and NVIDIA GP107 GPUs outperform integrated graphics cores of mainstream desktop CPUs and also support modern functionality like DirectX 12 and Vulkan APIs. Furthermore, the two graphics processors support hardware-accelerated decoding and encoding of HEVC (H.265) and VP9 video at 4Kp60 as well as HDR10. Finally, the GPUs consume up to 75 W of power and do not need any auxiliary PCIe power connectors, which makes them compatible with virtually all modern PCs with a PCIe 3.0 x16 slot, including those from various large brands that sometimes do not have any spare connectors left.
MSI's Radeon RX 460 Low Profile Graphics Cards
RX 460 4GT LP
RX 460 2GT LP
GPU
AMD Polaris 11 (Baffin)
Stream Processors
896
Texture Units
56
ROPs
16
Core Clock (MHz)
1090
Boost Clock (MHz)
1200
Memory
Capacity
4 GB
2 GB
Type
GDDR5
Clock
7 Gbps
Bus Width
128 bit
Outputs
DisplayPort
0
DVI
1 × DVI-D
HDMI 2.0b
1
TFLOPS (FP32)
1.95
TDP
75 W
Launch Date
2/2017
2/2017
MSI has not announced MSRPs forthe new cards, and since the AIBs were added to the company's product family in the last week, they are no yet available at Amazon or Newegg. Given the positioning of the adapters, it is unlikely that their price will be substantially different from $109 (2 GB version) and $139 (4 GB version) recommended by AMD.
Related Reading: