Cold Test Results
For the testing of PSUs, we are using high precision electronic loads with a maximum power draw of 2700 Watts, a Rigol DS5042M 40 MHz oscilloscope, an Extech 380803 power analyzer, two high precision UNI-T UT-325 digital thermometers, an Extech HD600 SPL meter, a self-designed hotbox and various other bits and parts. For a thorough explanation of our testing methodology and more details on our equipment, please refer to our How We Test PSUs - 2014 Pipeline post.
As expected, the performance of the 650W and the 750W versions of the Onyx is very similar, with the performance curves only slightly leaning to the right of the power axis for the higher wattage model. Both units have exactly the same nominal load range (20%-100%) efficiency, which is 88%. The energy conversion efficiency is excellent for 80Plus Bronze certified units, with remarkably high efficiency readings at lower and higher loads, but the peak efficiency of the units was not high enough to warrant them a better efficiency rating.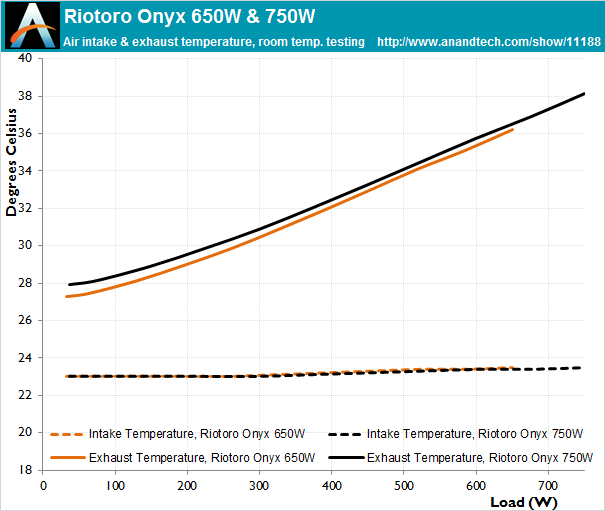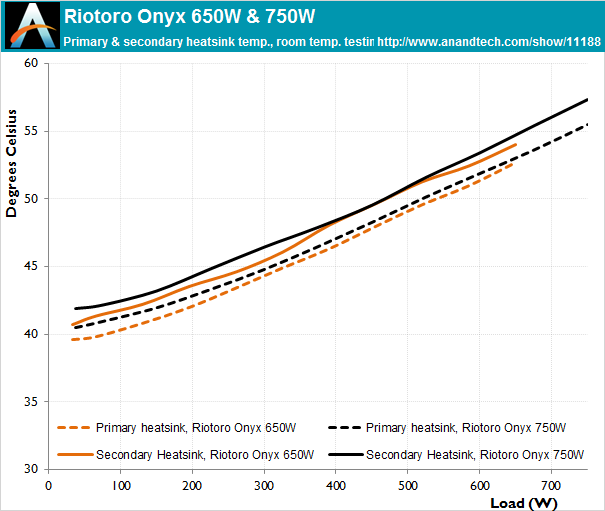 The internal operating temperatures of the Riotoro Onyx PSUs are very reasonable, considering the power output and efficiency rating of the units. Their thermal control appears to be very simplistic, with the fans adjusting their speed according to the internal temperature of the units. The fan of the 650W model displays a "ladder" behavior, increasing its speed in steps in relation to the load, where the fan's speed in the 750W model increases slightly more linearly. This is of no practical consequence to the users though as the sound pressure levels are about the same for an equal power load.