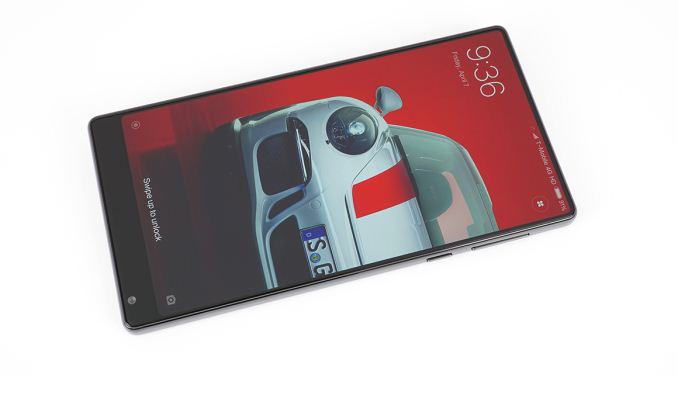 We recently saw the release of two new smartphones with dramatically improved screen-to-body ratios, the LG G6 and Samsung Galaxy S8. Before either of these phones were announced, however, Xiaomi's Mi MIX gave us a glimpse of the future. A pseudo-concept phone that's being produced in limited quantities and sold in China, it combines the latest technology with innovative design, resulting in a forward-looking phone with virtually no bezels on three sides of the screen and an amazing 91.3% screen-to-body ratio, according to Xiaomi (or roughly 84% using the chassis dimensions).
Xiaomi created the Mi MIX to show off its design prowess and demonstrate its ability to produce innovative products. Xiaomi has employed new materials (ceramic) and design elements (rounded edges on the back) in the past, but by creating something as unique as the MIX, it hopes to prove that its products are as lust worthy as those that come from Apple and Samsung.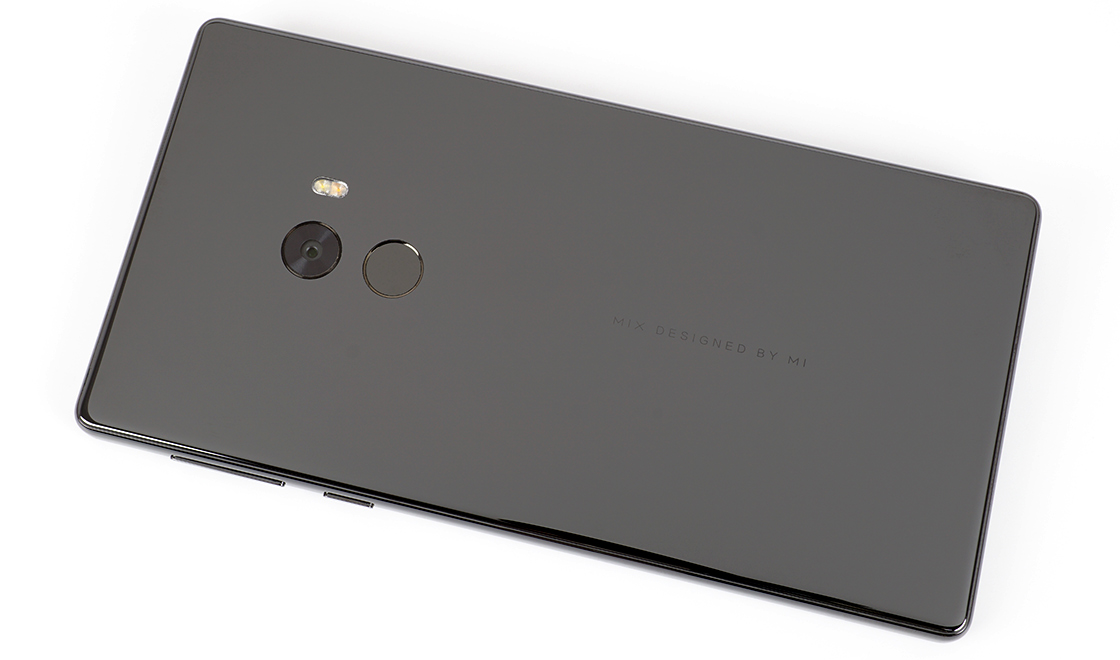 Competition among Chinese OEMs is fierce, with most of them sacrificing smartphone profit for market share. Xiaomi in particular has a reputation for creating nice-looking phones packed with high-performing hardware that are sold at lower-than-expected prices, compensating for the near-zero profit from hardware sales with recurring revenue earned through its software ecosystem. This strategy has helped fuel its rapid growth, but as the smartphone market in Asia nears saturation, it may be time to shift its focus. Xiaomi has been aggressively diversifying its product portfolio, branching out into smart home devices, UAVs, bicycles, etc., and pushing into western markets where premium phones fetch higher profit. By creating a flashy product like the MIX, Xiaomi attracts attention and improves its brand cachet, which can help it break into new markets and establish itself as a premium player that can charge more for its phones.
Encased within the shiny ceramic is a Snapdragon 821 SoC and a large 4400 mAh battery. There's also either 4GB of RAM and 128GB of internal storage for the standard MIX or 6GB of RAM and 256GB of storage for the Mi MIX 18K. Both configurations offer flagship-class performance.
In the short time I've used the MIX, the only component I've had issues with is the fingerprint sensor. It seems less tolerant of moisture than other sensors and returns a higher rate of false negatives. It's certainly usable, but I often found it required two or three tries to unlock the phone.
Xiaomi Mi MIX
SoC
Qualcomm Snapdragon 821
(MSM8996 Pro)

2x Kryo @ 2.35GHz
2x Kryo @ 2.19GHz
Adreno 530 @ 653MHz
Display
6.4-inch 2040x1080 IPS LCD
Dimensions
158.8 x 81.9 x 7.9 mm
209 grams
RAM
4GB / 6GB LPDDR4
NAND
128GB / 256GB (UFS 2.0)
Battery
4400 mAh (16.94 Wh)
non-replaceable
Qualcomm Quick Charge 3.0
Front Camera
5MP, 1/5" OmniVision OV5675 PureCel, 1.12µm pixels, f/2.2
Rear Camera
16MP, 1/3.06" OmniVision OV16880 PureCel Plus-S, 1.0µm pixels, f/2.0, PDAF, Auto HDR, dual-tone LED flash
Modem
Qualcomm X12 LTE (Integrated)
2G / 3G / 4G LTE (Category 13/12)
SIM Size
2x NanoSIM (dual standby)
Network
China
FDD-LTE
B1 / B2 / B3 / B4 / B5 / B7 / B8
TDD-LTE
B38 / B39 / B40 / B41
GSM
850 / 900 / 1800 / 1900
WCDMA
B1 / B2 / B5 / B8
CDMA
BC0
TD-CDMA
B34 / B39
Wireless
802.11a/b/g/n/ac 2x2 MU-MIMO, BT 4.2, NFC, GPS/GNSS/Beidou
Connectivity
USB Type-C, 3.5mm headset
Launch OS
Android 6.0 with MIUI 8
Launch Price
4GB/128GB: ¥3499
6GB/256GB: ¥3999
The MIX's 6.4-inch IPS LCD display has a 17:9 aspect ratio, which Xiaomi divides into a traditional 16:9 viewable area with a dedicated space at the bottom of the screen for the onscreen controls. Not only does this eliminate the need for capacitive buttons in the lower bezel—keeping it as slim as possible—but it avoids UI scaling issues for apps targeting 16:9 screens.
Our review unit uses a Sharp fte716 IPS LCD panel that appears to use IGZO (indium gallium zinc oxide) thin-film transistors (TFTs) in the backplane. IGZO transistors have several advantages over the amorphous silicon (aSi) or low-temperature polysilicon (LTPS) varieties.
Every liquid crystal (LC) requires circuitry, including a transistor and a capacitor, to control its operation. These components can block some of the light transmission from the backlight, however, reducing the display's power efficiency. The more light that passes through the backplane, the less power the backlight needs to consume to reach a given brightness.
Most IPS LCD panels use aSi TFTs. These are not naturally transparent, although, they can be made thin enough to allow at least some light to pass through them. IGZO TFTs, however, are fully transparent, which improves power efficiency by allowing more light to pass through.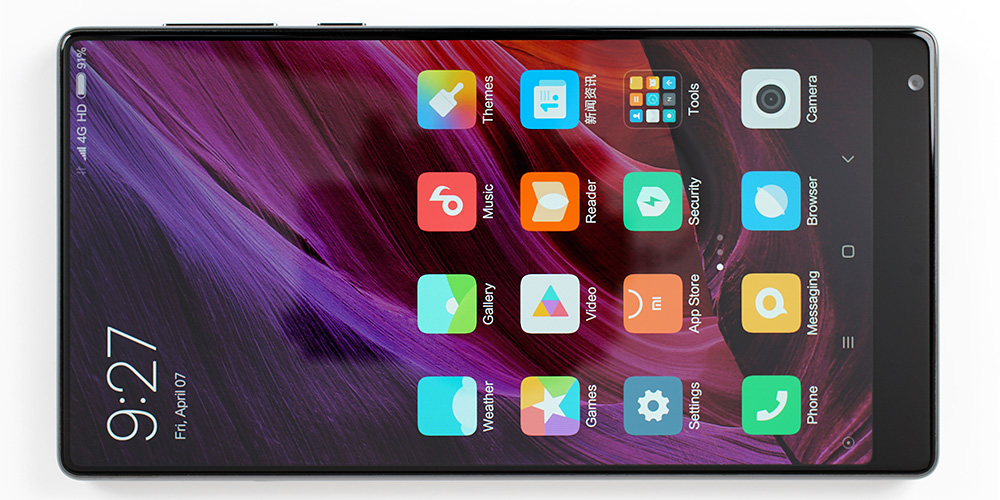 IGZO's electron mobility is also significantly higher than aSi and almost as good as LTPS, which allows smaller transistors to carry the same current. The MIX's panel uses the smaller TFTs to increase the aperture ratio (the ratio of a pixel's transparent and opaque areas), which further improves efficiency by allowing more light to pass through.
Most LCD displays need to continually refresh the screen, even when displaying a static image, because high leakage current in aSi and LTPS TFTs causes the capacitors in the pixels to discharge. Continuously driving the pixels in this manner increases power consumption, not just within the panel itself, but also by forcing the SoC to continuously push the contents of the frame buffer over the memory bus. To help mitigate this issue, some panels support panel self-refresh (PSR), which embeds a small amount of RAM in the panel itself to hold a local copy of the frame buffer. When displaying a static image (which is most of the time when not playing a game or watching a video), the panel can use its local copy to refresh the screen, reducing the power the SoC and busses would normally consume.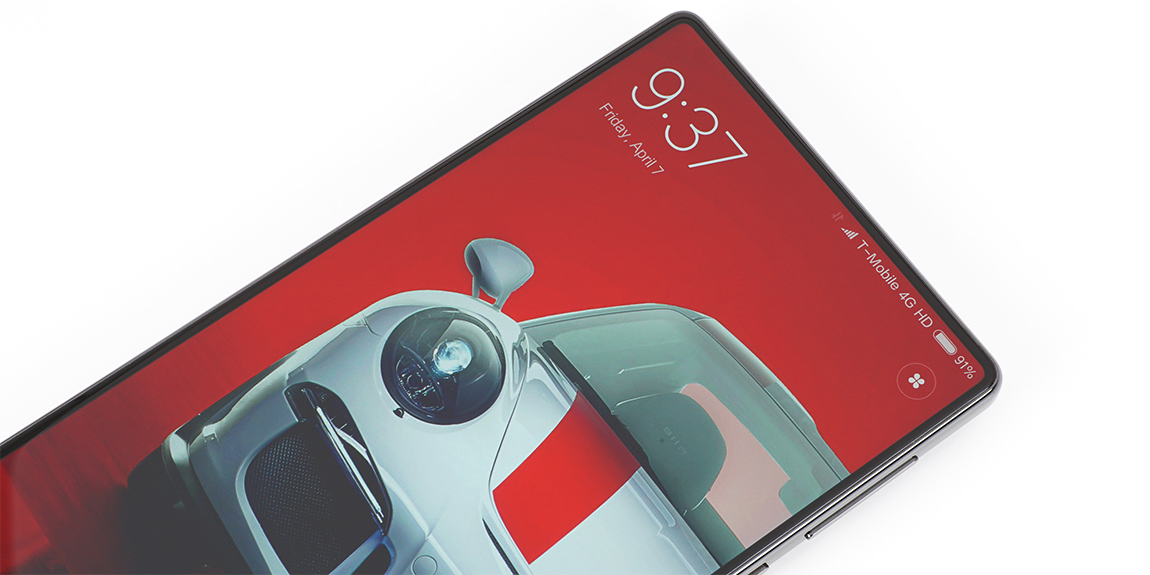 The Mi MIX's panel does not support panel self-refresh, which would normally be a serious omission for a flagship phone; however, IGZO TFTs have significantly less leakage current than aSi and LTPS, allowing their pixels to discharge more slowly and retain their image state longer. A technology called idling-stop driving (IDS) takes advantage of this by significantly reducing the refresh rate of the screen when displaying static content, essentially achieving a similar power advantage as a display with PSR.
IGZO's benefits not only reduce a display's power consumption, but they are directly responsible for the Mi MIX's most eye-catching feature: its edge-to-edge display. IGZO allowed Sharp to integrate the supporting circuitry that normally surrounds the active area of the screen into the panel itself, allowing Xiaomi to nearly eliminate the bezel on three sides.
The Mi MIX is a stunning looking phone whose nearly edge-to-edge display and shiny ceramic body make it stand out as something special. Xiaomi's use of ultrasonic and piezoelectric technology streamlines the front by hiding two components—proximity sensor and earpiece speaker—behind the screen, fueling the illusion that you're holding nothing but a 6.4-inch display. As the phone's centerpiece, display performance is critical for the Mi MIX, and our analysis on the next page shows that it looks as good as the rest of the phone.