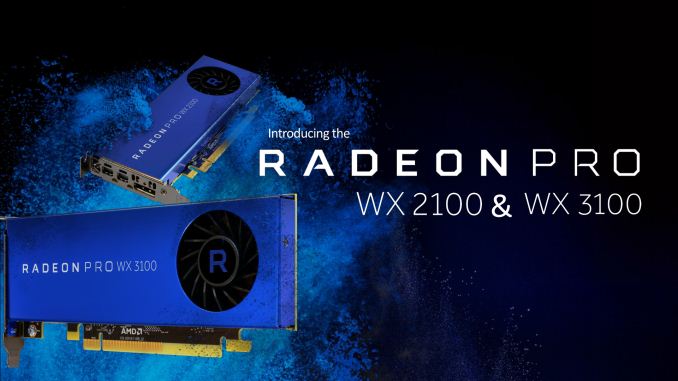 A couple of months back AMD announced their third (and presumably final) Polaris GPU, the diminutive Polaris 12. Designing for early-level video cards and laptops, in the consumer space it's the heart of the Radeon RX 550. Now AMD is now bringing their smallest 14nm GPU to the professionals with the announcement of the Radeon Pro WX 3100 and WX 2100.
The latest Radeon Pro WX cards serve to finish fleshing out the professional lineup, replacing the old Oland-based FirePro W2100. Like its predecessor the new cards are primed for the entry-level market, getting desktop users access to AMD's pro driver set and certification for a minimal cost, but with performance to match.
AMD Workstation Video Card Specification Comparison
WX 4100
WX 3100
WX 2100
W2100
Stream Processors
1024
512
512
320
ROPs
16
16
16
8
Boost Clock
1201MHz
~1220MHz
~1220MHz
630MHz
Memory Clock
6Gbps
6Gbps
6Gbps
1.8Gbps
Memory Bus Width
128-bit
128-bit
64-bit
128-bit
VRAM
4GB GDDR5
4GB GDDR5
2GB GDDR5
2GB DDR3
TDP
50W
50W
35W
26W
Display Outputs
4
3
3
2
GPU
Polaris 11
Polaris 12
Polaris 12
Oland
Architecture
Polaris
Polaris
Polaris
GCN 1.0
Manufacturing Process
GloFo 14nm
GloFo 14nm
GloFo 14nm
TSMC 28nm
Launch Date
Q4 2016
06/2017
06/2017
08/2014
Launch Price (MSRP)
$299
$199
$149
N/A
Both cards are based on the same Polaris 12 GPU. In fact the only difference between them in terms of specifications is the amount of memory bandwidth and the cards' TDP. Otherwise the two cards are almost identical.
By the numbers then, the Radeon Pro WX 3100 is a "full fat" Polaris 12 card. So all 8 CUs are enabled, as is the 128-bit GDDR5 memory bus. AMD pegs the performance of the card at 1.25 TFLOPS, which works out to a GPU boost clock of about 1220MHz. The card is paired with 4GB of GDDR5 memory, clocked at 6Gbps, for a total memory bandwidth of 96GB/sec.
Comparatively speaking then, the Radeon Pro WX 2100 retains the same core GPU configuration of 8 CUs and a 1220MHz boost clock, but it drops half of the memory bus. The end result is the same theoretical compute/texturing/geometry performance, but only 2GB of GDDR5 and a resulting 48GB/sec of memory bandwidth to do it with.
Otherwise, as you'd expect for entry-level cards, the power consumption of both cards is rather low. The WX 3100 peaks at 50W, and the WX 2100 is even lower, at just 35W. I do have some doubts that AMD could shave 15W just by taking away 2GB of memory, so it may be that the WX 2100 is a bit more prone to throttling.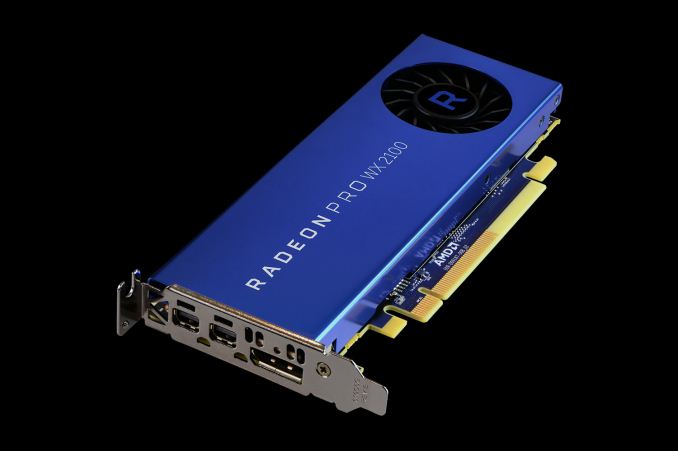 In any case, the low TDP means that both cards are being offered in the same single slot low-profile design. Though notably, these aren't AMD's only low-profile cards, as the more powerful WX 4100 is also a low-profile configuration.
What this low-profile layout affords the user in terms of display outputs then is quite interesting. Like their other pro cards AMD has gone for an all DisplayPort configuration, but rather than using a single port type, AMD is using a mix of full-size and mini DisplayPorts. As a result both cards offer 2x mini DisplayPort 1.4, and another full-size DisplayPort 1.4. Going with a pure DisplayPort configuration is what we'd expect to see, as it allows AMD to drive home the fact that the card can potentially drive up to three 8k monitors. Otherwise the odd mix of ports appears to be due to the fact that the Polaris 12 GPU can only supply 3 display headers (though it has 5 display controllers internally, should you ever use MST).
AMD's target market for these cards then is very much the entry-level market, where users need access to the Radeon WX driver and support stack, but not large amounts of performance. So less oil & gas, and more simple media and CAD. These new cards will be going up against NVIDIA's existing Quadro P400 and P600 cards for the low-end of the market.
Wrapping things up, the WX 3100 and WX 2100 should be available from AMD's usual distributors later this month. The WX 3100 will run for $199, while the WX 2100 will go for $149.
Source: AMD