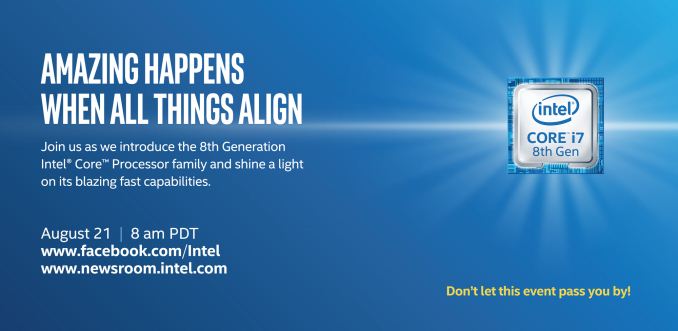 Today Intel has revealed that the company will be announcing their 8th generation Core processors and associated architecture on August 21st. This announcement of an announcement comes as the company is in the middle of launching the rest of the Core i9 Skylake-X processors, with the announcement essentially set to fill out the rest of the year for the company's CPU product portfolio.
Intel has in recent times settled into a fairly consistent and roughly yearly release cadence for the Core processor family. Other than Broadwell's delay, Intel has typically launched a new processor in the summer/fall timeframe for the past half-decade. And as early as an investor meeting in February, the company revealed that we should expect the 8th generation processors in the second half of this year.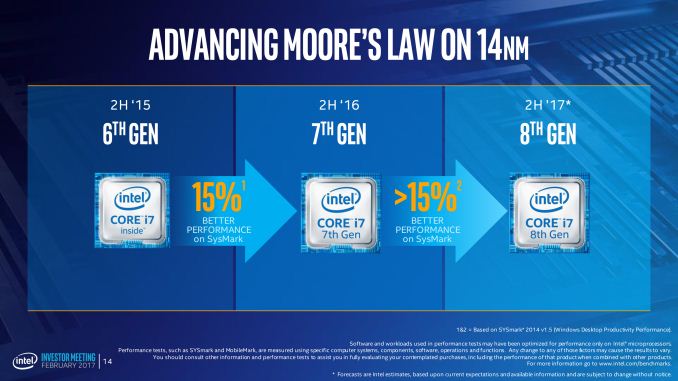 Officially, Intel has not published any Core architecture roadmaps in some time, but what is widely expected to be revealed on the 21st is Intel's Coffee Lake processors. Coffee Lake is a further evolution of Skylake and Kaby Lake, and like its predecessors, the company has already been confirmed that these 8th generation processors will also be made on their 14nm process. Meanwhile back at Computex Intel was talking up a sizable 30% performance gain in SYSmark, though based on Intel's associated demonstration it looks like that claim is primarily about laptops. Otherwise, what little we know of Coffee Lake is that it will require a new chipset, and desktop processors will not work in existing 200-series motherboards.
The big question, besides official specifications, will be around what launches when. Whether Intel will lead with mobile, lead with desktop, or even launch both at the same time. Intel has traditionally led with mobile, and as a recently as 7th generation Core (Kaby Lake) that was still the case. On the other hand (and rumors aside), the fact that we've already seen motherboard manufacturers accidentally confirm information about desktop processors solidly points to desktop parts sooner than later, an interesting turn of events given the still-ongoing Skylake-X launch.
Otherwise, this launch may give us a hint of what to expect for the structure of future Intel processor launches. An announcement like this would normally be made at IDF, which would have taken place the week of August 14th had Intel not discontinued it this year. Intel is plenty capable of launching products outside of IDF (see: Skylake-X and Kaby Lake-X), but the loss of IDF changes things significantly. On the one hand, they're no longer under the gun to present something big to the amassed press, investors, and developers. On the other hand, they don't have those same masses conveniently gathered in one location. So it will be interesting to see how Intel handles this launch now that it's a lower-key event.
Finally, given this timing, it remains to be seen how Intel will work their forthcoming first generation 10nm Cannonlake parts into the rotation. Cannonlake was originally expected this year, though it's anything but clear if that's still going to happen. However even an early 2018 launch would come only a handful of months after Coffee Lake, and with initial 10nm yields pushing a practical need to start on small die products (e.g. U/Y processors), it'll be interesting to see how Intel structures their product lineup for these back-to-back transitions.
Source: Intel