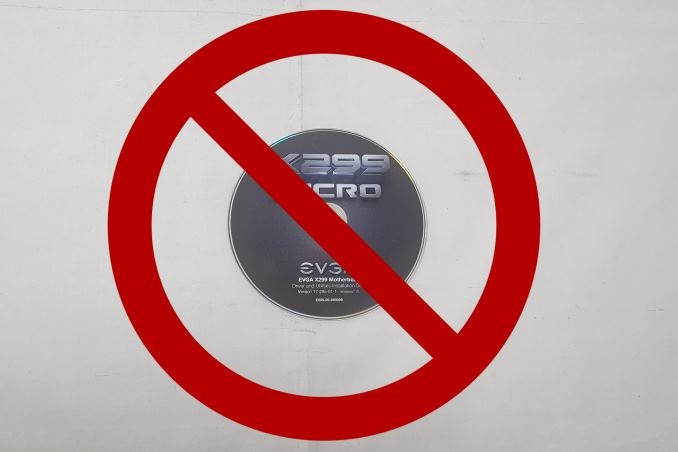 Driver disks of some sort have been part of a PC enthusiast's life as far back as I can remember. Before Windows included drivers, they all came from media included with the motherboard. I first recall them on floppies then once optical media took hold, moved to CDs. As the number of drivers and included software increased in both quantity and size, it outgrew the capacity of CDs and board partners moved to DVDs offering more capacity and faster read speeds. For example, a board partner's driver disk from a Z370 based board weighs in at 6.57GB on the disk, far eclipsing the capacity of a CD (~700MB) and that of a single-sided DVD (4.7 GB).
To that end, yesterday on Twitter, EVGA's Global Product Management Director Jacob Freeman announced that in the future, EVGA motherboards will not come with driver disks, but USB Flash which contains all the needed drivers and software. This includes H370 based boards now and others moving forward. Instead of a DVD we are used to seeing, EVGA will include a small 8GB USB flash drive with the EVGA logo printed on it instead. While this isn't a first (a high-end Asus board in the past included one), it certainly is welcome, if only for the quick installation from USB versus CD/DVD installs. The drive is also re-writeable so it can be used for other purposes as well.
Overall, it is good to see EVGA embrace what we feel is the modern, and faster, medium for base driver and software installations, and hope other board partners follow suit. I do wonder a bit about the cost, but even if it adds $1 more, it is worth it (to me). No more whirring from the optical drive to install drivers with H370 and future EVGA motherboards. It's about time!
Editor's Note: EVGA has confirmed the drive is USB 2.0 based and costs about twenty times more than an optical disk would. Thankfully, EVGA says that significant cost increase will not trickle down to the consumer, which we all appreciate.
I highly doubt that other manufactures will switch to USB drives anytime soon considering the cost is about 20x that of a DVD. Even for a small 8GB USB 2.0 one, but it's about time someone sets the standard for 2018 🙂 https://t.co/5L1N4trO8q

— Jacob Freeman (@EVGA_JacobF) May 18, 2018
Related Reading: