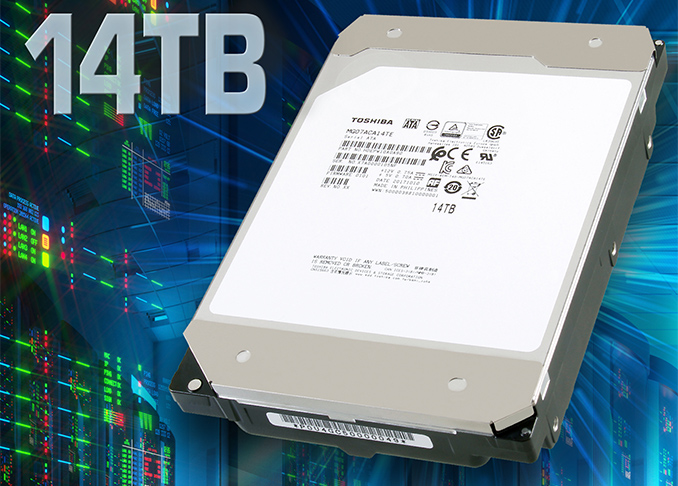 Toshiba was the first maker of hard drives to announce a PMR-based 14 TB HDD last December and apparently it is the first company to start their commercial shipments. As of this week, Supermicro has qualified Toshiba's MG07-series HDDs with 12 TB and 14 TB capacities for use on select storage server platforms and is now offering the appropriate systems to customers. In addition to servers, the drives will be available from Supermicro's online store eventually.
Toshiba'a MG07 enterprise-grade helium-filled HDDs featuring 14 TB and 12 TB capacities rely on nine and eight PMR platters respectively from Showa Denko, with ~1.56 TB capacity per platter. The drives feature a 7200 RPM spindle speed, a 256 MB cache buffer, and a SATA 6 Gbps interface, which is in line with other HDDs for nearline storage applications. Power consumption of Toshiba's 14 TB hard drive does not exceed 7.6 W, so it is drop-in compatible with virtually all backplanes and servers, but makers of such equipment still need to qualify the drives with their products to ensure their fine operation. Just like other enterprise-grade HDDs, Toshiba's 12 TB and 14 TB offerings feature enhancements to improve their durability and reliability, including top and bottom attached motors, RVFF, environmental sensor, and so on.
Supermicro has qualified Toshiba's MG07-series drives with a number of its SuperStorage (SSG) systems, including its top-of-the-range SSG-6049P-E1CR45H/SSG-6049P-E1CR45L 4U machines based on two Intel Xeon Scalable processors with up to 56 cores in total and supporting up to 45 hot-swap 3.5-inch HDDs and up to six NVMe SSDs (connected to PCIe lanes). When fully populated with Toshiba's 14 TB hard drives, such servers can store 630 TB of data on HDDs and terabytes more on flash drives. Customers interested in maximum HDD storage density can now order SuperStorage machines equipped with Toshiba's 14 TB HDDs from Supermicro.
Brief Specifications of Toshiba's MG07ACA HDDs
Capacity
14 TB
12 TB
P/N
4K Native
MG07ACA14TA
MG07ACA12TA
512e
MG07ACA14TE
MG07ACA12TE
Platters
9
8
Heads
18
16
Recording Technology
Perpendicular Magnetic Recording (PMR) / Conventional
RPM
7200 RPM
Interface
SATA 6 Gbps
DRAM Cache
256 MB
Persistent Write Cache
Yes
Helium-Filling
Yes
Sequential Data Transfer Rate (host to/from drive)
260 MB/s
~250 MB/s
MTBF
2.5 million
Rated Annual Workload
550 TB
Acoustics (Seek)
unknown
Power Consumption
Random read/write
7.6 W
? W
Idle
4.6 W
? W
Warranty
5 Years
Toshiba's MG07-series hard drives are rated for 550 TB average annualized workloads, 2.5 million hours MTBF, and are covered with a five-year warranty. With this level of reliability, it is not surprising that the drives are rather expensive. German retailer sysGen.de charges €619 w/VAT ($725) for a 14 TB version and at press time was the only company in the world to offer this HDD (this does not mean it has the drives in stock). Meanwhile, per-drive prices from Supermicro will depend on volumes and other factors.
Related Reading
Source: Toshiba