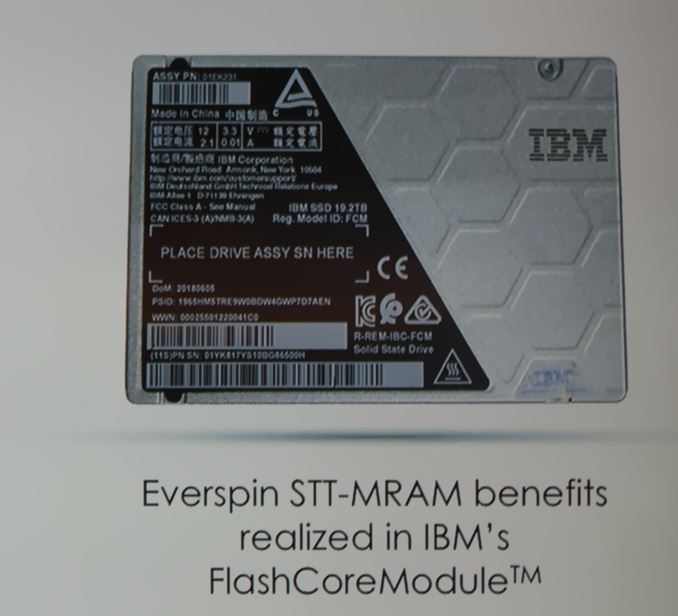 A new generation of IBM's FlashSystem storage appliances will be adopting a new architecture with magnetoresistive RAM (MRAM) write caches instead of capacitor-backed DRAM. MRAM is one of the fastest and highest-endurance nonvolatile memory technologies currently available, but it has severely limited density compared to NAND flash memory or Intel's 3D XPoint memory. Until recently, most applications of MRAM were in embedded systems where MRAM could replace small flash chips or battery-backed DRAM and SRAM buffers.
Everspin, the only current supplier of discrete MRAM chips, has been pushing capacities higher with their currently available 256Mb chips and 1Gb chips that will be sampling by the end of this year. This is being enabled by their migration from in-house manufacturing on wafers fabbed at Freescale to a partnership with GlobalFoundries to make MRAM on their 22nm FD-SOI process. These capacity increases have made MRAM more attractive for use in systems that deal with a high volume of data, even though they are still far too small to be used as primary storage.
IBM's existing FlashSystem appliances have used custom form factor SSDs and a system-wide power loss protection design, along with FPGA-based controllers. The new system switches to a standard 2.5" U.2 drive form factor, which requires implementing power loss protection at a per-drive level. IBM found it impractical to include enough supercaps to keep the FPGA controller running long enough to flush their DRAM write caches, but the inherent nonvolatility of MRAM eliminates the need for any bulky supercaps.
The new SSDs for IBM's FlashSystem have a usable storage capacity of up to 19.2TB of 64L 3D TLC NAND flash memory, making them some of the highest-density TLC-based drives. The drives use a 20-channel NAND interface and a four-lane PCIe 4.0 host interface that can operate in dual-port 2+2 mode. IBM's controller also provides optional transparent compression with a typical 3:1 compression ratio, and FIPS 140 compliant encryption. The new FlashSystem drives will be on display this week at Flash Memory Summit and will be shipping to customers this month.