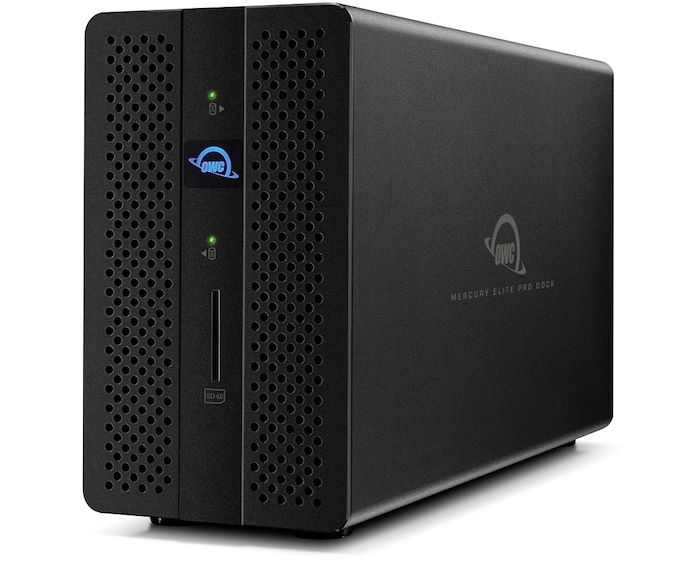 OWC has started sales of its new DAS device that can also serve as a Thunderbolt 3 dock. The Mercury Elite Pro Dock is aimed at creative professionals with the latest Thunderbolt 3-enabled laptops that require a significant amount of storage capacity along with a set of traditional interfaces, including USB 3.0 Type-A, DisplayPort, GbE, and an SD card reader.
OWC is a well-known name in the Mac world as for years the company made accessories and upgrades for Apple's computers. Since modern MacBooks cannot be upgraded, the company had to refocus to docks and now moves forward with its Mercury Elite Pro Dock that also serves as a DAS.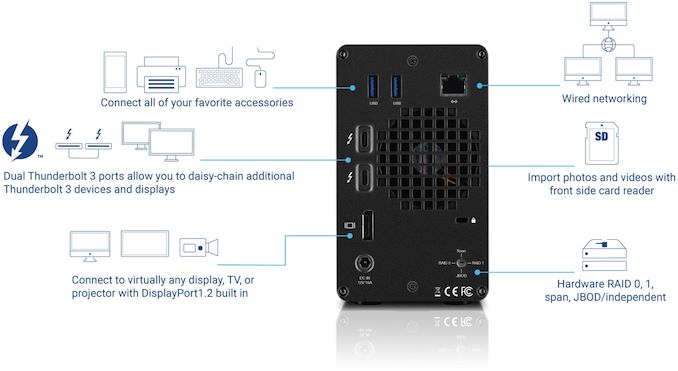 The OWC Mercury Elite Pro Dock is based on Intel's JHL6540 controller and can be daisy chained with other Thunderbolt 3 devices. On the DAS side of matters, the OWC Elite Pro Dock can pack two 2.5/3.5-inch hard drives and supports RAID0, RAID 1, JBOD, and Span modes to maximize reliability (by mirroring them), double their sequential read/write speeds all the way to ~530 MB/s in case of two 14 TB HDDs (by striping them), or just use them as two separate hard drives or one big drive. RAID is enabled by an ASMedia controller and its mode can be manually switched using a special switch on the back.
OWC plans to offer its Mercury Elite Pro Dock in multiple versions to hit different price and capacity points. All the SKUs will come with two hard drives and offer a 4 TB, 6 TB, 8 TB, 12 TB, 16 TB, 20 TB, 24 TB, and 28 TB capacity.
On the dock side of things, the devices has a GbE port (Intel I210), two USB 3.1 Gen 1 Type-A connectors (Fresco Logic FL1100EX), a DisplayPort 1.2 output, and an SD Card reader (Genesis Logic GL-3227). The OWC Elite Pro Dock can output up to 120 W of power and therefore can power a laptop as well as charge USB devices at the same time.
The OWC Mercury Elite Pro Dock
General Specifications
Number of Bays
2 bays for 2.5" or 3.5" HDDs
HDD Interface
SATA 6 Gbps
HDDs Used
Seagate or Toshiba HDDs
Capacities
Up to 28 TB
RAID
0/1/JBOD/Span
RAID0
Up to ~530 MB/s (depends on HDD)
RAID1
depends on HDD
Thunderbolt 3 Controller
Intel JHL6540
RAID Controller
ASMedia controller
GbE Controller
Intel I210
USB 3.0 Controller
Fresco Logic FL1100EX
Media Card Reader Controller
Genesis Logic GL-3227
Ports
2 × Thunderbolt 3
2 × USB 3.0 Type-A
1 × DisplayPort 1.2
1 × SD card reader
1 × GbE
Power Input
100-240V, 50-60Hz
Power Output
+12V, 10A
Dimensions
Height: 5.8 inches | 147 mm
Length: 9.4 inches | 238 mm
Width: 3.3 inches | 85 mm
Cables Included
?
Software
OWC Dock Ejector
Price (MSRP)
$320 for DIY kit
$520-$1400 for Drives Included
OWC's Mercury Elite Pro Dock can be acquired as a DIY kit without any hard drives inside for $319.99 or as a ready-to-go product with two HDDs in RAID 0 inside. The cheapest 4 TB version costs $519.99, whereas the highest-end 28 TB model is priced at $1,399.99. Interestingly, but OWC does not commit to a particular hard drive model or even a manufacturer and ships its device with either Seagate or Toshiba HDDs inside.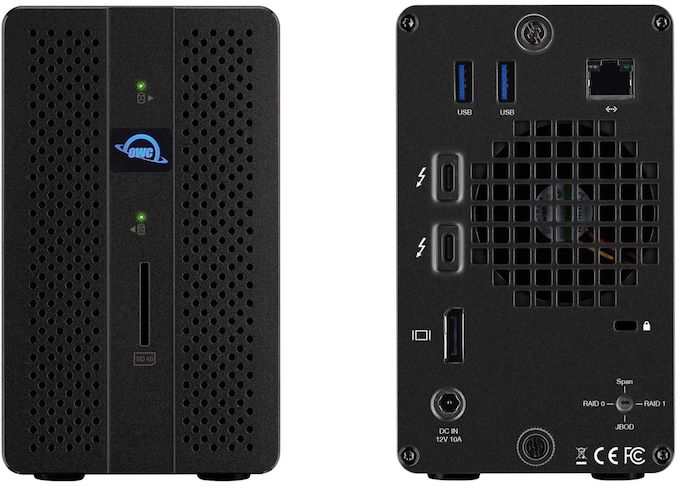 Related Reading
Source: OWC