Conclusion & First Impressions
The new Snapdragon 888 is overall a very impressive package from Qualcomm, advancing the most important areas for which today's smartphones are being used. 5G connectivity was the big new feature of 2020 SoCs and smartphones, and the new 888 platform represents the evolution and maturing of the new technologies that had been introduced in prior generations.
The big focus point of the Snapdragon 888 were clearly AI and cameras. The new Hexagon 780 IP block looks immensely impressive and to me seems like a major competitive advantage of the new SoC design – other vendors which aren't as vertically integrated with their accelerator IPs will have to respond to Qualcomm's new advancements as it seems like a major performance advantage that will be hard to mimic.
Today's flagship smartphones have diminished ways of differentiating themselves from one another, with the cameras still being the one aspect where vendors still have very different approaches to their designs. Qualcomm's push for a triple-ISP system in the Snapdragon 888 pushes the upper limits of what vendors will be able to do on their smartphones, allowing for a continued push for the smartphone camera ecosystem. Even for still-picture camera experiences, it seems that Qualcomm is expecting a more notable technology jump in 2021 as we see the introduction of new sensors and imaging techniques, enabled by the new SoC.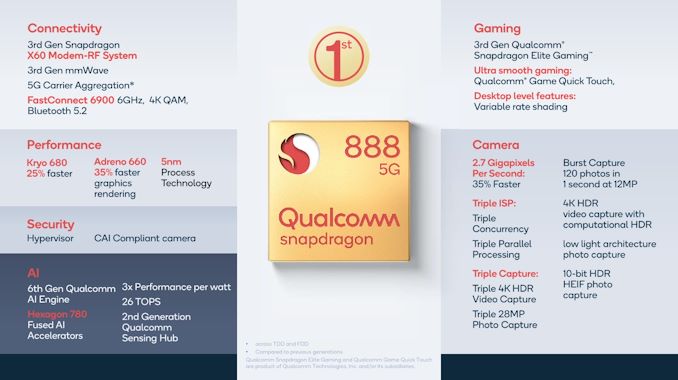 The new CPU configuration gives the new SoC a good uplift in performance, although it's admittedly less of a jump than I had hoped for this generation of Cortex-X1 designs, and I do think Qualcomm won't be able to retain the performance crown for this generation of Android-SoCs, with the performance gap against Apple's SoCs also narrowing less than we had hoped for.
On the GPU side, the new 35% performance uplift is extremely impressive. If Qualcomm is really able to maintain similar power figures this generation, it should allow the Snapdragon 888 to retake the performance crown in mobile, and actually retain it for the majority of 2021.
The new Snapdragon 888 to me looks like a continuation of Qualcomm's excellent execution over the last few years. Striking a balance between performance, power efficiency, and features is something that may be harder than it sounds, and Qualcomm's engineering teams here seem to be focused on being able to deliver the overall best package.
Much like the Snapdragon 865, and the last couple of generations of Snapdragon SoCs before it, I expect the new Snapdragon 888 to be an excellent foundation for 2021's flagship devices, and I'm looking forward to experience the new generation.
Related Reading: