Last week I migrated both of my primary work computers, my desktop and my notebook, to SandForce based SSDs. My desktop now uses an OCZ Vertex 2 based on the SandForce SF-1200 with OCZ's special sauce firmware. My notebook uses Corsair's Force F100, also based on the SF-1200 but offering equal performance to the Vertex 2.
Clearly 100GB isn't enough space for everything I have, so on my desktop I have a pair of 1TB drives in RAID-1. This is where I store all of my pictures, music and some of my movies. Automatic backups happen to a separate 2TB networked drive.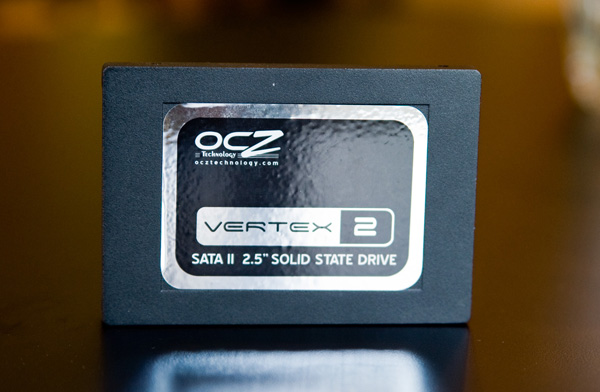 I've got a separate file server that feeds the rest of my home and office with a 3TB RAID-5 array. The last part is really to feed my HTPC and hold all of my benchmarking applications, images and lab files, it's not necessary otherwise.
My desktop and notebook drives basically house an OS, applications, emails, PDFs, spreadsheets and tons of text files. In other words - highly compressible data.
This is exactly the sort of usage model SandForce was planning on when it designed its DuraWrite technology. If the majority of the data you store can somehow be represented by fewer bits you can solve a lot of the inherent problems with building a high performance SSD.
The SF-1200 and 1500 controllers do just that. The controllers and their associated firmware do whatever it takes to simply write less. In systems like my desktop or notebook, this is very simple. Writing less means the NAND lasts longer, it means that performance remains high for longer and with TRIM you can actually maintain that very high level of performance almost indefinitely.
SandForce's technology is entirely transparent to the end user. You don't get any extra capacity, all you get is better performance.
We've been looking at SandForce drives from multiple vendors for a while now. If you want the history on the technology look here, and if you want to know how SSDs work in general click here.
As I just mentioned, OCZ's Vertex 2 ended up in my desktop. That's the drive we're looking at today. I moved to SandForce SSDs not because I wanted more performance, but because I wanted to begin long term testing of the mass production firmware on these drives. If I'm going to recommend them, I'm going to use them.