Zotac has made quite a name for itself with its mini-PC products. The ZBOX offering aims at bringing an affordable Blu-Ray equipped HTPC option to the masses for some time now. Look no further than our review of the Zotac ZBOX HD-ID11 to see what the fuss has been about.

Over the last 12 months, however, the relevance of the Atom/ION combination has been steadily diminishing. The release of Clarkdale and Arrandale based systems have bared many of the shortcomings of the ION platform. It is extremely surprising to find a product refresh this late into 2010 willing to still utilize the Atom/ION2 combination. Zotac has released two versions of this box, the HD-ID33BR-U and the HD-ID34BR-U. The units are identical in terms of the system platform and specifications although the HD-ID34BR-U comes with a few extras, which I will touch upon further on in the review.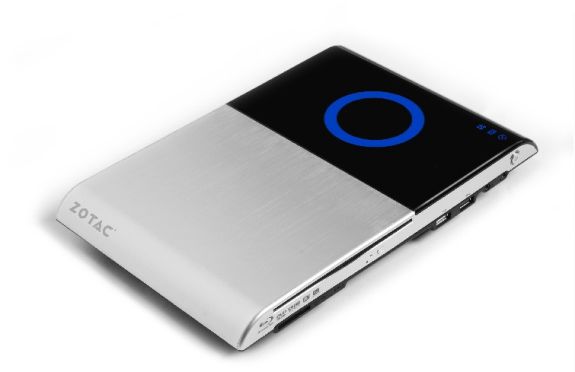 On a technical level, the Intel Atom, paired with Nvidia's Ion, falls short of some of the other solutions out there. However, the Zotac ZBOX HD-ID34, makes a different kind of statement., realized as soon as one pulls it out of the box. With a slim form factor and light weight, but solid feel, the HD-ID34BR-U has more of a resemblance to other elegant home theater components than the more utilitarian media streaming boxes and HTPCs released in the past. What Zotac has done here, is take a page out of Apple's book and designed a HTPC with a styling that may draw in consumers regardless of the hardware found within. Most of the visitors I've had over since receiving the review unit did not realize that this thing was a PC. Instead they thought it was an impressive blu-ray player, which in many ways, it is.