The front of the HTC Surround is pretty standard fare. There's the ambient light sensor and proximity up at the top just to the right of the HTC logo, and the three required WP7 capacitive buttons at the bottom. Thank goodness that the order of buttons is standardized, from left to right: back, windows, and search. The capacitive buttons on the Surround actually work extremely well and have proved much more responsive than I'm used to them working on other devices. Perhaps because they're spaced out and have a much larger active area. Capacitive touch on the display itself is also thankfully responsive and accurate. The entire surface is unbroken glass.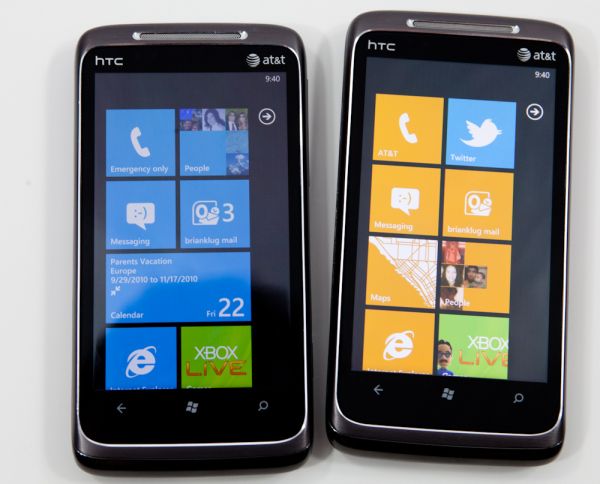 Though the Surround does not have an AMOLED display, rather just a normal TFT LCD, I found it decently contrasty in normal use on auto brightness. Unfortunately, at maximum brightness, the black levels on the Surround aren't quite as good as other devices we've looked at.
Brightness Comparison (White Point)
Phone
Low
Medium
High
HTC Surround
10.4 nits
183.1 nits
405.7 nits
LG Optimus 7
130.4 nits
259.1 nits
381.2 nits
Samsung Focus
61.9 nits
143.1 nits
234.3 nits
Brightness Comparison (Black Point)
Phone
Low
Medium
High
HTC Surround
0.03 nits
0.39 nits
0.88 nits
LG Optimus 7
0.28 nits
0.56 nits
0.82 nits
Samsung Focus
0
0
0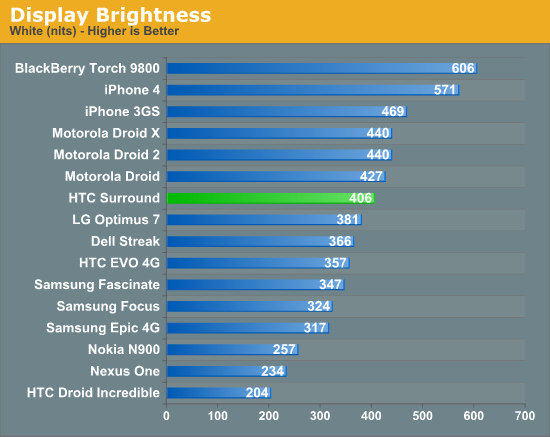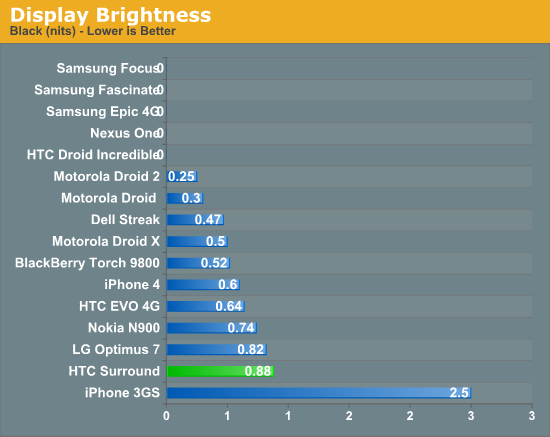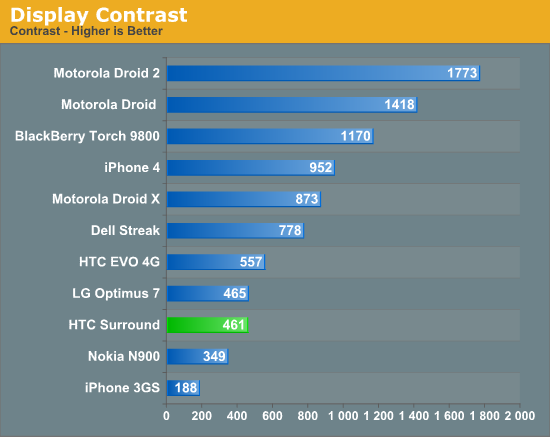 The Surround looks slightly warm next to the Fascinate, Nexus One, and iPhone 4. It's very subtle, but still detectable with the eye.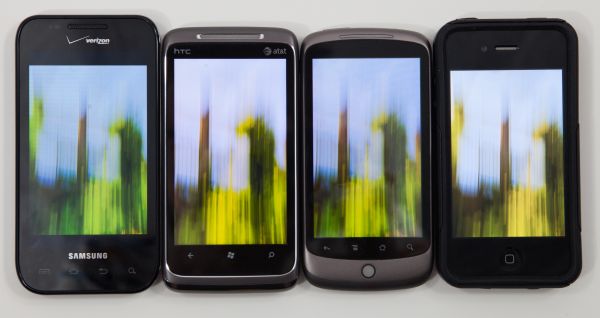 Click to enlarge (huge version)
Again, all WP7 devices are the relatively standard 800x480 WVGA resolution - the Surround's 3.8" size gives it a fairly decent 246 pixels per inch. WP7 actually has very good subpixel font smoothing on normal LCD displays - I'm very interested in seeing if or how subpixel font smoothing is implemented on the AMOLED devices PenTile pixel matrix.
Viewing angles on the Surround are very good. Outdoor visibility is decent as well, but the Surround is noticeably more reflective than other phones. That said, it's still more readable than the non-super AMOLED display on the Nexus One. Part of what makes the outdoor readability story on WP7 a bit different is that (unless you've changed it) most of the time you're looking at white text on black. As you've no doubt noticed in my photos so far, that makes reflection and fingerprints on the screen surface even more visible.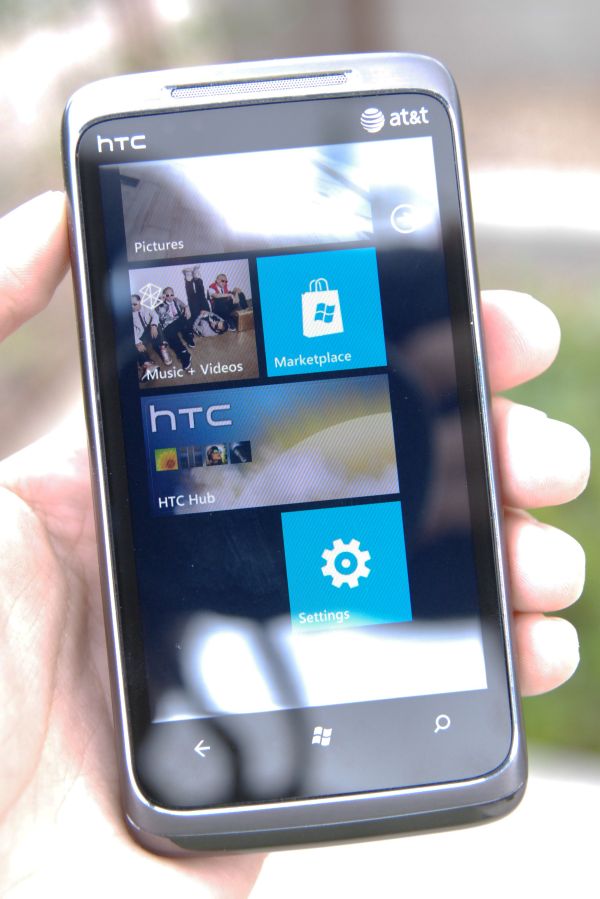 Auto brightness on the Surround seems to work well, however the dynamic range of brightness never seems to extend to the maximum and minimum brightnesses you can set manually. The result is that in complete darkness, the Surround isn't dim enough. Interestingly enough, I haven't really found myself wishing for more brightness in the converse situation.