It Was a Monster Mash....
When Alienware announced the Ivy Bridge refresh for its gaming notebook lineup, one model was conspicuously absent. Word filtered out that the smallest member of the range, the 11.6" M11x, would not be refreshed and that Dell was preparing to discontinue the line. For ultramobile gamers, the loss of the M11x is a huge blow, because it was one of the more unique notebooks out there—a near ultraportable with legitimate gaming aspirations, backed up by gaming performance that lit the class standards on fire. It was a truly standout notebook, and it will be sorely missed.
But now, a spiritual successor emerges in the form of Clevo's W110ER. We have this unit courtesy of Eurocom, who are calling it the Monster 1.0, but other boutiques selling the W110ER include AVADirect, OriginPC, Sager, and XoticPC amongst others. We typically see this with larger notebooks from Clevo and Compal, but it hasn't been as prominent with smaller notebooks until now, with the exception of some ASUS models from years past.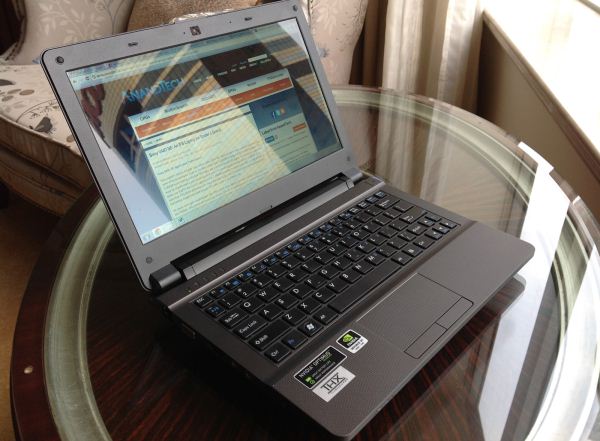 The W110ER spec sheet actually reads like a pipe dream, something that you would come up with if things like thermal limits didn't exist. The performance-class GPU is present and accounted for—Clevo ships every W110ER whitebook with a Kepler-based GT 650M (2GB DDR3, 384 CUDA cores, Optimus). But the most impressive thing here is that the W110ER has support for Intel's new IVB 45W quad-core CPUs. Yeah seriously, a quad-core 11.6" notebook. Just to refresh your memory, the M11x made use of Intel's low voltage dual-core parts, so this is a significant step up in CPU performance. It's a ridiculous amount of performance stuffed into a tiny notebook.
The two closest competitors are probably the M11x R3 and the Sony VAIO SA (along with the forthcoming Ivy Bridge updated SA). The M11x is pretty soundly outgunned—the low voltage dual-core SNB vs. the IVB quad-core is not much of a comparison, and the update to Kepler on the GPU side is also a significant upgrade. The SA is an interesting point of comparison, because it's not marketed as a gaming system, but it's a 3.6lb 13.3"er that runs the normal-voltage SNB chips alongside an AMD HD6630M. Potent, yes, but both the Sony and the Alienware are relatively outdated at this point. IVB has power and thermal characteristics that make it possible to do ridiculous things like putting a quad-core in an 11.6" notebook, and the new 28nm GPUs from both AMD and NVIDIA are generational leaps from their predecessors. It'll be more relevant to reevaluate the segment after the Ivy Bridge update round completes; until then, the W110ER stands alone.

Let's take a look at the Eurocom Monster unit that we received for evaluation. Eurocom shipped this unit with a Core i7-3720QM, the midlevel Ivy Bridge quad, along with 8GB memory, the glossy display (unfortunately the matte AU Optronics B116XW display was unavailable at the time our review unit was shipped), and a 750GB hybrid hard drive. I chose the hybrid hard drive purely out of curiosity—I hadn't had one in a notebook before, and I was curious to see how it compared to the SSD experience. More on that later on.
Eurocom Monster 1.0 (Clevo W110ER) Specifications
Processor
Intel Core i7-3720QM
(4 x 2.6GHz + HTT, Turbo to 3.6GHz, 6MB L3, 22nm, 45W)
Chipset
Intel HM76
Memory
2x4GB DDR3-1866
Graphics
NVIDIA GeForce GT 650M 2GB DDR3
(384 CUDA cores, 835/1800MHz core/memory clocks, 128-bit memory bus)

Intel HD 4000 Graphics
(16 EUs, up to 1.2GHz)
Display
11.6" LED Glossy 16:9 768p
Infovision Optoelectronics 0489
Hard Drive(s)
750GB Seagate Momentus XT SSHD (8GB NAND cache)
Optical Drive
None
Networking
Killer Wireless-N 1103 802.11a/b/g/n
Realtek PCIe Gigabit Ethernet
Audio
VIA High Definition Audio
Stereo speakers
Battery
6-Cell, 62.16Wh (removable)
Front Side
SD/MMC card reader
Right Side
Kensington lock
AC Adapter
1 x USB 2.0
Left Side
Exhaust vent
2 x USB 3.0
VGA
HDMI
Ethernet jack
Headphone jack
Microphone/Line In
Back Side
Battery
Operating System
Windows 7 Professional 64-bit SP1
Dimensions
11.48" x 8.28" x 0.51-1.48" (WxDxH)
287mm x 207mm x 12.7-37.1mm
Weight
3.95 lbs
Extras
1.3MP Webcam
Warranty
1-year limited
Pricing
Starts at $825, as configured: $1389
Our particular review unit retails for $1389 based on Eurocom's online configurator, but you can get a system with an IVB quad for as low as $921 (or $825 with an i5 SNB dual-core). Granted, that's with 4GB RAM, a 500GB 7200RPM hard drive, and no Windows install, but that's not too bad. Eurocom's RAM upgrades are questionably priced ($128 to get bumped to 2x4GB DDR3-1600 from the base 4GB DDR3-1333; you can get a 2x4GB PC12800 kit from Newegg for a hair over $40), but the hard drive options are more reasonable.
Honestly, I'd get the base system with the cheapest IVB quad and the matte screen option ($138)—the AUO B116XW02 should be a significant upgrade over the standard glossy 11.6" panel made by Infovision Optoelectronics. From there, I'd probably add an 8GB DDR3-1333 SoDIMM into the empty RAM slot (for a total of 12GB memory) and drop in an SSD of some sort, probably an Intel 330. Sans Windows, that's a system that goes for approximately $1250. Spec rundown: i7-3610QM (2.3GHz, Turbo up to 3.3), GT 650M 2GB, 12GB DDR3-1333, 120GB Intel SSD 330, and a matte 11.6" display. That's a light-the-world-on-fire kind of performer for not that much coin.
Like I mentioned earlier, there are a number of companies offering variants of the W110ER for sale. The only differences between the retailers are pretty much just price/options and branding, along with custom paint options in certain cases. Eurocom appears to be one of the very few offering the upgraded screen option, and for that reason alone, I'd recommend buying it from them. As always, feel free to shop around—we discussed several other resellers in our Clevo W11ER pipeline.