Up to 24TB of storage in a 5 gallon case
A year ago I wrote a file server builder's guide, which generated more discussion than any of my other guides. Succinctly, there are a lot of options to consider when you build a file server. There are many operating system choices, from FreeBSD and FreeNAS, Ubuntu and Samba, to Windows Home Server 2011. You can read more about those software solutions in the previous file server guide, as the information remains relevant. Windows Home Server 2011 gets the nod here, simply because of its ease of use. If you're willing to spend a bit more time implementing a free file server OS, there are many compelling alternatives.
Dustin recently reviewed Fractal Design's new ITX case, the Node 304. What impresses me most about the Node 304 are its sleek styling and its ability to house six full-size 3.5" hard drives. As 4TB drives are the highest capacity models available to the mainstream market, the Node 304, which has a volume of about 5 gallons, has the ability to put up to 24TB of storage in a small footprint on your desk or on a bookshelf. My own testing indicates that the Node 304 is capable of keeping lower RPM (i.e. "green") hard drive temperatures well within comfortable operating temperatures (less than 40C) even under full, artificial load.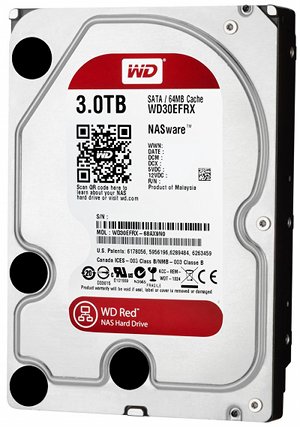 That said, the Node 304 is, as you might imagine, cramped when you stuff it full of six hard drives. To ameliorate this concern, we're pairing it with Silverstone's ST50F-P power supply, a 500W 80+ unit that is one of the smallest ATX power supplies available. Furthermore, we're recommending Silverstone's short cable kit, which helps with installation and cable management.
ASUS' P8H77-I is one of the few ITX motherboards with six SATA ports. As such, expansion cards aren't necessary to fill the Node 304 to its maximum hard drive capacity. This motherboard is also particularly well laid out when installed in the Node 304, which again helps with installation and cable management. It's important to note that file servers do not require powerful processors, so again the Celeron G540 gets the nod here.
Finally, Western Digital released its Red line of hard drives this year, which Ganesh reviewed. These drives are ideally suited for server use: they sip power, they're user configurable, and they run cool and quiet. Western Digital Red drives also carry a 3-year warranty, compared to the 2-year warranty of Western Digital's Green drives and many of Seagate's higher capacity storage drives. These Red series drives are available in 1TB, 2TB, and 3TB capacities; hopefully a 4GB model will be available soon. 4TB hard drives are currently available from Seagate and Hitachi. That said, the base model file server outlined below features a single 3TB Red drive as this capacity represents the best dollar per GB ratio of the three Red models. Of course, only you can determine how much storage you need, and definitely watch prices as I've seen these fluctuate wildly over the last month in terms of cost. Also keep in mind that consumers are not in a good position to judge the reliability of hard drives, and that the plural of anecdote is not data.
On the next page, we outline two SFF gaming systems.