Introducing the Antec GX700
Most manufacturers are quicker and happier to show us their medium-to-high end cases, but for a lot of users the case is admittedly a steel box they put their computer into. While I personally advocate spending up a bit and getting a quality case, the enthusiast looking to maximize the distance their dollar can go may not be willing to shell out for something big and fancy. For those users, there are cases like the Antec GX700.
When I saw it on display at CES, I was surprised at the incredibly low $59.99 price tag. Now that I've had it in house for testing and review, I see more of how they got there. This isn't necessarily a good or bad thing, but simply a fact of life when you're buying budget. Still, a case at this price point featuring a pair of 140mm fans, a single 120mm fan, a fan controller, and support for increasingly common 240mm radiators? There has to be a catch, right? As it turns out there are a couple of small ones, but not the ones you'd think.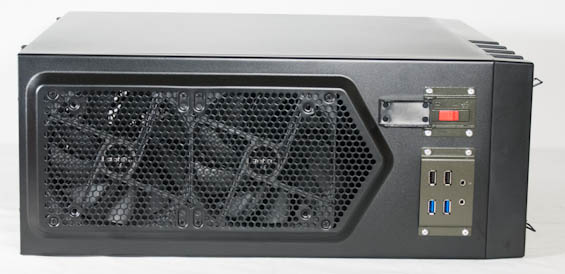 That's what a review and in depth analysis is for, but the Antec GX700 is interesting if for no other reason than to just see the approach Antec took towards serving this market segment. The GX700 was one of the cases that impressed me at CES this year because of the integrated fan controller, and that's something I think we're going to see more and more of at these low price points in the future. That's a good thing, too, because it simply and cheaply allows end users to decide if they want to skew more towards acoustics or performance instead of having to find some nebulous halfway point to satisfy both.
Antec GX700 Specifications
Motherboard Form Factor
Mini-ITX, Micro-ATX, ATX
Drive Bays
External
3x 5.25"
Internal
5x 2.5"/3.5"
Cooling
Front
2x 120mm fan mount
Rear
1x 120mm exhaust fan
Top
2x 140mm exhaust fan (supports 2x120mm)
Side
1x 120mm fan mount
Bottom
-
Expansion Slots
7
I/O Port
2x USB 3.0, 2x USB 2.0, 1x Headphone, 1x Mic
Power Supply Size
ATX
Clearances
HSF
160mm
PSU
200mm
GPU
290mm
Dimensions
19.7" x 7.9" x 17.7"
500mm x 200mm x 450mm
Weight
13.8 lbs. (6.26 kg)
Special Features
USB 3.0 via internal header
Two-speed, four channel fan controller
Support for 240mm radiators
Price
$59
As you can see, the GX700 has a pretty healthy amount of cooling capacity. Antec continues to lean on negative air pressure cooling designs, but to be fair, that hasn't really set them back. Positive pressure is generally better in terms of keeping dust out of the enclosure, but the Eleven Hundred's stellar performance proves negative pressure can work just as well.
What's mostly impressive is just eyeballing the spec sheet and then seeing the price. The GX700 isn't readily available yet, but if Antec really does hit $59, the other vendors may wind up having to at least take notice.