System Performance
The Razer Blade continues to utilize the Intel Core i7-4702HQ CPU due to the timing of the launch. There are a couple of different choices at this time (i.e. i7-4710HQ) that were not around when the Razer Blade was refreshed. Compared to an Ultrabook, the Razer Blade is a full quad-core part with eight threads, so performance should be significantly better than the Haswell U series parts, but of course that is at the expense of power consumption, with the i7-4702HQ CPU rated at 37 watts. Coupled to this is an SSD in the Samsung PM851 and 8GB of DDR3L-1600 memory, which should provide excellent performance for day to day tasks.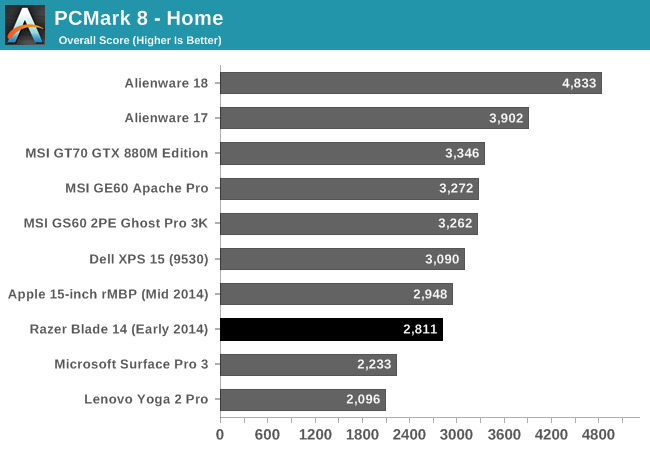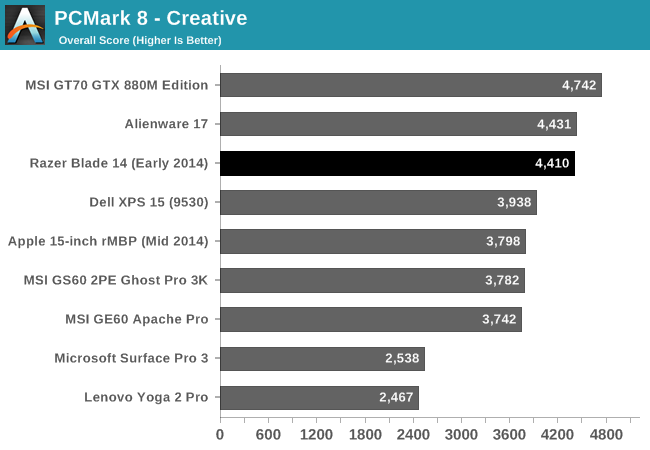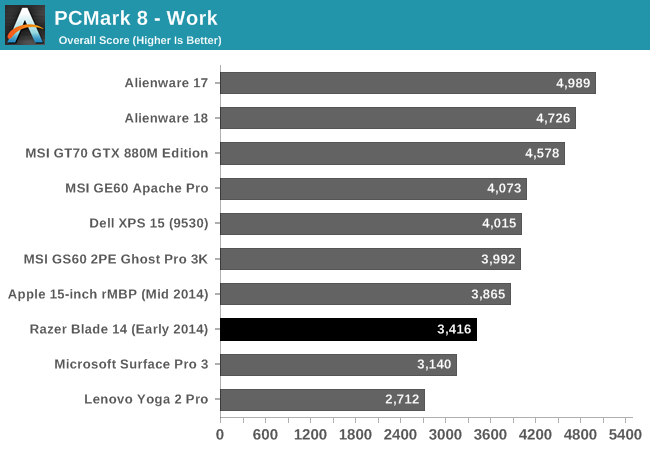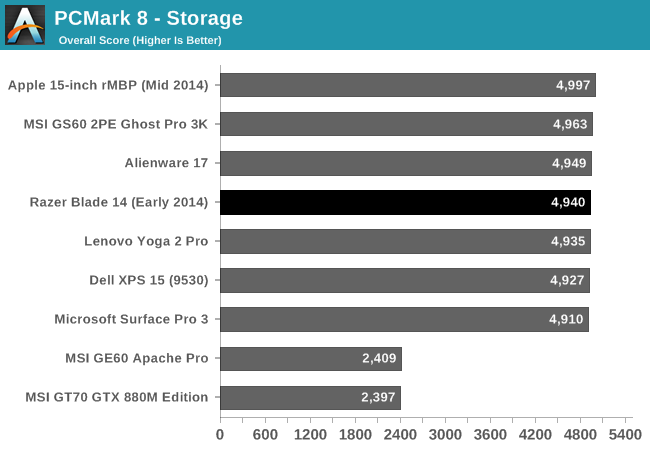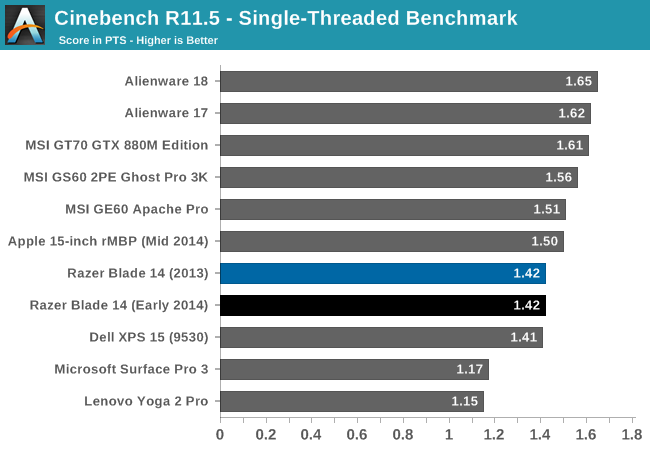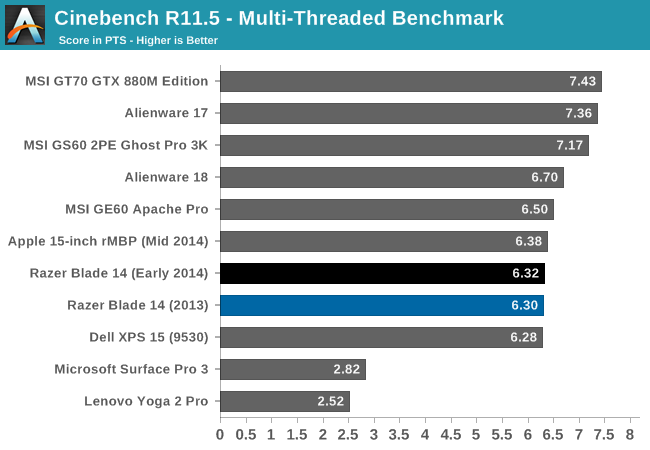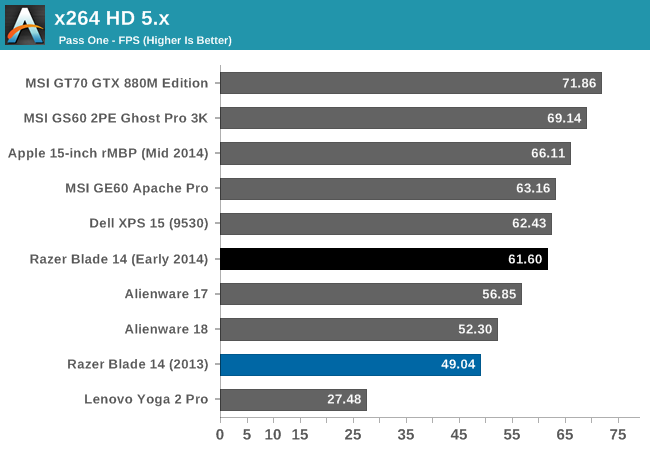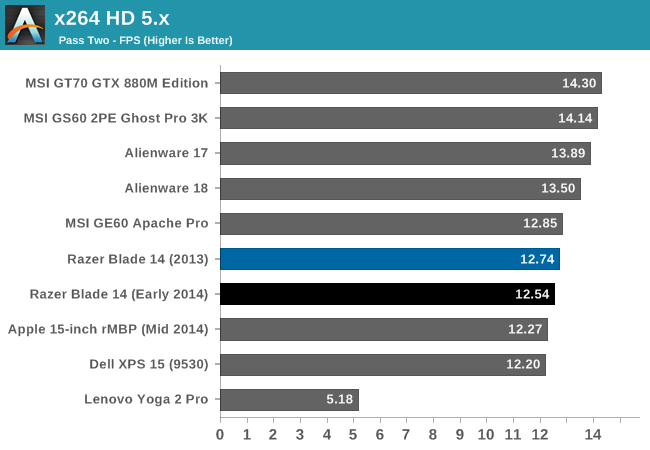 With the 37 watt CPU, the Razer Blade falls right where you would expect. Overall, there is more performance than the Ultrabook class machines such as the Yoga 2 Pro and the Surface Pro 3, but other gaming laptops with higher wattage CPUs are a bit faster. Still, for the Razer Blade's intended use scenario, system performance is great. The M.2 SSD in the Razer Blade performs very well in the PCMark 8 Storage test, scoring very close to the rest of the SSD pack.
WiFi
The new Razer Blade has updated the WiFi card from the previous version that used a Killer Wireless-N 1202 dual-band 2x2 802.11a/b/g/n solution. The new Blade now features the Intel Dual-Band Wireless-AC 7260, which adds support for 802.11ac. This wireless card is a 2x2:2 card offering connection speeds up to 866 Mbps on an 802.11ac connection.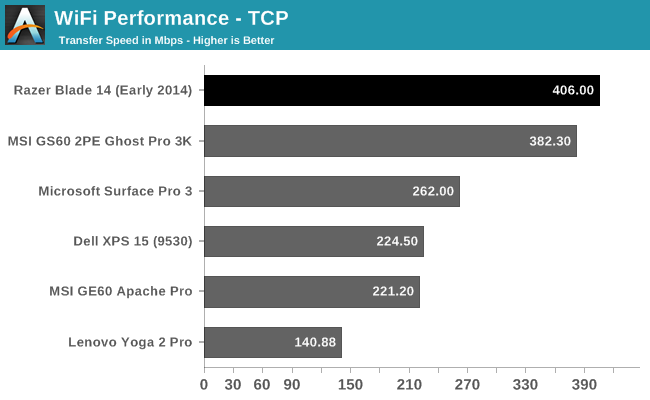 With around 400 Mbps sustained transfer speeds, the Intel wireless card does pretty well with the router close by, but in other tests Ganesh has found that the Broadcom BCM4352 card performs better, especially with some drywall between you and the router. With the Razer Blade 30' from the router in another room, the wireless speeds dropped to around 270 Mbps, which is still a reasonable result. Still, the Blade has 802.11ac and therefore supports both 5 GHz and 2.4 GHz, so there is not too much to complain about here. The Intel card also performs the Bluetooth 4.0 functions.