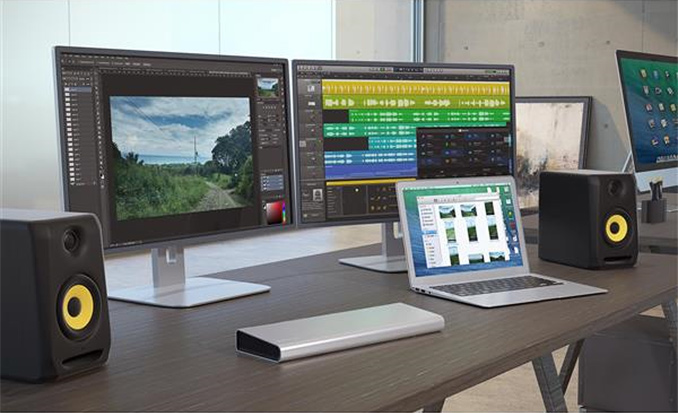 Modern laptops are getting thinner with every generation and it becomes increasingly harder for PC makers to integrate multiple ports into them. Nonetheless, end-users still need to connect their external monitors, external storage, various peripherals, LAN, audio equipment and so on to their notebooks. Fortunately, there is the Thunderbolt technology that has plenty of bandwidth and which can be used to connect many devices to a PC at the same time. However, good docking stations with multiple ports are hard to find.
StarTech this week introduced its new docking station for notebooks equipped with Thunderbolt 2 ports, which can hook up to 12 different devices, including displays, storage, audio and LAN, to a single TB2 connector. The device costs $347.99, which is not really affordable, but it offers a comprehensive set of ports that is not available on other docks (at least, according to ThunderboltTechnology.net web-site) and which significantly expands capabilities of any TB2-equipped laptop.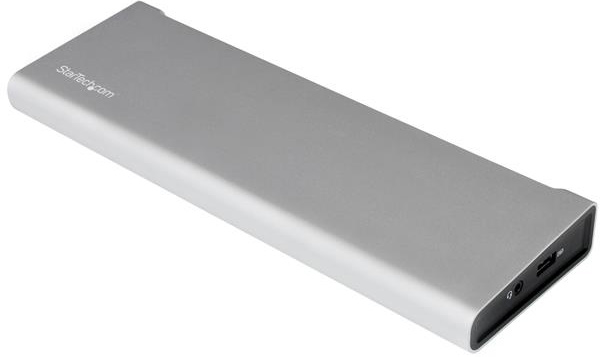 The StarTech Thunderbolt 2 Dual-Monitor Docking Station for Laptops (TB2DOCK4K2DP) is based on the Intel DSL5520 (Falcon Ridge) quad-channel Thunderbolt 2 controller that can transfer data at 20 Gbps while simultaneously driving a single 4K (3840x2160) monitor or two QHD (2560x1440) monitors. The docking station can connect to two displays with up to 3840x2160 and 3440x1440 resolutions using DisplayPort and Thunderbolt connectors (ot just two DisplayPorts), essentially adding dual-monitor capability to any PC with a TB2 connector.

The Thunderbolt 2 Dual-Monitor Docking Station features two Thunderbolt 2 ports, two DisplayPort outputs, four USB 3.0 type-A ports (including one Fast-Charge port) driven by the Fresco Logic FL1100EX controller, one eSATA connector featuring the the ASMedia ASM1061 controller, one Gigabit LAN port enabled by the Intel WGI210AT chip, two 3.5 mm mini-jacks (TI PCM2912A) as well as one SPDIF optical Toslink audio output (CMedia CM6500). From the architectural standpoint, the StarTech Thunderbolt 2 docking station is a huge PCI Express-based expansion module with hot-plug capability. One USB 3.0 port can be used for charging smartphones or other devices compatible with the USB Battery Charging 1.2 specification (delivery of up to 7.5W of power) even when the dock itself is not connected to a PC.
Since the vast majority of Thunderbolt 2-enabled systems are Apple MacBook laptops, the docking station unsurprisingly comes in aluminum casin to match design of Apple's notebooks. The first MacBook with Thunderbolt 2 was unveiled in late 2013 and by now tens of millions of laptops featuring the interface have been shipped. The existing MacBook user base is also likely why StarTech is releasing a TB2 dock now, even after the recent release of Thunderbolt 3 technology (which offers higher bandwidth and compatibility with USB 3.1). A TB3 dock would be incompatible with the sizable existing base of TB2 users due to the port change (and no adapters are currently available) and meanwhile the number of TB3 systems in the field is still low as adoption of the TB3 by laptop vendors and users is only beginnng.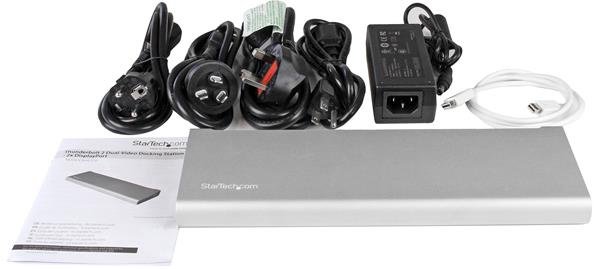 The 12-port Thunderbolt 2 docking station is available from StarTech today for $347.99. According to StarTech's press release, the device will also be available from CDW, Amazon.com, Newegg.com, PC Connection, and Insight and will be distributed internationally by Ingram Micro, SYNNEX, Tech Data, D&H and ASI. The package includes the device itself, one copper Thunderbolt cable, one 72W power adapter, four power cords as well as a manual.
Source: StarTech.com