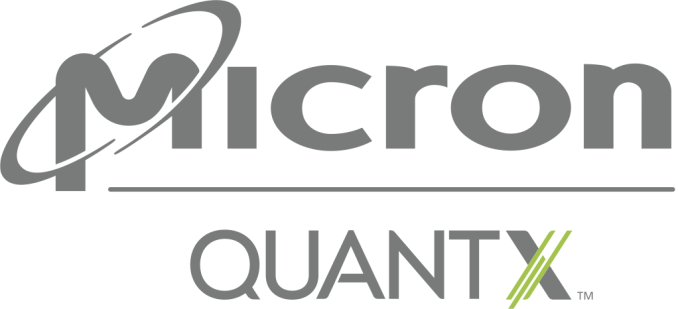 In a keynote speech later this morning at Flash Memory Summit, Micron will be unveiling the branding and logo that their products based on 3D XPoint memory will be using. The new QuantX brand is Micron's counterpart to Intel's Optane brand and will be used for the NVMe storage products that we will hear more about later this year. 3D Xpoint memory was jointly announced by Intel and Micron shortly before last year's Flash Memory Summit and we analyzed the details that were available at the time. Since then there has been very little new official information but much speculation. We do know that the initial products will be NVMe SSDs rather than NVDIMMs or other memory bus attached devices.
In the meantime, Micron VP Darren Thomas goes on stage at 11:30 AM PT, and we'll update with any further information.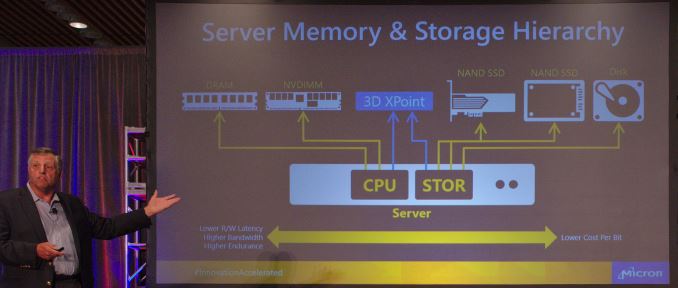 UPDATE:
Micron's keynote reiterated their strategy of positioning 3D XPoint and thus QuantX products in between NAND flash and DRAM, with the advantages of 3d XPoint relative to each highlighted (while the disadvantages go unmentioned). But then they moved on to showing some meaningful performance graphs from actual benchmarks of QuantX drives.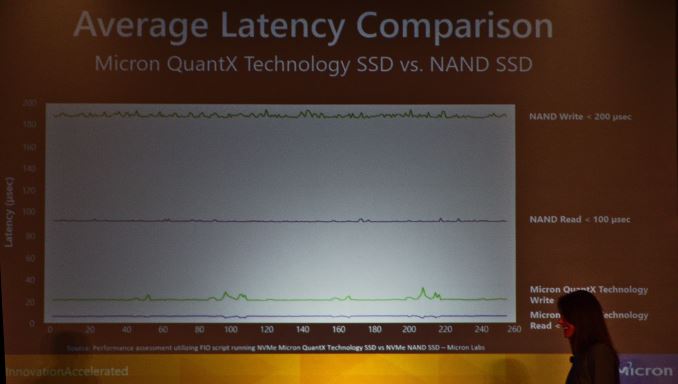 The factor of ten improvement in both read and write latency for NVMe drives is great, but perhaps the more impressive results are the graphs showing queue depth scaling. In a comparison of U.2 NVMe drives, Micron showed performance of QuantX drives ranging from 200GB to 1600GB, relative to a 1600GB NAND flash NVMe SSD. The QuantX drives saturated the PCIe x4 link with a 70/30 mix of random reads and random writes with queue depths of just 4-6, while the NAND SSD gets nowhere close to saturating the link with random accesses. The next comparison was of the PCIe x8 add-in card performance, where the link was saturated with queue depths between 10 and 16, depending on the capacity of the QuantX drive.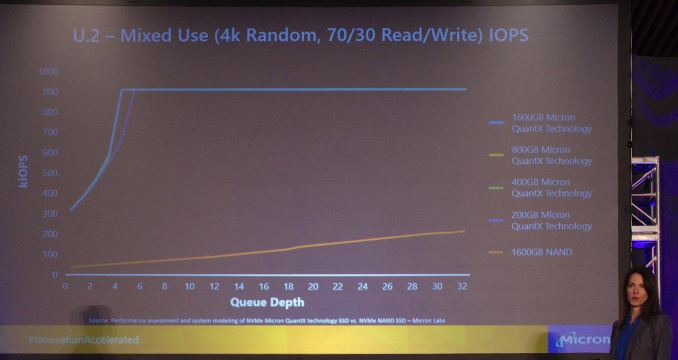 This great performance at low queue depths will make it relatively easy for a wide variety of workloads to benefit from the raw performance 3D XPoint memory offers. By contrast, the biggest and fastest PCIe SSDs based on NAND flash often require careful planning on the software side to achieve full utilization.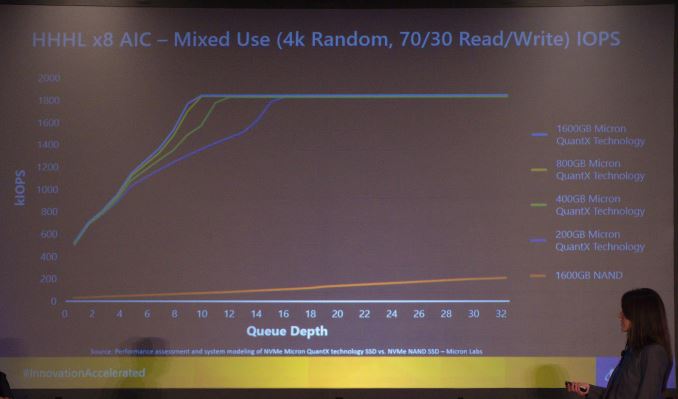 Source: Micron