The Software
The software that HAVIT provides for the KB395L can be downloaded from the company's website. Launching the software brings up a simple, single page interface. This approach is common with keyboards that do not offer too deep customization features.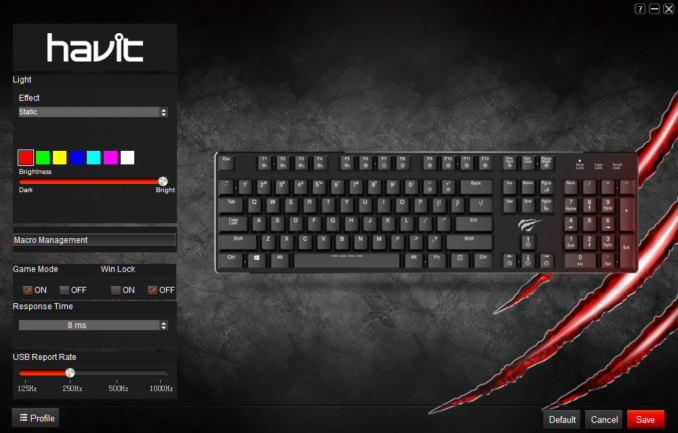 Static lighting or one of the pre-programmed lighting effects can be selected via the drop-down menu at the top right side of the interface. There is a selection of ten advanced lighting effects, five customized modes, and standard static lighting. Other advanced lighting effects cannot be programmed manually via the software's interface. The user can also adjust the backlight brightness via a slider.
Moving to the lower left corner of the interface, the user can adjust the response time in 2 ms steps, as well as the USB polling rate. Unless there is a major compatibility issue between the keyboard and the system's USB controller, there is no reason for anyone to use anything but the fastest settings (2 ms and 1000 Hz).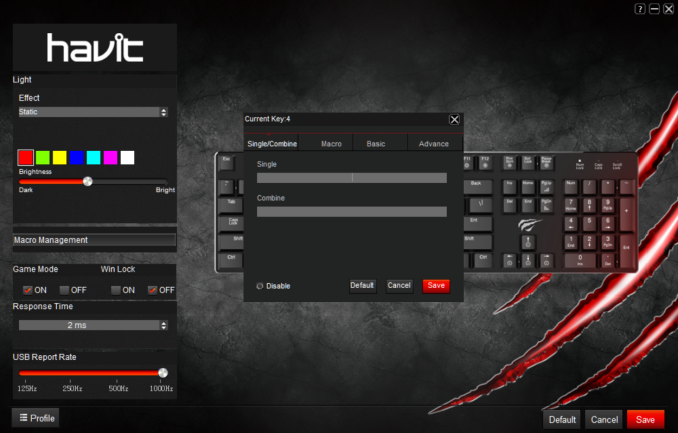 Per-key programmability is available on the KB395L. The user can program single and combined keystrokes, Macros, Basic, and Advanced functions. Basic functions include common Windows commands, such as media controls and standard explorer shortcuts. The Advanced functions tab has four options: to play a sound file, to start an external application, to open a text file, or to open a folder.
The KB395L's software macro recorder is very basic, capable of only recording keyboard keystrokes and delay times. It also is possible to program the number of loops that the macro should execute. However, there are no advanced functions, such as mouse clicks and relative/absolute mouse movements. More advanced users will have to result to a third-party macro software package and launch its compiled .EXE files via the Advanced functions tab.
HAVIT also included the option of profiles into the software. However, there is no keystroke combination to switch between profiles. Clicking on the Profiles button at the lower left side of the interface brings up a list of the profiles already saved in the system. Saving a profile creates a .BIN file and loading it requires manually selecting that file - clicking on the listed profile names has no effect. Note that these files are saved in the folder where the keyboard's software has been installed and only one can be programmed into the keyboard at a given time.