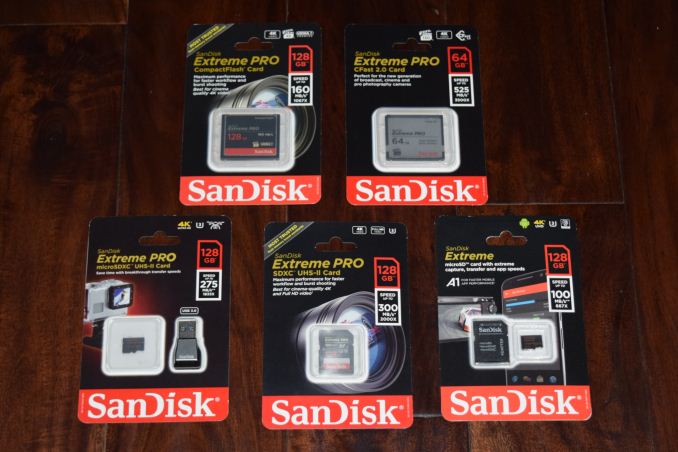 Digital cameras and camcorders employ memory cards (flash-based removable media) for storage of captured content. There are different varieties of memory cards catering to various performance levels. CompactFlash (CF) became popular in the late 90s, but, has now been overtaken by Secure Digital (SD) cards. Many computing systems (PCs as well as smartphones) also support SD cards for augmenting local storage capabilities. High-end recording systems with fast storage requirements use CFast and/or XQD cards. We recently started in-depth evaluation of the performance of various memory cards. SanDisk sent us a SDXC, two microSDXC, a CFast 2.0, and a CompactFlash card from their portfolio for review.
Introduction
SanDisk / Western Digital is one of the very few flash product vendors who manufacture their own flash memory. They have a comprehensive flash product portfolio targeting the content creators market. Their portable external SSDs and high-performance thumb drives take care of the post-ingestion portable storage requirements, while their range of memory cards service the actual in-camera storage market. Lexar (which used to be a division of Micron) has memory cards for all formats currently in use - SD, microSD, CompactFlash (CF), CFast, and XQD. SanDisk targets all formats other than XQD.
SanDisk sent 5 different cards for our evaluation:
SanDisk Extreme microSDXC UHS-I 128GB
SanDisk Extreme PRO microSDXC UHS-II 128GB
SanDisk Extreme PRO SDXC UHS-II 128GB
SanDisk Extreme PRO CompactFlash 128GB
SanDisk Extreme PRO CFast 2.0 64GB
Each of these five cards were subject to our comprehensive memory card evaluation routine. Readers will get an idea of the out-of-box performance as well as how the performance degrades after extensive usage.
The next four sections will detail the obtained performance numbers. Prior to that, we take a look at the testbed setup and evaluation methodology.
Testbed Setup and Testing Methodology
Evaluation of memory cards is done on Windows with the testbed outlined in the table below. The USB 3.1 Type-C port enabled by the Intel Alpine Ridge controller (It connects to the Z170 PCH via a PCIe 3.0 x4 link) is used for benchmarking purposes on the testbed side. SD and microSD cards utilize the Lexar Professional Workflow SR2 SDHC / SDXC UHS-II USB 3.0 Reader. A microSD to SDXC UHS-II adapter is used for the latter. CF cards utilize the Lexar Professional Workflow CFR1 CompactFlash UDMA 7 USB 3.0 Reader. The readers were placed in the Lexar Professional Workflow HR2 hub and uplinked through its USB 3.0 port with the help of a USB 3.0 Type-A female to Type-C male cable. CFast cards utilize the Lexar Professional Workflow CR2 CFast 2.0 Thunderbolt/USB 3.0 Reader via its Thunderbolt 2 port. The testbed connection was made through the StarTech.com Thunderbolt 3 to Thunderbolt adapter.
AnandTech DAS Testbed Configuration
Motherboard
GIGABYTE Z170X-UD5 TH ATX
CPU
Intel Core i5-6600K
Memory
G.Skill Ripjaws 4 F4-2133C15-8GRR
32 GB ( 4x 8GB)
DDR4-2133 @ 15-15-15-35
OS Drive
Samsung SM951 MZVPV256 NVMe 256 GB
SATA Devices
Corsair Neutron XT SSD 480 GB
Intel SSD 730 Series 480 GB
Add-on Card
None
Chassis
Cooler Master HAF XB EVO
PSU
Cooler Master V750 750 W
OS
Windows 10 Pro x64
Thanks to Cooler Master, GIGABYTE, G.Skill and Intel for the build components
The full details of the reasoning behind choosing the above build components can be found here.