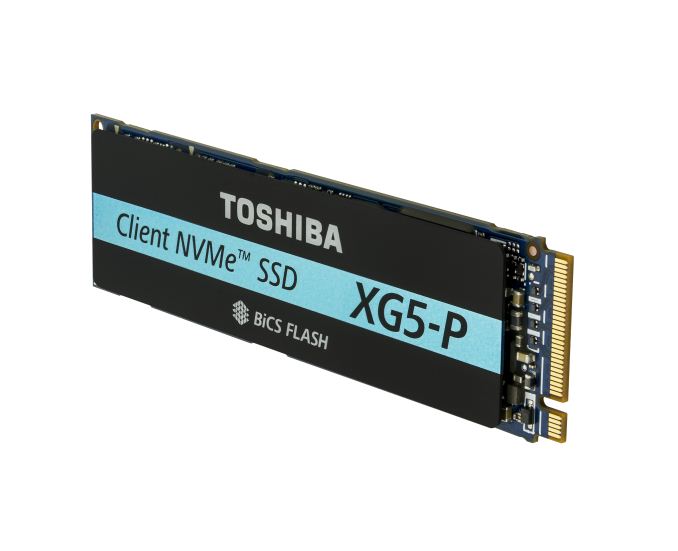 Today Toshiba is announcing a new variant of their XG5 client NVMe SSD for the OEM market. The new XG5-P offers improved performance over the original XG5 and introduces a 2TB capacity option. Both the original XG5 and the new XG5-P are based on Toshiba's 64-layer BiCS3 3D NAND flash memory, their first generation of 3D NAND to see widespread release.
Toshiba XG5-P Specifications
Model
XG5-P
XG-5
Capacities
1 TB, 2 TB
256 GB, 512 GB, 1 TB
Controller
Toshiba TC58NCP090GSD
NAND Flash
64L 3D TLC
Sequential Read (up to)
3000 MB/s
Sequential Write (up to)
2200 MB/s
2100 MB/s
Random Read
320k IOPS
not specified
Random Write
265k IOPS
not specified
TCG Opal Encryption
Optional
Form Factor
single-sided M.2 2280
The sequential throughput specifications for the XG5-P show only a slight improvement in write speed and no change in read speed. The original XG5's random access performance specifications aren't listed on the product page, but the XG5-P's random access speeds aren't particularly impressive when compared to what Samsung's NVMe SSDs manage. However, we found the XG5's overall performance to be quite reasonable; Toshiba isn't starting at a disadvantage relative to anyone but Samsung.
The most significant performance change Toshiba claims for the XG5-P is to full-range random access, outside the limits of SLC caching. Here Toshiba promises up to a 55% performance improvement for the 1TB XG5-P over the 1TB XG5, which should translate to significantly higher scores on our heavier benchmark tests and better performance on heavier real-world workloads.
Toshiba claims that the performance improvements don't compromise the power efficiency of the XG5, which was already by far the most power efficient NVMe SSD we've tested. Even if this claim doesn't hold up, Toshiba has a bit of room to sacrifice efficiency while still having a great drive for high-end notebooks.
The Toshiba XG5-P will be available in 1TB and 2TB capacities. Self-encrypting drive (SED) versions will be offered.
Source: Toshiba