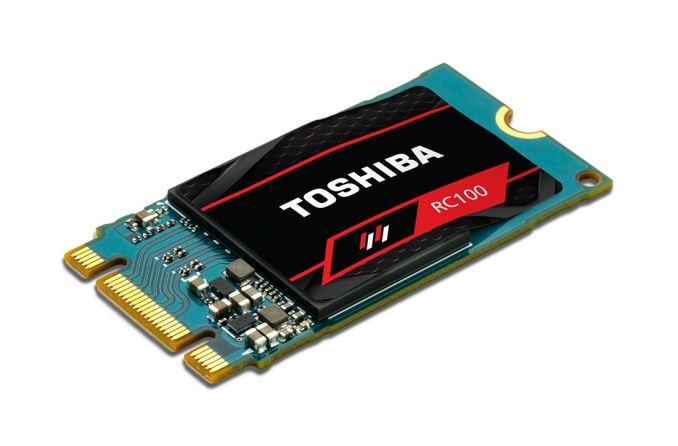 LAS VEGAS, NV — Toshiba is adding two more SSDs with 3D NAND to their consumer product line. Neither product is a direct replacement for one of their current consumer SSDs; instead, the new RC100 and XS700 expand into new market segments for Toshiba. Both drives feature Toshiba's 64-layer BiCS 3 3D TLC NAND flash memory.
The new RC100 NVMe SSD is a consumer derivative of the BG3 BGA SSD for the OEM market. As an entry-level DRAMless NVMe SSD with a PCIe x2 connection, the RC100 is part of the emerging category of budget NVMe SSDs with a minimal price premium over mainstream SATA SSDs. Its competition will be the Intel 600p and a growing number of products based on the Phison E8 or Silicon Motion SM2263XT controllers. Like the BG3, the Toshiba RC100 is manufactured as a single 16mm by 20mm BGA package integrating the SSD controller and the NAND flash memory. To make it accessible for DIY consumer upgrades or system builds, the RC100 is mounted on a M.2 2242 card—shorter than the 2280 size used by most M.2 SSDs, but still widely supported by many laptops and desktop motherboards. (The BG3 as available on an even smaller M.2 2230 card, but Toshiba determined that too few consumer systems can accommodate an aftermarket upgrade in that size.)
Toshiba RC100 Specifications
Capacities
120 GB, 240 GB, 480 GB
Form Factor
M.2 2242 single sided, B+M key
Interface
NVMe PCIe 3.0 x2
DRAM
None (HMB supported)
NAND
Toshiba 64L BiCS3 3D TLC
Sequential Read
1620 MB/s
Sequential Write
1130 MB/s
4KB Random Read
160k IOPS
4KB Random Write
120k IOPS
Warranty
3 years
Because the RC100 connects to the host system through just two PCIe lanes instead of four, its connector is notched for installation into either M.2 type M or type B slots, rather than just the type M used for SSDs supporting a PCIe x4 connection. This makes the RC100 hard to tell visually distinguish from a M.2 SATA SSD, and it will be mechanically compatible with M.2 SATA slots that may not provide any PCIe connectivity.
Despite not having the full PCIe x4 connection that high-end NVMe SSDs use, the Toshiba RC100's x2 connection is plenty for it to offer sequential transfer speeds twice as fast as SATA SSDs. The random access speeds of the RC100 are only a little bit higher than SATA SSDs, but the RC100 hits those speeds in spite of being a DRAMless SSD, thanks to the NVMe Host Memory Buffer (HMB) feature. When used with a supporting NVMe driver—either the one built in to Windows 10, or the driver Toshiba will be supplying for earlier versions of Windows—the RC100 will by default use 38MB of the host system's DRAM to cache the drive's mapping information about which logical block addresses are stored in which physical chip locations. That 38MB buffer is sufficient to cache metadata for about 32GB of the drive's storage, allowing the RC100 to handle everyday workloads at nearly the same speed as a comparable drive with its own DRAM. Random access to a much larger portion of the drive will still show the characteristic performance hit of a DRAMless SSD, but that won't be matter much to the RC100's intended audience. The HMB feature is optional and the RC100 is fully functional with systems that do not support or enable HMB, but at reduced speeds (mostly for random I/O).
In addition to being more compact and affordable than most current NVMe SSDs, the RC100 also promises to be more power efficient. The lack of DRAM or a DRAM controller saves quite a bit of power even after accounting for the slightly increased PCIe traffic when HMB is in use. The other SSDs we've tested with Toshiba's BiCS 3 3D TLC NAND have offered great power efficiency, and we expect the RC100 to follow suit.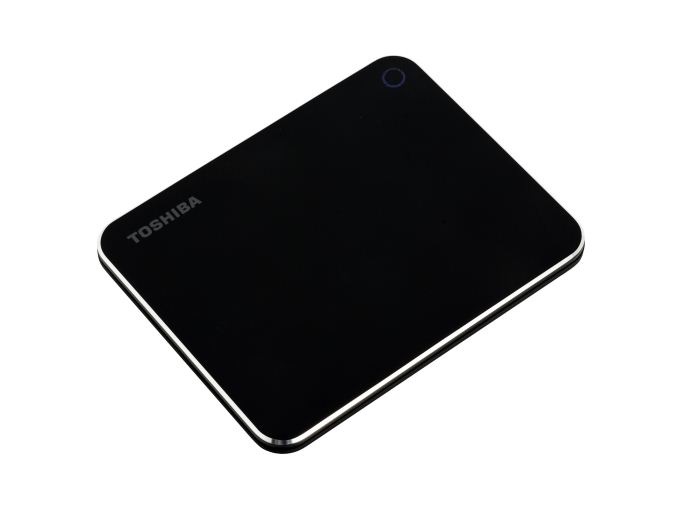 The Toshiba XS700 is their first portable SSD, and is something of a "me too" product—almost everyone is making USB drives that are internally using an existing SATA SSD design with a USB bridge. The Toshiba XS700 will use a USB 3.1 Gen 2 connection with a Type-C connector and will ship with a Type-A adapter. Because it is internally a 6Gbps SATA SSD, the XS700 won't be able to use the full 10Gbps speed of its USB link, but neither can most other portable SSDs: so far, nobody has made a native 10Gbps USB SSD controller and few companies have been willing to bear the cost of a SATA RAID design for what is still a fairly small market segment. Toshiba hasn't said what SATA controller they're using inside the XS700, but it is most likely the same DRAMless controller used in the TR200. The flash is the same 64-layer BiCS 3 3D TLC used in the RC100 and TR200.
The Toshiba XS700 will initially be available in only a 240GB capacity, rated for 530 MB/s reads and 480 MB/s writes. The drive's case is 95x75x11 mm and it weighs 90g.
The RC100 and XS700 are both planned for availability in the spring. Toshiba is not announcing pricing today because they expect pricing across the entire SSD market to shift now that most NAND manufacturers are producing 3D NAND in volume and the industry-wide shortage is coming to an end. Toshiba plans to launch the RC100 and XS700 at competitive prices when they ship. With the announcement of these two products, the only consumer SSD segment that Toshiba hasn't moved to 3D NAND is the high-end NVMe RD series. The RD400 is due for a replacement, and the recently-announced XG5-P OEM SSD would be a good starting point. But if Toshiba waits until the middle of 2018 to announce a new high-end consumer SSD, it will probably arrive with a newer (and perhaps faster) controller than the XG5 series uses.
Source: Toshiba