Pure Hard Disk Performance
To measure "pure" hard disk performance, we took a real world benchmark - in this case, the entire Winstone 2004 suite - and used Intel's IPEAK utility to capture a trace file of all of the IO operations that take place during a single run of Business Winstone 2004 and MCC Winstone 2004. We then use IPEAK to play back the trace, much like a timedemo, on each of the hard drives, which gives us a mean service time in milliseconds; in other words, the average time that each drive took to fulfill each IO operation.
In order to make the data more understandable, we report the scores as an average number of IO operations per second so that higher scores translate into better performance.
Keep in mind that these performance scores are best only for comparing pure hard disk performance, and in no way do they reflect the actual real world performance impact of these hard drives.
For descriptions of what the Business and Multimedia Content Creation Winstone 2004 tests consist of, reference those benchmark pages.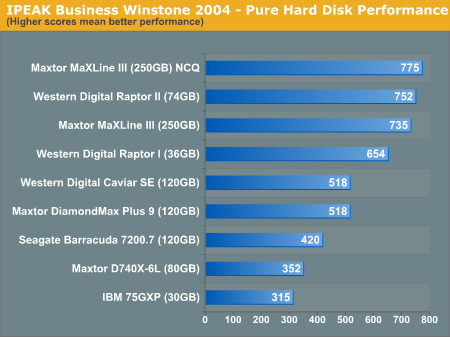 With NCQ enabled, we have a new record; the MaXLine III is able to beat even the almighty Western Digital Raptor. This just goes to show the tremendous performance impact of a 16MB buffer on desktop application performance. The impact of NCQ is negligible, but it's what puts the MaXLine III over the edge as the new king of this benchmark.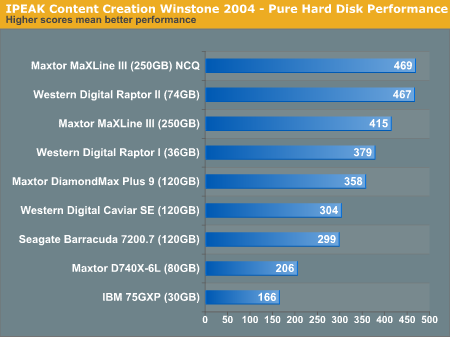 We see continued dominance in the Content Creation Winstone IPEAK test, but what about in the real world?