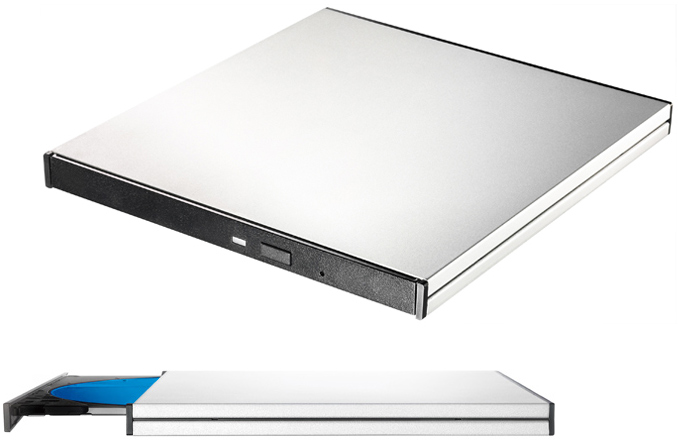 Known for their rather unorthodox devices, IO Data recently introduced a new external Blu-ray drive that works with USB Type-C hosts. An otherwise typical slimline Blu-ray drive, the BRP-UT6/MC2 not only supports the latest BDXL and M-DISC specifications, but also comes with Apple Mac-compatible software.
Featuring a z-height of 11 mm and weighing 220 grams, the IO Data BRP-UT6/MC2 can playback and burn all modern types of optical discs, including CDs, DVDs, BD-Rs (including LTH media at up to 6X speed for burning), BDXLs (up to four layers, 128 GB, up to 4X burn speed), and M-DISCs (up to three layers, 100 GB). The drive is not listed as being compatible with Ultra HD Blu-ray movies, so it likely lacks the necessary AACS 2.0 firmware.
However USB-C purists take note: it looks like IO Data has cheated here a bit. The external Blu-ray drive itself actually sports a USB 3.0 micro-B interface, rather than being end-to-end USB-C. Because of this, IO Data includes two cables: a USB 3.0 micro-B to USB Type-C cable to be used with modern laptops, and a USB 3.0 micro-B to USB Type-A cable so that it can work with the broad array of existing computers that only feature USB Type-A ports. Based on what we know about the USB Type-C specificaiton – specifically, that USB-C devices aren't allowed to connect to USB-A hosts – it makes sense why IO Data would want to go this route, as they'd otherwise be locking themselves out of a significant portion of the existing market.
Hardware aside, IO Data ships its BRP-UT6/MC2 drive with a code to download Roxio's Toast 17 Titanum software, which can be used to copy and burn CDs/DVDs/BDs, edit video, capture video, and perform other similar tasks. That program cannot playback Blu-rays, so to do so one will need to acquire a different product.
The BRP-UT6/MC2 ODD will be released later this month at a price of ¥19,800 ($183) including VAT.
Related Reading:
Source: IO Data (via Hermitage Akihabara)