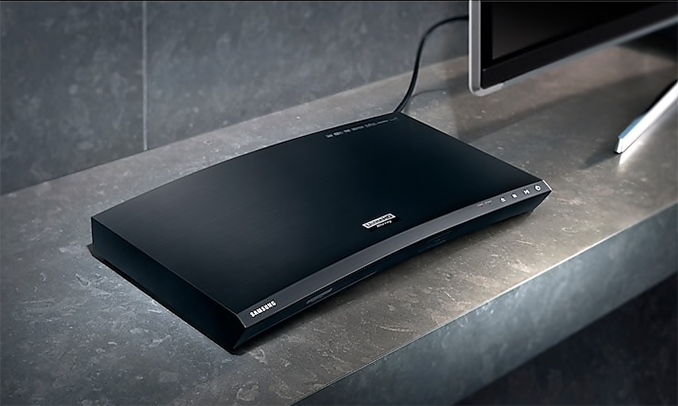 Surprisingly for the electronics titan, Samsung has not released any new Blu-ray or Ultra HD Blu-ray players for the US market since 2017. And now in 2019 it looks like their development of Blu-ray players has ceased entirely, as the company recently confirmed that it has no plans to release any new Blu-ray players.
Sales of movies on physical media have been on the decline for years now as streaming services have been gaining market share. To make the matters particularly worrying, sales of Ultra HD Blu-ray discs are considerably behind sales of Blu-ray and DVD movies. In fact, despite being technologically obsolete, DVD is still the most popular format, according to a report from MediaPlayNews that cites NPD VideoScan. On the week ended on February 9, DVD commanded 55.2% of unit sales, Blu-ray captured 39.8%, whereas Ultra HD Blu-ray only had a 5% unit share. Whether this is entirely consumer-driven however is up for debate; some believe that the lion's share of DVDs are being purchased by disc rental services.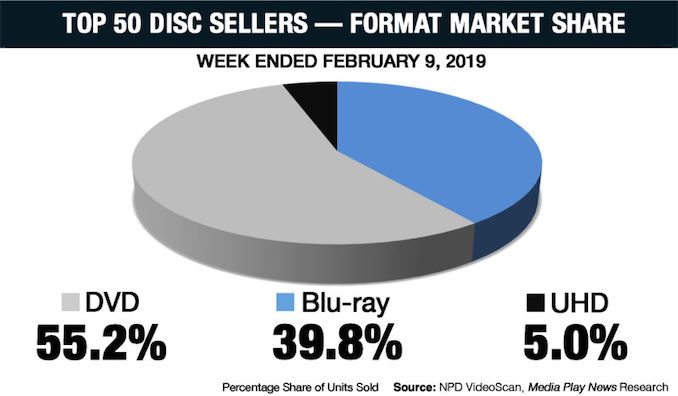 Presumably because of low popularity of Ultra HD Blu-ray discs among consumers, Samsung has backed off plans to release any new Blu-ray players. Specifically, the company has confirmed that they don't have any plans to launch new UHD BD players in the US; however they have not elaborated on other markets. Keeping in mind that the US is the largest market for consumer electronics, canning the product category here means that it would be quite surprising to see it maintained in other markets.
Apart from Samsung, Oppo also recently pulled the plug on its Blu-ray players as well. Furthermore, in an odd move from the studios, several high-profile movies including The Favourite, Stan & Ollie, and Holmes And Watson, will not be released on UHD media.
Meanwhile, though Samsung is set to bow out of the market for Blu-ray players, there are a number of other makers that will continue to offer players, including Sony, and Panasonic. Both companies introduced their new decks back at CES 2019, so it does not look like they will be cancelling this product category any time soon. In the meantime, market researchers predict that shipments of Blu-ray players will decline from 72.1 million units in 2017 to 68.0 million units in 2023.
Related Reading: