Board Features
The Biostar A10N-8800E is a mini-ITX motherboard designed for low powered computing, edge computing, and offers a range of low cost, but decent quality features. These include a Realtek RTL8111H Gigabit NIC with a Realtek ALC887 HD audio codec which offers three 3.5 mm audio jacks on the rear panel. Equipped with its own integrated CPU in the form of a Carizzo based AMD FX-8800P processor which is usually found in notebooks and as a result, is power efficient with a TDP of just 15 W. Due to the mini-ITX form factor, there are two memory slots with support for up to 32 GB of DDR4-2133 RAM, and allows users to either utilize the onboard Radeon 7 integrated graphics, or use their own discrete graphics card with a full-length PCIe 3.0 x16 slot.
Overall, the idea here is to provide all you need for a SFF system capable of edge compute, OpenCL, or some gaming, at $88.
Biostar A10N-8800E Mini-ITX Motherboard
Warranty Period
3 Years
Product Page
Link
Price
$88
Size
Mini-ITX
CPU Interface
FM2+
Chipset
AMD Carizzo
Memory Slots (DDR4)
Two DDR4
Supporting 32 GB
Dual Channel
Up to DDR4-2133
Video Outputs
1 x HDMI 1.4
1 x D-Sub
Network Connectivity
Realtek RTL8111H Gigabit
Onboard Audio
Realtek ALC887
PCIe Slots for Graphics (from CPU)
1 x PCIe 3.0 x16
PCIe Slots for Other (from PCH)
N/A
Onboard SATA
Two
Onboard M.2
1 x PCIe 3.0 x4/SATA
USB 3.1 (10 Gbps)
N/A
USB 3.0 (5 Gbps)
2 x Type-A Rear Panel
1 x Header (two ports)
USB 2.0
2 x Type-A Rear Panel
1 x Header (two ports)
Power Connectors
1 x 24-pin ATX
1 x 4-pin CPU
Fan Headers
2 x System (3-pin)
IO Panel
2 x USB 3.1 G1 Type-A
2 x USB 2.0 Type-A
1 x Network RJ45 (Realtek)
3 x 3.5mm Audio Jacks (Realtek)
1 x HDMI 1.4
1 x D-Sub
1 x PS/2 Mouse port
1 x PS/2 Keyboard port
On the rear panel is two USB 3.1 G1 Type-A, two USB 2.0 ports, a pair of video outputs consisting of an HDMI 1.4, and D-Sub, with a separate PS/2 keyboard and mouse port. To power the Biostar A10N-8800E, users will need a 24-pin 12 V ATX motherboard power cable, as well as a single 4-pin 12 V ATX CPU power cable from the power supply. With edge computing being its focus, the Biostar A10N-8800E is a low-cost mini-ITX option (sub $100) which has everything a user could need for a small form factor HTPC as the quad-core FX-8800P processor has HEVC encoding capabilities, but another use case scenario could be a small office system without the need for anything high powered, and with a smaller desktop footprint.
Test Bed
As per our testing policy, we take a high-end CPU suitable for the motherboard that was released during the socket's initial launch, and equip the system with a suitable amount of memory running at the processor maximum supported frequency. This is also typically run at JEDEC subtimings where possible. It is noted that some users are not keen on this policy, stating that sometimes the maximum supported frequency is quite low, or faster memory is available at a similar price, or that the JEDEC speeds can be prohibitive for performance. While these comments make sense, ultimately very few users apply memory profiles (either XMP or other) as they require interaction with the BIOS, and most users will fall back on JEDEC supported speeds - this includes home users as well as industry who might want to shave off a cent or two from the cost or stay within the margins set by the manufacturer. Where possible, we will extend out testing to include faster memory modules either at the same time as the review or a later date.
While we have been able to measure audio performance from previous Z370 motherboards, the task has been made even harder with the roll-out of the Z390 chipset and none of the boards tested so far has played ball. It seems all USB support for Windows 7 is now extinct so until we can find a reliable way of measuring audio performance on Windows 10 or until a workaround can be found, audio testing will have to be done at a later date.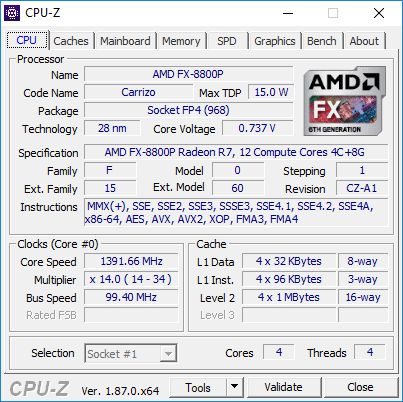 For the sake of comparison, we wanted to put the CPU against AMD's lowest cost socketed option. The AMD Athlon 200GE currently retails for $57, with the cheapest AM4 motherboard being the GIGABYTE GA-A320M-S2H or ASRock A320M-HDV R4.0 at $55, making a total of $112. Comparing $88 vs $112 is an important point here - if you are tied for cash, you might go with the $88 option. But what performance uplift do you get from an additional $24?
Due to timing, we used an on-hand B450 ITX board, that comes in at $127. This is a bit overkill, we know.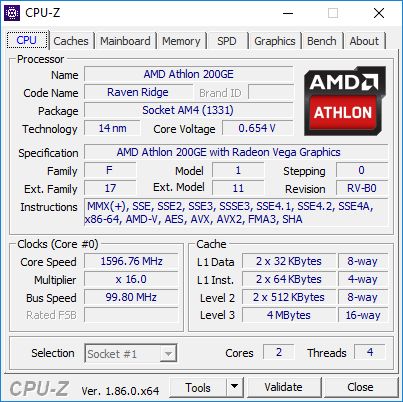 Readers of our motherboard review section will have noted the trend in modern motherboards to implement a form of MultiCore Enhancement / Acceleration / Turbo (read our report here) on their motherboards. This does several things, including better benchmark results at stock settings (not entirely needed if overclocking is an end-user goal) at the expense of heat and temperature. It also gives, in essence, an automatic overclock which may be against what the user wants. Our testing methodology is 'out-of-the-box', with the latest public BIOS installed and XMP enabled, and thus subject to the whims of this feature. It is ultimately up to the motherboard manufacturer to take this risk – and manufacturers taking risks in the setup is something they do on every product (think C-state settings, USB priority, DPC Latency / monitoring priority, overriding memory sub-timings at JEDEC). Processor speed change is part of that risk, and ultimately if no overclocking is planned, some motherboards will affect how fast that shiny new processor goes and can be an important factor in the system build.
Hardware Providers for CPU and Motherboard Reviews
Sapphire RX 460 Nitro
MSI GTX 1080 Gaming X OC
Crucial MX200 +
MX500 SSDs
Corsair AX860i +
AX1200i PSUs
G.Skill RipjawsV,
SniperX, FlareX
Crucial Ballistix
DDR4
Silverstone
Coolers
Silverstone
Fans
New Test Suite: Spectre and Meltdown Hardened
Since the start of our Z390 reviews, we are using an updated OS, updated drivers, and updated software. This is in line with our CPU testing updates, which includes Spectre and Meltdown patches.