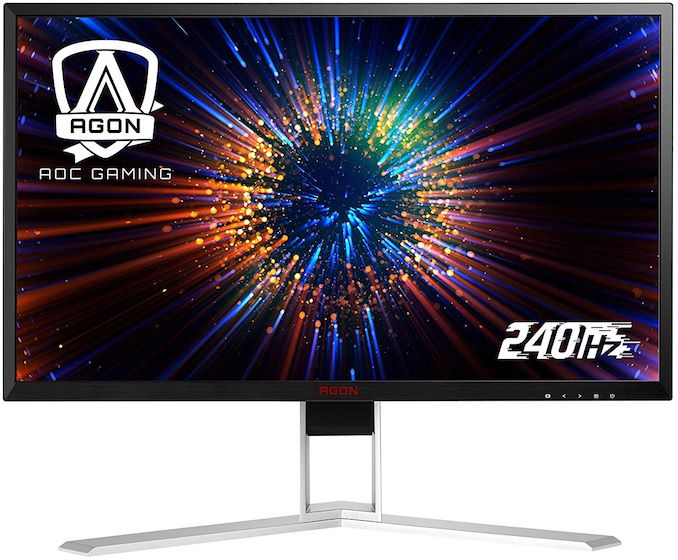 AOC this week started sales of its Agon displays featuring a 0.5 ms response time as well as a 240 Hz refresh rate. Aimed at extreme gamers looking for maximum dynamics and comfort, the new AOC Agon AG271FZ2 and AG251FZ2 support AMD's FreeSync dynamic refresh rate technology along with AOC' proprietary enhancements for the audience.
AOC's Agon AG251FZ2 and Agon AG271FZ2 displays are based on 24.5 and 27-inch TN panels featuring a 1920x1080 resolution, 400 nits brightness, a 0.5 ms MPRT response time, a dynamic refresh rate of up to 240 Hz with a 48 Hz – 240 Hz FreeSync range over DP and HDMI, featuring low framerate compensation (LFC). See exact specs in the table below.

While the key selling points of the Agon AG251FZ2 and AG271FZ2 monitors are their 0.5 ms response time and up to 240 Hz refresh rate, AOC decided to further enhance the displays with its Shadow Control (increases contrast of dark areas), Low Input Lag (omits processing of images by the display itself), and Lowblue Light Mode (protects eyes against harmful blue light wavelengths without affecting color composition) features.
When it comes to inputs, AOC's Agon AG251FZ2 and Agon AG271FZ2 displays feature DisplayPort 1.2, HDMI 1.4/2.0, DVI-D, and D-Sub connectors. Besides, the monitors have a built-in quad-port USB 3.0 hub along with 3.5-mm audio input and output. Last but not least, the LCDs also feature two 3 W speakers.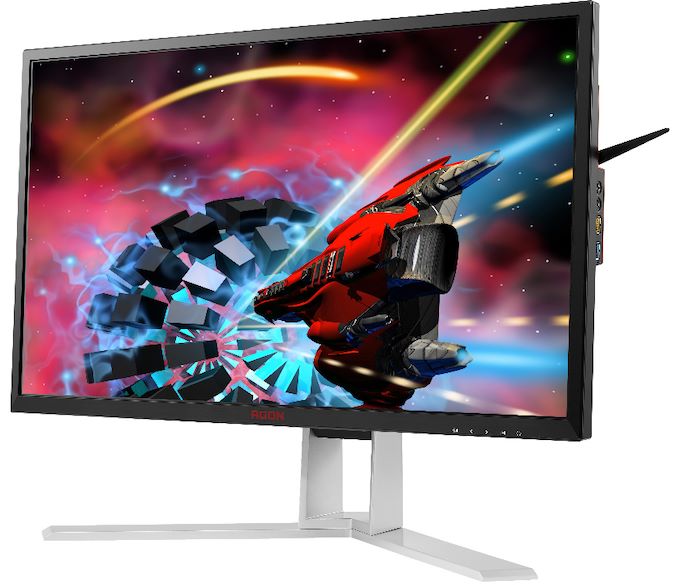 As traditional for AOC's Agon displays, the AG251FZ2 and AG271FZ2 feature a distinctive design with aggressive red inlays. Furtheremore, the LCDs are also equipped with stands that can be adjusted in height and tilt. For added comfort, the monitors have a QuickSwitch button setup to rapidly switch from one mode to another, as well as a holder for headsets.
AOC's Agon Gaming LCDs
with 0.5 ms Response Time, 240 Hz Refresh Rate
AG251FZ2
AG271FZ2
Panel
24.5" TN
27" TN
Native Resolution
1920 × 1080
Maximum Refresh Rate
240 Hz
Dynamic Refresh
Tech
AMD FreeSync
Range
-
-
Brightness
400 cd/m²*
400 cd/m²
Contrast
?
Viewing Angles
170°/160° horizontal/vertical
Response Time
0.5 ms MPRT
0.5 ms MPRT
Pixel Pitch
~0.28 mm²
~0.31 mm²
Pixel Density
~90 PPI
~81 PPI
Color Gamut Support
sRGB (?)
Inputs
1×DP 1.2
1×HDMI 1.4
1×HDMI 2.0
1×DVI-D
1×D-Sub
Audio
2×3W speakers
audio input
audio output
VESA Mounts
100 × 100 mm
Warranty
3 years
Additional Information
?
?
Retail Price in the USA
$329.99
$379.99.
Note
*Not all specs of the AG251FZ2 have been confirmed
Both new monitors from AOC are available now from Amazon and will soon hit shelves of other retailers. The Agon AG251FZ2 retails for $329.99, whereas the Agon AG271FZ2 is sold for $379.99.
UPDATE 7/5: AOC has informed us that these displays will not be available in Europe.
Related Reading:
Source: AOC's Press Release