Features
Below, you can see the Infotool readout from Nero. We are using the
B7J9
firmware released to us from BenQ internally, which also apparently upgrades 12X BenQ drives to 16X compatibility. We are not using a 12X drive, however, but rather, the actual DW1620 shipped from BenQ. The drive was almost completely unusable with the B7H9 firmware shipped with the drive, as we will demonstrate later in the analysis.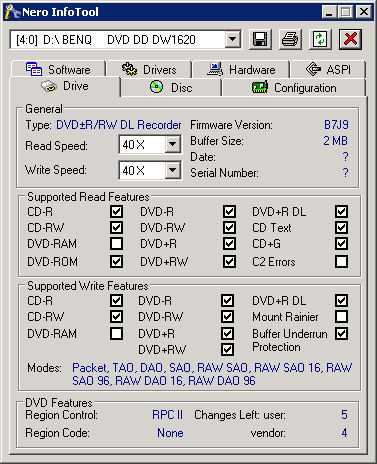 There are no stellar features on this drive. We do not have any HD-Burn capability, and Mount Rainier DVD+RW is obviously not supported either. However, DVD+R Dual Layer (DVD+R9) is fully supported, and we are excited to see such an inexpensive drive support such features.
BenQ DW1620 16x DVD-/+RW Drive
Interface
PATA
CD Write Speed
40X, 32X, 24X CAV
16X, 8X, 4X CLV
CD Rewrite Speed
24X ZCLV
16X, 10X, 4X CLV
CD Read Speed
40X MAX CAV
DVD-R Write Speed
16X, 12X, 8X CAV
4X, 2X, 1X
DVD-RW Rewrite Speed
4X, 2X, 1X CLV
DVD+R Write Speed
16X, 12X, 8X CAV
4X, 2.4X
DVD+RW Rewrite Speed
4X, 2.4X CLV
DVD+DL Write Speed
2.4X CLV
DVD Read Speed
16X MAX CAV
Supported Modes
DAO / DAO-RAW 16 & 96
TAO
SAO / RAW SAO, RAW SAO 16 & 96
Packet Write
Multi-Session
Supported Formats
DVD+R (DAO, incremental, seq)
DVD+RW (random)
DVD-R (DAO, incremental, seq)
DVD-RW (restricted overwrite)

CD-R, CD-RW, CD-ROM, CD-DA,
Mixed Mode, CD Extra
Photo CD, CD Text, Bootable CD, UDF
Access Time
CD: 120ms
DVD: 120ms
Buffer
2MB
So far, this drive is on par with the NEC-3500A, and slightly faster for CD writing than the Pioneer DVR-108A that we reviewed a few weeks ago. Unfortunately, the drive lacks DVD-RAM and Mount Rainer support. The drive claims slightly quicker than average access times as well.
Make a special note of some of the neater capabilities of this drive DVD DL and the 16X write capabilities. We are hesitant to claim that the 2.4X dual layer write capabilities are sub par, even though other 4X drives exist. Other drives may claim 4X dual layer write speeds at this point, but even places like AnandTech cannot get proper media for independent verification.
Our BenQ DW1620 supports BookType Management (bitsetting), which is to be expected from a Nexperia based drive.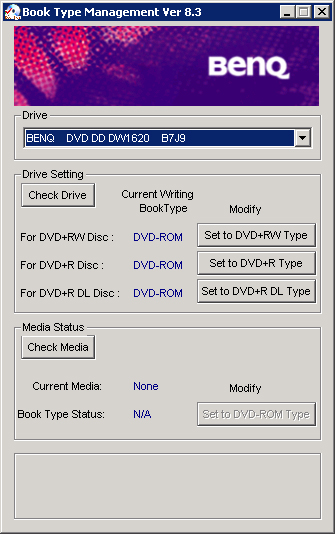 The free BenQ BTMV 8.3 software can be obtained from the BenQ site, and it displays/sets the current book type on our drive.