Meet The ZOTAC Gaming GeForce GTX 1650 Super
Since this latest GTX 1650 series card launch is a virtual launch like the others, the board partners are once again stepping up to the plate to provide samples. For the GTX 1650 Super launch, we received Zotac's Gaming GeForce GTX 1650 Super card, which is a fairly straightforward entry-level card for the series.
GeForce GTX 1650 Super Card Comparison
GeForce GTX 1650 Super
(Reference Specification)
Zotac Gaming GeForce GTX 1650 Super
Core Clock
1530MHz
1530MHz
Boost Clock
1725MHz
1725MHz
Memory Clock
12Gbps GDDR6
12Gbps GDDR6
VRAM
4GB
4GB
GPU Power Limit
100W
100W
Length
N/A
6.24-inches
Width
N/A
2-Slot
Cooler Type
N/A
Open Air, Dual Fan
Price
$159
$209
For their sole GTX 1650 Super card, Zotac has opted to keep things simple, not unlike their regular GTX 1650 cards. In particular, Zotac has opted to design their card to maximize compatibility, even going as far as advertising the card as being compatible with 99% of systems. The end result of this being that rather than doing a large card that may not fit everywhere, Zotac has gone with a relatively small 6.2-inch long card that would be easily at home in a Mini-ITX system build.
Fittingly, there is no factory overclock to speak of here. With GPU and memory speeds identical to NVIDIA's reference specifications, Zotac's card is as close as you can get to an actual reference card. With is very fitting for our generalized look at the GeForce GTX 1650 Super as a whole.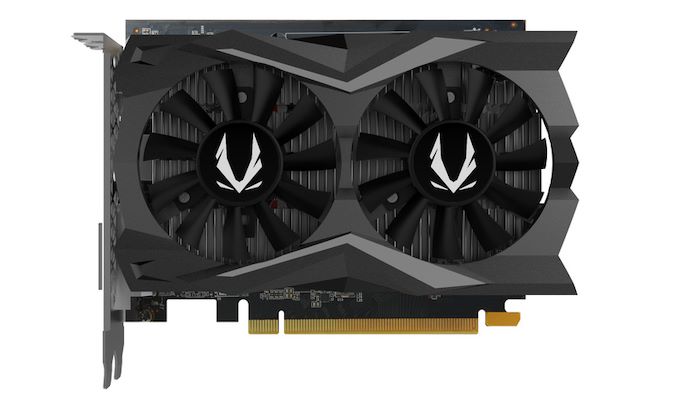 Digging down, we start with Zotac's cooler. The company often shifts between single fan and dual fan designs in this segment of the market, and for the GTX 1650 Super they've settled on a dual fan design. Given the overall small size of the card, the fans are equally small, with a diameter of just 65mm each. This is something to keep in mind for our look at noise testing, as small fans are often a liability there. Meanwhile the fans are fed by a single 2-pin power connector, so there isn't any advanced PWM fan control or even RPM monitoring available for the fan. In this respect it's quite basic, but typical for an NVIDIA xx50 series card.
Underneath the fan is an aluminum heatsink that runs most the length of the card. With a TDP of just 100 Watts – and no option to further increase the power limit – there's no need for heatpipes or the like here. Though the heatsink's base is big enough that Zotac has been able to cover both the GPU and the GDDR6 memory, bridging the latter via thermal pads. The fins are arranged vertically, so the card tends to push air out of the top and bottom.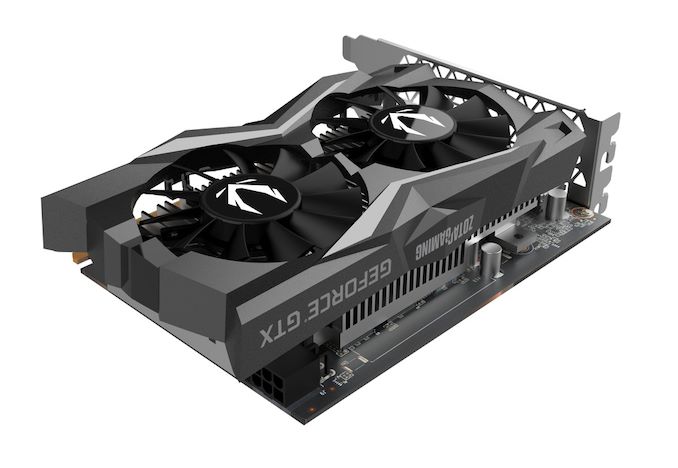 The small PCB housing the GPU and related components is otherwise unremarkable. Zotac has done a good job here seating such a large GPU without requiring a larger PCB. As we usually see for such short cards, the VRM components have been moved up to the front of the board. The MOSFETs themselves are covered with a small aluminum heatsink, though with most of the airflow from the fans blocked by the primary heatsink, I don't expect the VRMs are getting much in the way of airflow.
For power, the card relies on an 6-pin external PCIe power cable, as well as PCIe slot power. The power connector is inverted – that is, the tab is on the inside of the card – which helps to keep it clear of the shroud, but may catch system builders (or video card editors) off-guard the first time they install the card.

Finally for hardware features, for display I/O we're looking at the same configuration we've seen in most GTX 1650 cards: a DisplayPort, an HDMI port, and a DL-DVI-D port. While DVI ports have long been banished from new products, there are still a lot of DVI monitors out there, particularly in China where NVIDIA's xx50 cards tend to dominate. The tradeoff, as always, is that the DVI port is taking up space that could otherwise be filed by more DisplayPorts, so you're only going to be able to drive up to two modern monitors with Zotac's GTX 1650 Super. Of course, one could argue that a DL-DVI port shouldn't even be necessary – this lower-end card isn't likely to be driving a 1440p DL-DVI display – but I suspect this is a case where simplicity wins the day.