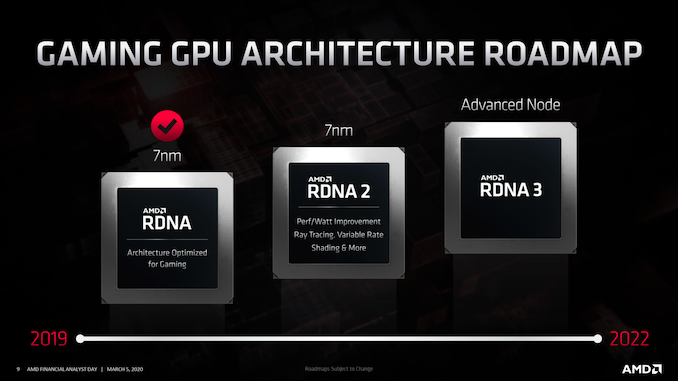 As has become something of a tradition for AMD, this year's Financial Analyst Day included a high level update to the company's GPU roadmap. The last roadmap we saw from AMD, unveiled back at the Radeon RX 5700 XT launch last summer, went as far as RDNA 2. Now with RDNA 2 (Navi 2X) set to launch this year, AMD has extended the roadmap to include what's next. And what's next is RDNA 3.
The successor to RDNA 2, RDNA 3 will build off of what AMD will achieve in the coming quarters with their forthcoming GPU architecture. With RDNA 2 not off the ground yet, for obvious reasons AMD is saying very little about RDNA 3 at this time, especially with regards to features. But what we do know is that, like RDNA 2, AMD is targeting continual perf-per-watt increases, as power consumption remains the ultimate bottleneck to total GPU performance.
Helping AMD get there will be a new process node. For now the company is not disclosing which node it will be, using "Advanced Node" as a catch-all for what they decide to use. Coming off of TSMC's 7nm process they will have several options to use, including TSMC's 6nm and 5nm processes. And given TSMC's roadmaps, it's more or less inevitable that this will be the point where AMD begins using an EUV-based process for their GPUs, as AMD has indicated that this year's RDNA 2 will not be using TSMC's EUV-based 7nm+ process.
Overall AMD has a lot of work ahead of them. While RDNA (1) and Navi 1X helped to reinvigorate AMD last year, the company is still struggling to reestablish itself as a fully viable top-to-bottom competitor to market leader NVIDIA. AMD currently trails on hardware features, while their overall perf-per-watt is currently competitive, but due in part to AMD having an atypical advantage in manufacturing nodes. So continuing to quickly iterate their GPU architecture to improve both features and their overall perf-per-watt – including moving to newer manufacturing nodes – is exactly what the company needs to do in order to become the market leader they desire to be. On the whole it's very Zen-like, and this is clearly intentional.
Meanwhile it's interesting to see that AMD is going to keep the Navi architecture name leading into RDNA 3. With the architecture set to include numerous new features compared to RDNA (1) as well as a new process node, we'd normally see a naming break at some point along that line. As more details come out about AMD's next two GPU architectures, we'll find out more about just what AMD is changing and improving.