The UHK Agent Software
Most new keyboard releases suffer when it comes to software – it often is too simplistic, or buggy, or both. This is definitely not the case for the Ultimate Hacking Keyboard, as the company has clearly spent a lot of time and resources on the delivery of an excellent software suite.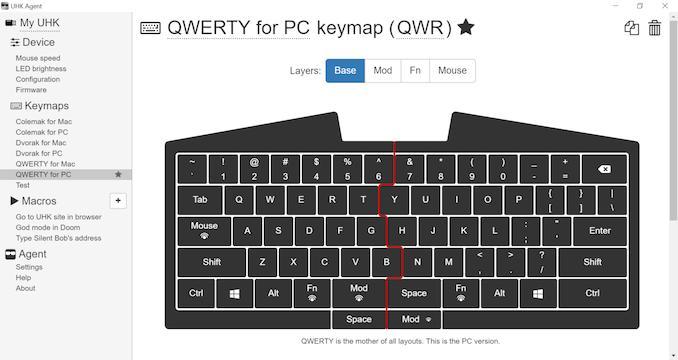 At first sight, the UHK Agent software appears to be very simple. There is a single toolbar to the left that lists all device, layout, macro, and software settings. The device settings are the most simple of all, allowing the user to manipulate mouse settings (only mouse-related functions while using the UHK, it does not affect the actual mouse), and tweak the brightness of the LEDs. We should once again mention that the keyboard has no backlighting and tweaking the brightness of the LEDs only affects the three-character screen at the top left side of the board.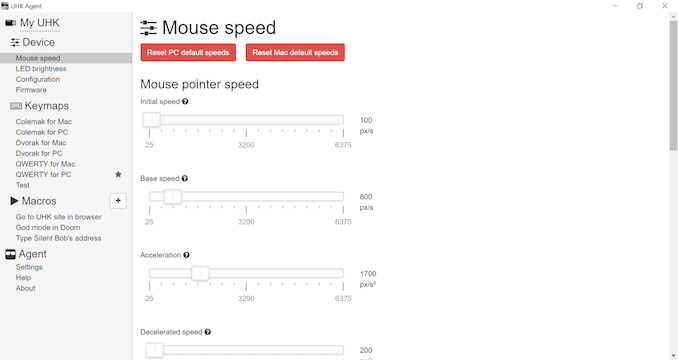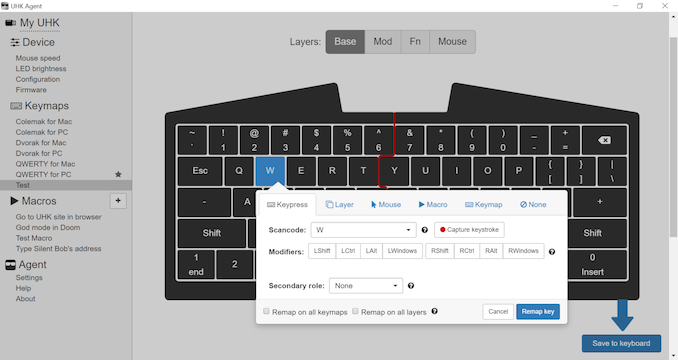 By default, the UHK has six different profiles programmed into it (QWERTY, COLEMAK, and DVORAK for Windows and Mac). Users can easily generate and save new profiles, the number of which is limited only by the (sizable) memory of the keyboard. Each profile has four layers and every key and button of the keyboard can be reprogrammed, allowing absolute programming flexibility. The software even allows for each key to have both a primary and a secondary role per layout, changing its function depending on whether it is being pressed alone or in combination with another key. Although this function probably is far too complex for regular users, experts could work wonders with it.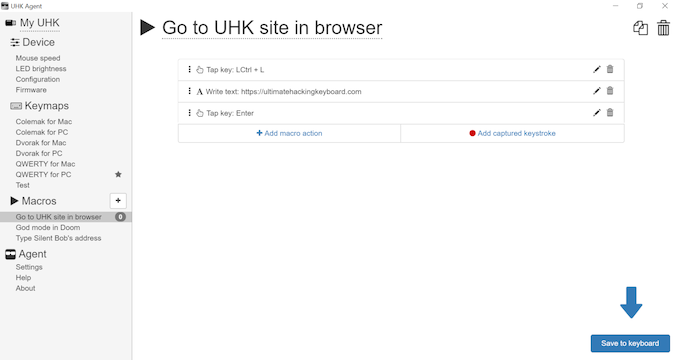 The Macro programmer of the UHK Agent software is relatively simple but quite powerful. Macros can be programmed to include anything from simple keystrokes to mouse movements, with the software allowing full manipulation of any delays as well. Note that mouse movements currently are limited to relative movements and not absolute coordinates. There is a workaround for that, i.e. experts can set the sensor to jump at an edge of a screen and work their way with relative movements from there, but including absolute movements directly into the software is always a good thing.
The only downside with the Agent software is that, for the time being, it does not seem possible for users to manipulate what is being displayed by the three-character LCD on the keyboard. As such, the LCD only indicates which layout is active (QWR for QWERTY, COL for COLEMAK, etc.).