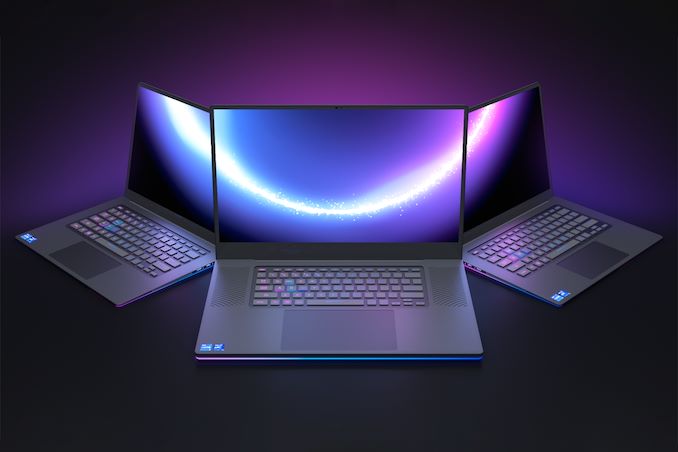 Intel has quietly released two new Arc Alchemist-series graphics processors for laptops. The new Arc A530M and Arc A570M target mid-range notebooks designed for light gaming. Perhaps the most intriguing thing about the new mobile GPUs is that they use previously unreleased ACM-G12 silicon.
Intel's Arc A530M GPU comes with 12 Xe cores and 1536 stream processors operating at 1300 MHz, which clearly distinguishes it from the company's entry-level Arc A370M GPU that only has eight Xe cores and 1024 stream processors. Meanwile, the Arc A570M features 16 Xe cores and 2048 stream processors running at 1300 MHz, which makes it clearly faster than the previously released Arc A550M with the same number of SPs at 900 MHz, but does not allow it to challenge the Arc A730M that has 3072 SPs working at 1100 MHz.
One interesting wrinkle about the Arc A530M and Arc A570M is that they seem to be based on Intel's yet-to-be-confirmed ACM-G12 GPU, according to Bionic_Squash. This graphics processor reportedly has 16 Xe clusters, which means that it sits above the ACM-G11 with eight Xe clusters and Arc-G10 with 16 Xe clusters in total. Intel yet has to formally confirm that it uses its unannounced ACM-G12 silicon for the A530M and A570M parts.
Intel Arc Comparison
Arc A370M
Arc A530M
Arc A550M
Arc A570M
Arc
A730M
Stream Processors
1024
1536
2048
2048
3072
Xe-cores
8
12
16
16
24
Render Slices
2
3
4
4
6
Ray Tracing Units
8
12
16
16
24
Xe Matrix Extensions (XMX) Engines
128
192
256
256
384
Xe Vector Engines
128
192
256
256
384
Graphics Clock
1550 MHz
1300 MHz
900 MHz
1300 MHz
1100 MHz
TGP
35-50W
65W-95W
60W
75W-95W
80W-120W
PCI Express
PCIe 4.0 x8
PCIe 4.0 x16
Memory Size
4 GB
4 GB
8 GB
8 GB
8 GB
12 GB
Memory Type
GDDR6
Graphics Memory Interface
64 bit
?
128 bit
?
192 bit
Graphics Memory Bandwidth
112 GB/s
?
224 GB/s
?
336 GB/s
Graphics Memory Speed

14 Gbps

?

14 Gbps

?

14 Gbps
One of the things that strikes the eye about the new mobile GPUs is their thermal graphics power between 65W and 95W for the Arc A530M as well as between 75W and 95W for the Arc A570M. By contrast, the Arc A550M is rated for a 60W TGP, which makes it a considerably better choice than the Arc A530M both from performance and from battery life point of view.
What remains to be seen is whether Intel uses its ACM-G12 graphics processor for desktop parts too. While the company has formally announced its Arc A580 with 3072 stream processors, this part was based on the ACM-G10 and never came to market possibly because Intel did not want to address entry-level gaming market segment. It is unclear whether Intel is interested in rolling out a discrete desktop offering that would be positioned even below the unreleased Arc A580.
Intel's newly released Arc A530M and Arc A570M are already supported by Intel's latest graphics drivers.
Sources: Intel Ark (1, 2), Bionic_Squash