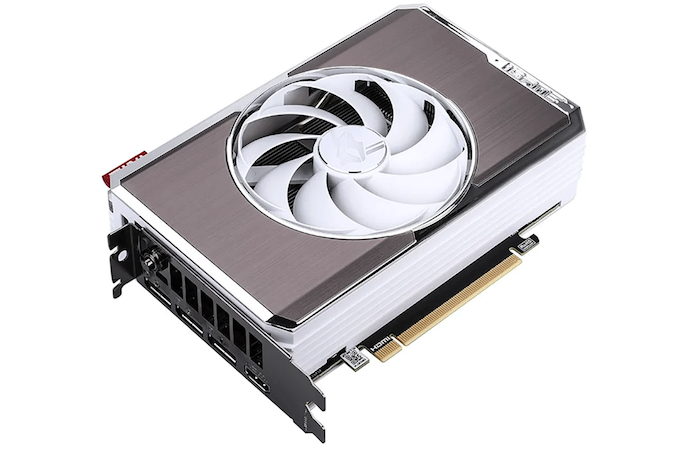 Colorful has quietly introduced GeForce RTX 4060 Ti graphics cards in Mini-ITX form-factor that combine compact dimensions and performance of Nvidia's latest Ada Lovelace GPUs. In fact, with the boosted performance of 22 FP32 TFLOPS, Colorful's iGame GeForce RTX 4060 Ti Mini OC is likely the highest-performing Mini-ITX graphics card that has been launched to date.
Looking at the options, Colorful has two iGame GeForce RTX 4060 Ti Mini graphics cards in Mini-ITX form-factor: one with 8 GB of GDDR6 memory and another with 16 GB of GDDR6 SGRAM. Both boards are naturally based on Nvidia's AD106 GPU with 4352 CUDA cores running at 2310 MHz – 2580 MHz, which is slightly higher than Nvidia's recommended 2540 MHz. The board has four display outputs (three DisplayPort, one HDMI), like fully-fledged GeForce RTX 4060 Ti boards.
Since the boards have a relatively simplistic 6+2-phase voltage regulating module (VRM), it is unlikely that the cards were designed with overclocking in mind, so it is doubtful that these devices can be overclocked significantly. Furthermore, they are equipped with a dual-slot single-fan cooling system with four heat pipes, good enough to dissipate 160W ~ 165W of heat generated by Colorful's iGame GeForce RTX 4060 Ti Mini. Still, I doubt this cooler will enable great overclocking potential.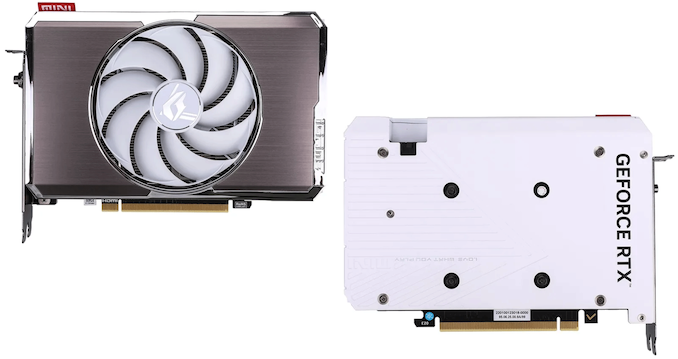 Colorful's iGame GeForce RTX 4060 Ti Mini graphics cards are said to be 199.5 mm long, which is somewhat longer than typical Mini-ITX motherboards, so owners will probably have to ensure compatibility of these AIBs with the chassis.
Compact Mini-ITX PCs are rather popular among gamers these days, but due to the high power consumption of Nvidia's previous-generation graphics processors did not allow makers of add-in-boards to make Mini-ITX versions of their midrange products. With Ada Lovelace, Nvidia opted to reduce the power consumption of its GeForce RTX 4060-series, which enabled makers of AIBs to experiment with form factors and come up with Mini-ITX versions of GeForce RTX 4060 Ti.
Unfortunately, Colorful's graphics cards are rare guests in North American and European retailers, so those interested in the company's iGame GeForce RTX 4060 Ti Mini graphics cards should probably buy directly or from retailers like JD.com.
Given that Nvidia's GeForce RTX 4060 Ti GPU is readily available from the green company, other makers of graphics cards may follow Colorful with their Mini-ITX versions at some point.
Source: Colorful