Introduction
As the price/performance ratio of solid state memory continues to improve, so does the list of companies looking to find new uses for devices built around the technology. While some of the implementations of the technology have been obvious (memory for small portable devices like cameras and phones, for example), some of the other uses for solid state memory are only now becoming practical. One such implementation has been realized recently, in the form of ExpressCard-based portable storage.
CardBus - The Legacy
When the CardBus standard was released in 1995, PCI connectivity was the fastest common slot interface in use for machines. CardBus therefore leveraged the existing PC Card standard (85.6mm long, 54.0mm wide) and created a bus to the PCI host. The resulting 68 pin cards which attached to the CardBus slot were subject to physical failure, and always suffered from having to interface their internal circuitry with a fairly complex (and expensive) connector at the end of its interface.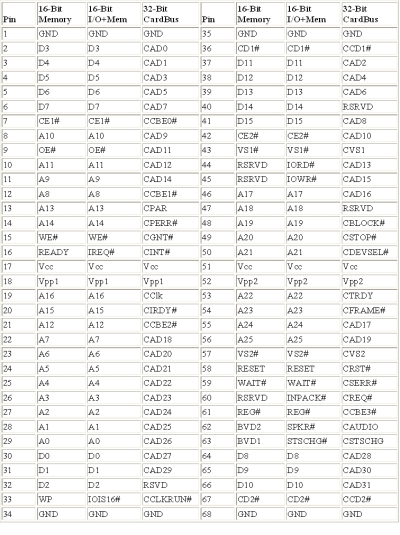 Despite the difficulties in using these connectors, CardBus modules performed a variety of functions for laptop users with relatively good levels of success. As time passed, however, the PCI standard slowly began to fall out of favor compared to USB and PCI-Express. With an eye to improving the lot in life of laptop users who were frequently attaching USB devices to their laptops which stuck out of connectors, as well as answering the increasing call from manufacturers who were concerned about PCI's life expectancy becoming shorter and shorter, the PCMCIA governing body created a new standard: ExpressCard.
ExpressCard - A New Standard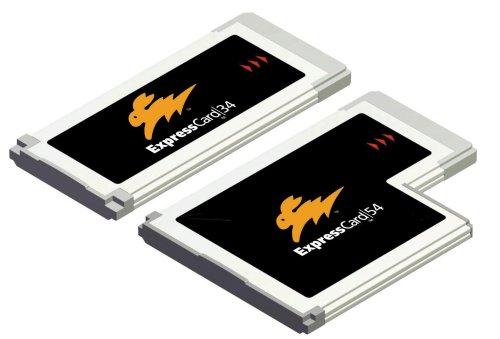 ExpressCard introduces two new packaging formats for laptops, in the form of ExpressCard/34 (34mm wide, 75mm long) and ExpressCard/54 (54mm wide, 75mm long). Both ExpressCard/34 and ExpressCard/54 share the same end connector and performance characteristics, though ExpressCard/54 was designed to allow for more internal space for the card, larger external connectors (if required by the ExpressCard module) as well as greater surface area for heat dissipation.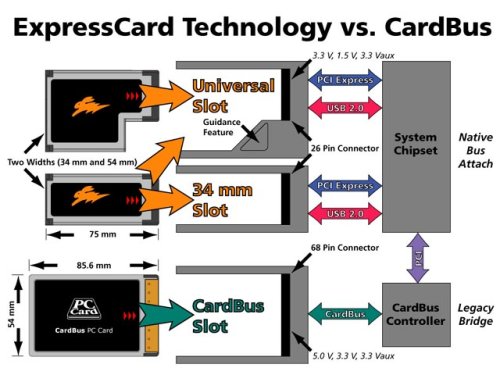 The ExpressCard standard mandates that each slot have the ability to interface either with the USB host (USB 2.0), or with a dedicated PCI-Express x1 lane. The choice of host interface is made by the attached ExpressCard module itself, and data flows over the appropriate signal pathways in the interface. This allows manufacturers to continue to leverage their existing devices which have already been developed with either USB or PCI-Express in mind, and provide a new packaging for the devices which allows for laptop usage.
Let's take a look at the Transcend ExpressCard SSD and see how it performs today.