Ultra Products is a well-known name that hardware enthusiasts have looked to for years. While their product line is very broad, including everything from mouse pads to MP3 players, their cases and power supplies are arguably their most popular offerings. There is also a strong emphasis on cooling in the design of these products.
Cooling and noise have both become more of an issue in recent years, and the continuous tug-of-war between components which focus on one of these attributes at the expense of the other have sharply divided enthusiasts. Certainly, dissipating large amounts of heat is simple if you don't mind surrounding (and filling) your case with noisy, high-RPM fans. Conversely, noise is easy to remove if you take all the fans out of a computer - though the risk of having the resulting heat damage critical components certainly increases.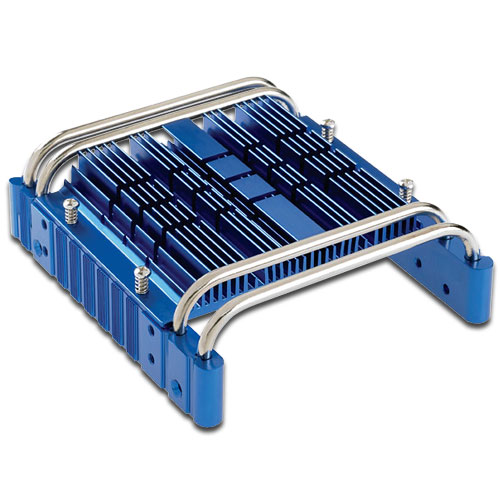 Throughout the years, companies have dealt with the most obvious sources of heat - CPUs and video cards - and most enthusiasts are already familiar with the various players in those markets. It has only been in the last few years, however, that hard drive cooling has received serious attention by manufacturers. Various approaches to dealing with the issue of hard drive heat are available, each with strengths and weaknesses. For their part, Ultra Products has maintained an active cooling design in their HD coolers, choosing to follow an inexpensive approach of simply increasing airflow around the hard drive by using fans. This approach, while effective, eliminates their products from consideration by people for whom noise reduction is paramount - home theatre PC users, for example - and with increasing numbers of desktops finding their way into living rooms, this segment of the market is getting too large to ignore.
With this in mind, Ultra Products has launched their first passive HD cooler, the ULT40010. Will it prove effective at cooling today's hard drives without any sort of fan? We'll put the ULT40010 to the test in our labs, and see if there is indeed a reason to pursue the fanless life.