Western Digital officially announced the 300GB based VelociRaptor a couple of weeks ago as the successor to the Raptor family. We provided a preview of the drive and came away impressed with its performance although our review sample was suffering from early firmware problems and other maladies.
Western Digital responded to our concerns quickly and provided us with a new drive. Western Digital still has not finalized the firmware for the retail market, but expects to very shortly. We will provide a full review of the drive including RAID and enterprise benchmark results once this occurs. The acoustic and thermal characteristics of the new drive did not differ from our previous results. However, the performance differences noticed when testing the new drive is worth a quick update to our original article.
HD Tune Pro 3.00 –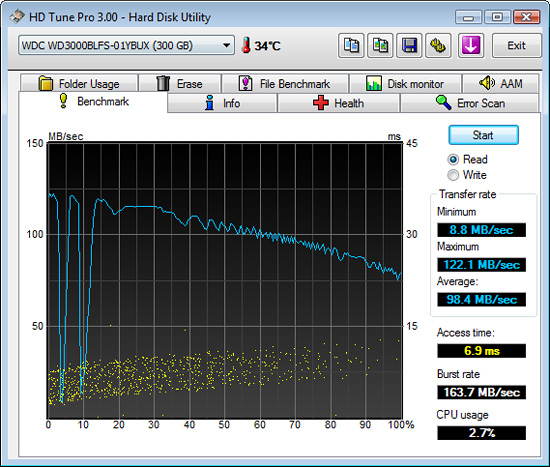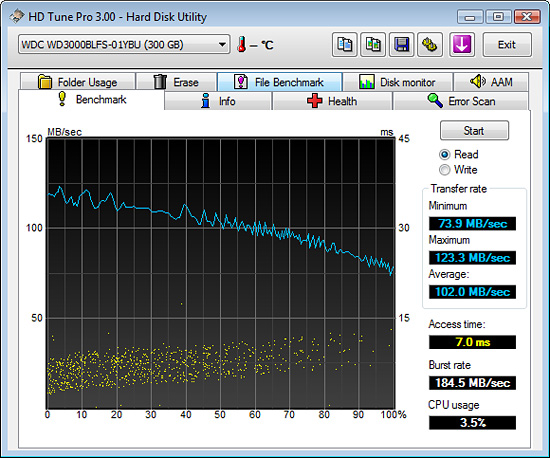 We no longer have the optimization problem with the servo algorithm that resulted in slowdowns on the outer diameter of the platters. Minimum transfer rates increased from 8.8 MB/s to 73.9 MB/s while the average STR increased from 98.4 MB/s to 102.0 MB/s. Burst rates also increased from 163.7 MB/s to 184.5 MB/s.
Application Results –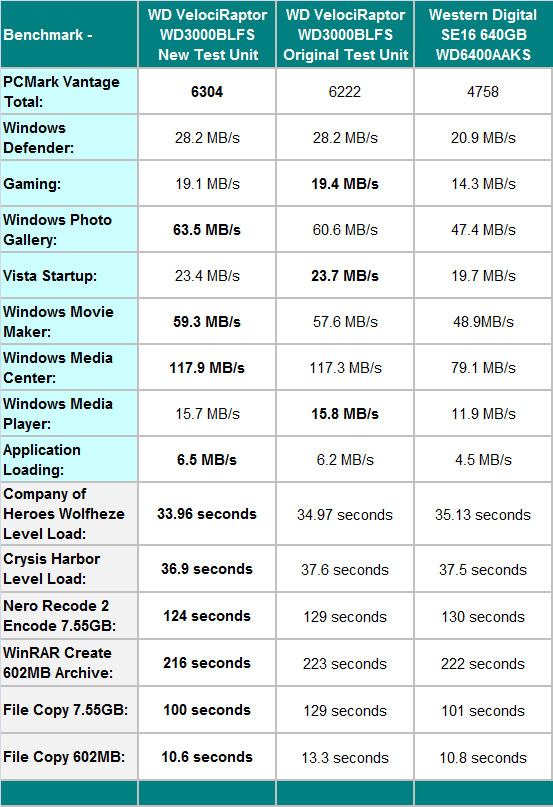 Our PCMark Vantage tests that simulate real-world performance patterns utilizing a variety of actual applications changed very little. The only measurable differences came in the Photo Gallery and Movie Maker tests. It was in our initial application tests where the new drive significantly outperformed the original test sample. Our game tests indicated very little difference between the drives, but enough to be measurable over the dozen test runs.
In the video and file application tests, we significant improvements as the drive no longer slows down during the initial write process. As such, we see a 29-second improvement in the 7.55GB file copy test, 2.7 seconds in the 602MB file copy run, 5 seconds in the traditionally CPU intensive Recode test, and 7 seconds in the WinRAR test.
Quick Thoughts –
We have always appreciated every drive release in the Raptor family. Since Western Digital eradicated the bugs in our test unit, we firmly believe the improvements implemented in the VelociRaptor easily make it the SATA drive to have if performance is at the top of your shopping list. While the 300GB capacity and $1 per Gigabyte cost do not fair favorably to the latest 640GB to 1TB drives, both "penalties" are acceptable enough for us to recommend the VelociRaptor as the primary drive in any performance oriented system.