X750 - Connectors and Cable Lengths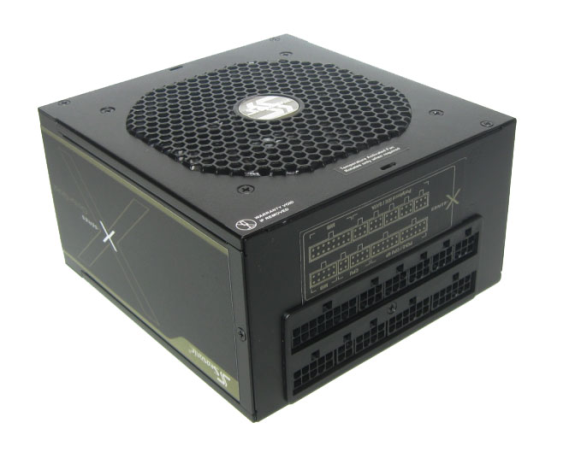 Since the X750 is equipped with a fully modular connector panel; even the main plugs are detachable. That can be useful for those who don't want to deal with fixed cables during installation, and it potentially allows custom cables (i.e. shorter harnesses) in the future. A sticker above the sockets shows where to attach each type of cable harness. On the left side are two connectors—one 16-pin and one 10-pin—that combine to form the main 24-pin cable. There are two PCIe connectors with two 6/8-pin PCIe connections per harness. 4-pin ATX12V and 8-pin EPS12V are available, along with five sockets for SATA/Molex harnesses. All of the cables are sheathed with a soft mesh fabric, through which you can still see the cable colors.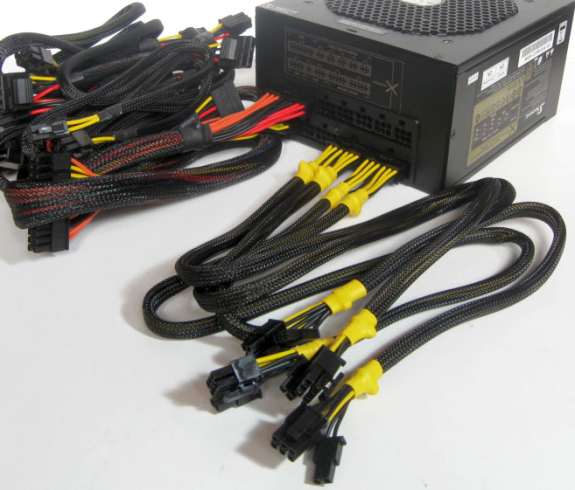 The harnesses are reasonably long but you'll want to measure on larger cases just to be safe. The 24-pin, ATX12V, and EPS12V are 55cm, as are the four 6/8-pin PCIe harnesses. The peripheral cables are up to 80cm long, with an additional adapter that lets you connect two floppy plugs (15cm). Using all of the harnesses, you get eight SATA and Molex connections, so there's enough for a good size RAID setup with a few optical drives.
| | |
| --- | --- |
| Main | 24-pin 55cm |
| ATX12V/EPS12V | 4-pin 55cm / 8-pin 55cm |
| PCIe | 4x 6/8-pin 55cm |
| Peripheral | SATA 35/50cm |
| | SATA 45/60/75cm |
| | SATA 50/65/80cm |
| | PATA 35/50cm |
| | PATA 45/60/75cm |
| | PATA 50/65/80cm |
| | + Floppy 15cm |