SYSMark 2007 Performance
Our journey starts with SYSMark 2007, the only all-encompassing performance suite in our review today. The idea here is simple: one benchmark to indicate the overall performance of your machine.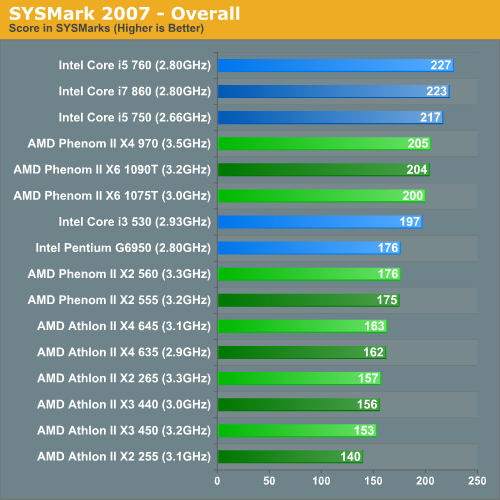 Let's go down the matchups shall we? The Phenom II X4 970 BE is competitive with the Core i5 750. Intel manages a 5.9% performance advantage in this comparison, but as I mentioned earlier the two chips will trade blows across much of our benchmark suite.
The Phenom II X6 1075T doesn't have a direct competitor but here it does worse than the cheaper Core i5 750. SYSMark is mostly a test of good dual-core performance and as a result Intel's turbo does more for performance here than AMD's 2-extra cores. It's a valid scenario to keep in mind as the number of applications that can stress all 6 cores are limited. Although when you're running one, there's generally no substitute for more cores.
As I mentioned in the introduction, the Phenom II X2 560 will easily lose to the Core i3 530 as the graph shows above. The same is true for the Athlon II X4 645. The chip gives you four cores at a very competitive price, but in a test that primarily stresses two cores the 645 doesn't get a chance to run.
The Athlon II X3 450 vs. Pentium G6950 matchup begins in Intel's favor, however this is the one and only time in our review that you'll see this happen.
Adobe Photoshop CS4 Performance
To measure performance under Photoshop CS4 we turn to the Retouch Artists' Speed Test. The test does basic photo editing; there are a couple of color space conversions, many layer creations, color curve adjustment, image and canvas size adjustment, unsharp mask, and finally a gaussian blur performed on the entire image.
The whole process is timed and thanks to the use of Intel's X25-M SSD as our test bed hard drive, performance is far more predictable than back when we used to test on mechanical disks.
Time is reported in seconds and the lower numbers mean better performance. The test is multithreaded and can hit all four cores in a quad-core machine.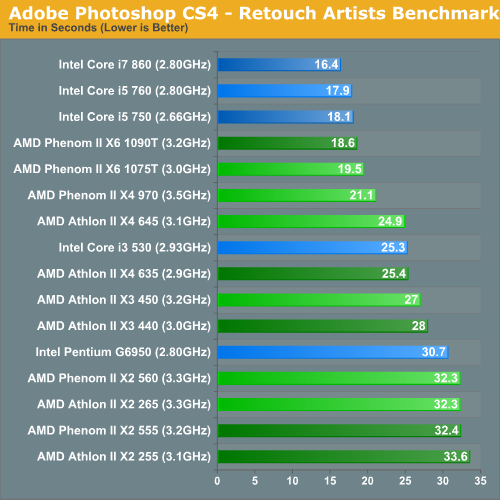 Our Photoshop benchmark has traditionally favored Intel's architectures, which is definitely visible when you look at the Phenom II X6 1075T and Phenom II X4 970 BE above. The Athlon II X4 645 does slightly better than the Core i3 530 (effectively on-par with the 540), while the Athlon II X3 450 does noticeably better than the Pentium G6950. You can also see why I'm not really interested in the dual-core parts. They perform well, but that third core does come in handy for very little added cost.