To shoot video on WP7, you tap the video switcher in the top left after launching the camera application. Unfortunately, if you're always firing up the camera app to shoot video, you're going to have to tap this every time, as the setting isn't saved. Frustratingly, the resolution of videos you shoot in the camera app also isn't saved - you need to explicitly demand 720P each time if you want it, otherwise you'll just get VGA.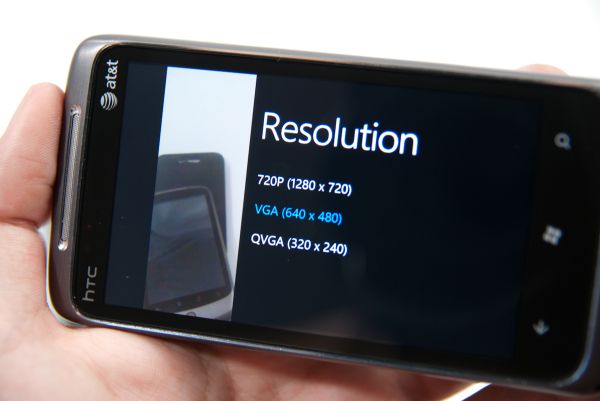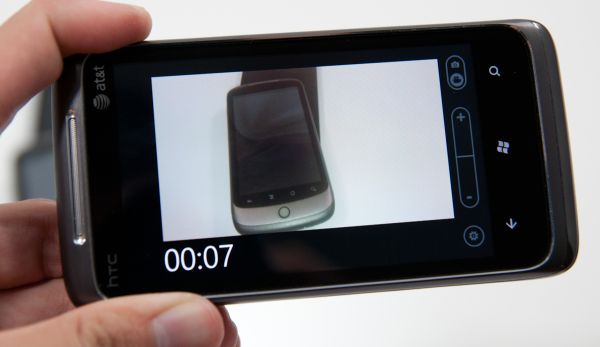 HD 720P videos recorded on the HTC Surround (and I'm assuming the same applies to the other WP7 devices) are shot in 24 FPS MPEG-4 with stereo AAC audio. I recorded 34 seconds of 720P video 34.8 MB in size, for an average bitrate of around 8 megabits/s.
Video quality itself is decent, but what I noticed across two HTC Surrounds was that the camera runs the autofocus routine very frequently during the video, resulting in a pretty apparent zoom in, zoom out effect that can be very distracting. If you've used an autofocus smartphone camera, you know exactly what I'm talking about. It runs it sporadically.
The other problem is that the audio track recorded on the Surround sounds like it's underwater - literally. There's something very strange about it, and it sounds this way regardless of what audio recording setting the Surround was set to (Stereo, Normal, or Noise Reduction).
I'm left with pretty mixed feelings about the Surround (and WP7) camera application. Settings should be preserved when quitting the application and coming back, icons don't rotate or give visual feedback that shooting in portrait is supported, and the default of not shooting in the highest quality video mode has continually resulted in me cursing under my breath when I realize later that video I shot is VGA, not 720P. Then we have the strange underwater audio recording on the Surround itself. Hopefully these are things that are actively being worked on and will get fixed in a patch.