SYSMark 2007 Performance
Our journey starts with SYSMark 2007, the only all-encompassing performance suite in our review today. The idea here is simple: one benchmark to indicate the overall performance of your machine.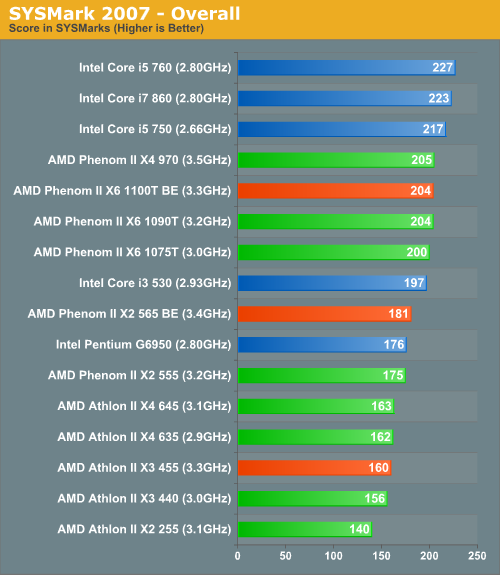 SYSMark 2007 is getting very long in the tooth and we're still another couple of quarters away from an updated version for 2011. That being said, it does function as a good representation of lightly threaded application performance. There's little to gain from moving to four cores here and basically nothing to be seen from the move to six cores. The Phenom II X6 1100T is within several percent of the performance of its Core i5/i7 competitors.
The lack of an L3 cache holds the Athlon II back, which is made evident by the solid performance increase seen by the 565 BE. Both of these parts are around 10% off of their competitive performance targets.
Adobe Photoshop CS4 Performance
To measure performance under Photoshop CS4 we turn to the Retouch Artists' Speed Test. The test does basic photo editing; there are a couple of color space conversions, many layer creations, color curve adjustment, image and canvas size adjustment, unsharp mask, and finally a gaussian blur performed on the entire image.
The whole process is timed and thanks to the use of Intel's X25-M SSD as our test bed hard drive, performance is far more predictable than back when we used to test on mechanical disks.
Time is reported in seconds and the lower numbers mean better performance. The test is multithreaded and can hit all four cores in a quad-core machine.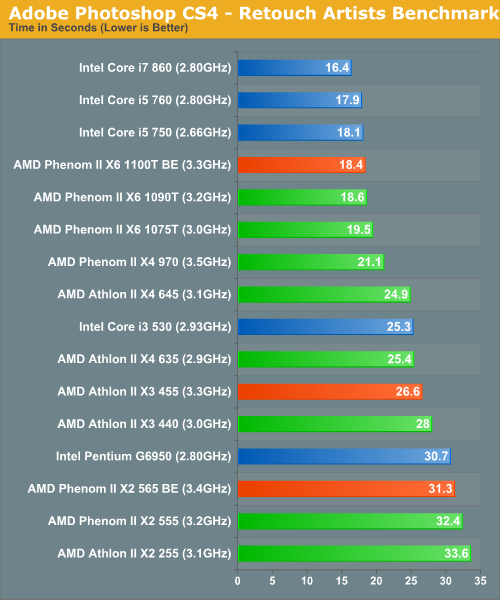 In our Photoshop CS4 test, AMD has effectively equalled the performance of the Core i5 with the Phenom II X6 1100T. The i7 860 is a bit faster but the i5 comparison is very close. The Athlon II X3 455 is 15% faster than its closest competitor, the Pentium G6950. The Phenom II X2 565 BE doesn't get many points for its large cache, it's the third core that puts the Athlon II X3 ahead here.