New Windows-based Systems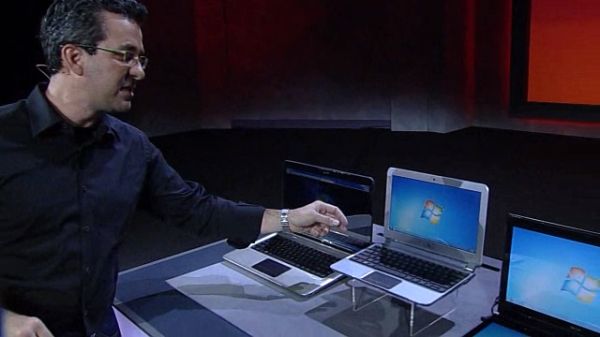 Microsoft was pretty excited to introduce some new systems based around the latest technologies from its main partners. First they showed off some new notebooks running Sandy Bridge, which we've covered extensively in the past. From there, Microsoft moved on to HP's new DM1, which is based on AMD's line of Fusion mobile APUs. The DM1 starts at $449, and houses an 11.6" WXGA display in an attractive enclosure. Inside, there's the AMD Vision E-350, which has two 1.6GHz cores and a Radeon HD 6310 on board. HP is claiming 9.5 hours of battery life on the standard 6 cell, 55 Wh battery, which is competitive with Atom and pretty impressive if that figure holds up in real life testing.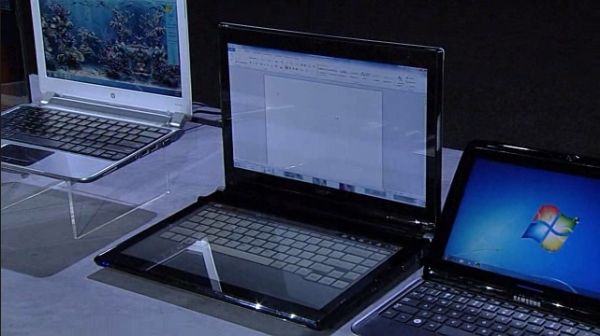 Obviously, the big thing at CES this year is tablets, and Microsoft has their fair share of them to trot out. On stage, they started with the 14" Acer Iconia dual-screen tablet. Spec-wise, it's a pretty standard mid-range notebook, with a Core i5 processor, Intel's onboard graphics, 4GB memory, and a 750GB hard disk. The real story is in the twin WXGA capactive touchscreens that enable some innovative new input methods. However, it's still just a concept device for now.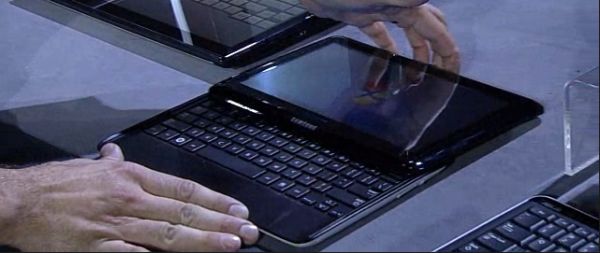 Next up was the Samsung Sliding PC 7 Series, which is a new kind of convertible tablet. Similar in concept to the ASUS Slider tablet that was announced earlier at CES, the Sliding PC 7 Series (no, I did not make that name up) is a standard tablet in which the screen slides up to reveal a netbook sized keyboard and then tilts forward to become a regular notebook-like system. The Sliding 7 is an Oak Trail-based system, running the 1.66GHz Z670 processor with a 10.1" WXGA touchscreen, 2GB memory, 32GB and 64GB SSD options, Windows 7, and a $699 pricetag. According to Samsung, it will boot in under 20 seconds and has a 9 hour battery. Quite frankly, I'm in love. We managed to get some hands on impressions of the device later on at the Intel booth; I'll give you more details in a future post.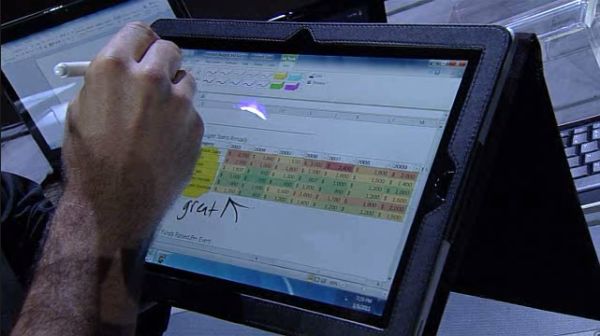 Lastly, Microsoft showcased ASUS' EP121 tablet. We already looked at this one in our ASUS tablet annoucement post, but we got some hands on time as well, so let's reiterate - it's nice. It's absolutely jam packed with features, and it's not terribly expensive for what it is. The Core i5 UM processor, IPS display, and Wacom digitizer are a combination of features that really wins the high-end tablet market, so it's not suprising that Microsoft chose to highlight it in their keynote. But the overall takeaway here is that Microsoft seems pretty excited with the direction that Windows 7-based systems are going, with new form factors and plenty of exciting technologies being developed and released at a very rapid rate.