The Budget Intel Atom Nettop
For our budget Intel nettop, we start with the Intel BOXD525MW. This is the basic, no frills dual-core Atom board, sporting the 1.8GHz Atom D525. This is currently the fastest Atom CPU available, but that's not saying a lot, and the GMA 3150 graphics are a major bottleneck for content like HD video. Compared to older Atom variants, there are a few benefits. First, it uses less expensive DDR3 RAM instead of DDR2 (DDR3 prices are now below DDR2). Note that this board uses laptop SO-DIMMs, not standard desktop DIMMs. One problem is that this board has only a VGA port (no DVI, no HDMI), but that's part of the vanilla Atom experience. For the memory, we've selected basic RAM that's compatible with the motherboard. There's no sense in buying high-performance RAM for an Atom board, and 2GB is sufficient to run Windows 7 with moderate multitasking. If you're doing stuff that would benefit from 4GB, you're probably going to want a faster platform than Atom.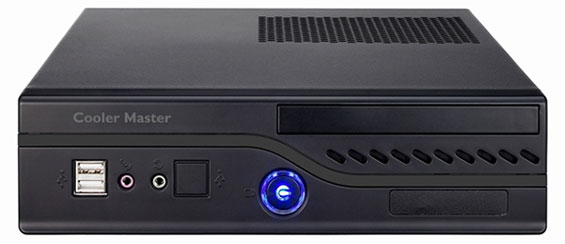 As noted in the introduction, we've selected four difference Mini ITX case + PSU combinations for this guide. Some are substantially more expensive, and the choice of case will affect other component choices as well. Some of the cases lack support for integrated optical drives, some use regular 5.25" optical drives, and others use laptop optical drives. The hard drive situation is also variable, as a couple of the cases use 3.5" hard drives while the others use 2.5" drives. Whichever case you select, make sure you choose the appropriate components elsewhere.
For the budget Intel setup, we chose the Cooler Master Elite 100 RC-100-KKP3-GP. We like this Cooler Master mini-ITX case because it's cheap, includes a decent power supply, has VESA mounts so it can very easily be attached to the back of an LCD monitor to save space, and it can accommodate a 3.5" desktop hard drive instead of a 2.5" laptop drive. That means you get better storage performance and capacity (but still nowhere near SSD performance) for less money. We chose the Western Digital Caviar Blue 500GB as a nice balance between capacity and price. Most 3.5" hard drives seem to have bottomed out at around $35-$40 shipped, so there's not much point going any smaller. You could go with Samsung, Hitachi, or Seagate as well and get similar performance, so if you find a better deal from a reputable retail outlet go for it. I recommend the Western Digital here simply because prices are essentially equal, performance is close enough to be a non-factor, and Western Digital's RMA process in my experience is the best in the business. (Hopefully you never need to use it.)
The case supports a slim laptop optical drive, which will cost a bit more than a standard desktop drive, but the Samsung SN-S083F/BEBE burner we selected is the cheapest we could find. Note that it does not come with the smaller screws you need to mount it, so if you don't have screws sitting around, you'll need to improvise a mounting solution. (I've used double-sided tape, Velcro, and duct tape in the past.) The Samsung drive does not use a standard SATA connector, so you'll need an adapter for that as well. Because of these inconveniences and the fact that USB devices are increasingly taking the place of optical discs, I consider optical drives in nettops an option—and I rarely install them. Keep in mind as well that external, USB-powered DVD burners are readily available for not much more than the cost of a standard internal optical drive. If you decide to forego an optical drive, you'll want to research how to install Windows 7 from a flash drive. It's very straightforward and requires a 4GB (or larger) flash drive and a separate system that has a DVD drive.
That brings us to the final item, the operating system. We're using Windows 7 Home Premium 64-bit on all of the nettops in this guide, as it's the de facto standard for PC operating systems. I recommend using the 64-bit version instead of the 32-bit version because you might eventually want to drop another 2GB SO-DIMM in the box, and it's the same price as the 32-bit flavor. The total system cost including optical drive is $328 (not including the possible cost of smaller screws and an adapter for the optical drive), or just skip the DVDRW completely and you can put this together for $302.