As motherboard layout is important in ensuring that airflow is as unobstructed as possible, case design is also critical in facilitating excellent airflow. If you're building a system with one or two hard drives, most cases work fine for a home file server - just make sure there is a fan near the hard drive(s) so it is not sitting in stagnant air. However, if your server requires multiple disks, here are a few cases that work especially well for file servers.
Mini-ITX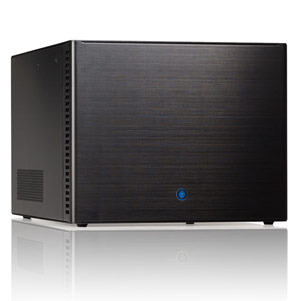 Fractal's Array R2 is a nearly perfect home file server case. At less than 14" deep by 10" wide by 8" tall, it occupies little volume. It positions a removable hard drive cage immediately behind a quiet yet powerful 140mm intake fan. The hard drive cage accommodates up to six hard drives using vibration-dampening silicone mounts, and there is also room for a 2.5" drive (either an SSD or HDD). According to my testing, when stuffed with six low-rpm 2TB mass storage HDDs and one SSD (with an Intel Pentium G620 CPU installed), the temperatures of the HDDs hover around 40C even when all drives are under artificial sustained load (using Iometer). The PSU is a custom SFX form factor model, 80+ efficiency 300W unit with ample amps on the split 12V rail to power six HDDs. The PSU features seven SATA connectors and one legacy molex connector, so there are no extraneous molex plugs and enough SATA plugs. Furthermore, the cables are shorter than typical, so excessive cabling does not interfere with airflow. The case itself is constructed of aluminum so it is lightweight, and its overall build quality is very high. It does not have room for an optical drive, but I consider optical drives superfluous for a home file server. If necessary, you can always hook up a USB interface external optical drive. The only drawback of this case and its PSU is the price: at just under $200, it is not cheap. However, the subjective aesthetics, objective functionality of the case and the custom PSU are worth the cost if you want a small but capacious home file server case.
Micro-ATX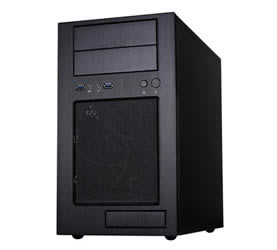 As I prefer home file servers that take up as little space as possible, Silverstone's TJ08B-E is a great, smaller micro-ATX minitower. It's less than 16" deep, 9" wide, 15" tall and weighs less than 12 pounds. It can accommodate up to five HDDs plus one SSD. As with the Fractal Array R2, the hard drives are placed immediately behind a front intake fan - though in this case, it's an even larger 180mm unit. The TJ08B-E is flexible in that it can hold a couple optical drives as well as a GPU in case you want to repurpose or multipurpose it. When stuffed with four low-rpm green drives, the temperatures under load don't exceed 45C during sustained transfers. Overall build quality is very good, like most Silverstone cases.
Silverstone makes a diminutive, fully modular PSU that makes working with smaller cases like the TJ08B-E, Lian Li PC-Q08, and others much easier. Silverstone also offers a short cable kit, making the ST50F-P PSU even better suited to SFF cases. Finally, it's clear that Silverstone had smaller multi-HDD systems in mind when designing the CP06 SATA power plug extension cable. This extender connects to a single SATA power plug and then has four SATA power plugs that are spaced closer than usual together, further reducing cable clutter. Though the cost of these accessories adds up, they make an ideal cabling solution very easy to implement. Regardless of whatever PSU you decide to go with, if you use a split 12V rail model, make sure you don't load up one rail with HDDs. If you go with a single 12V rail model, you'll want that rail to be beefy - for example, don't try to put ten HDDs and four case fans on a budget PSU with a 20A 12V rail.
Full Tower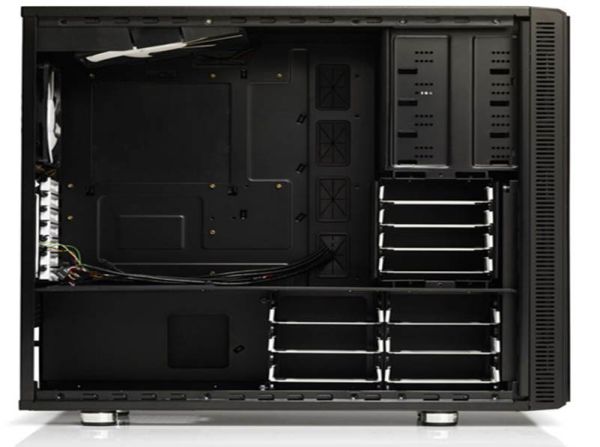 Very few cases can accommodate ten HDDs at stock (without adding adapters), and such cases are not at all small. Full towers also typically offer excellent airflow, and cable management is not very difficult. Fractal's Define XL is one of the least expensive 10 HDD bay full tower cases available. It is well-built, and extra care has been paid to making the case quiet in the form of panel insulation. It is impossible to hear active HDDs inside this case even when you're sitting just a few feet from it (even the notoriously loud VelociRaptors). Further, there are plenty of integrated niceties like adjustable/flexible cable baffles that assist in cable management. Seven of the ten HDD slots are immediately behind fans, with three slots one cage removed from the front intake fans. Even still, the HDDs that aren't right behind the fans stay cool (between 35C and 40C). At around $150, it is an excellent value. Just make sure you don't pair it up with Silverstone's short cable kit!
We've saved the most important aspect of a home file server - the hard drives - for the next and last component page.