Assembling the Antec Solo II
While Antec has made a lot of strides in at least trying to make the Solo II easy to assemble, I'm not going to lie: I was pretty much dreading actually putting it together once I opened it up. Difficult assembly doesn't necessarily a bad case make (Ed: Says Yoda?); SilverStone produces some incredible cases, but half of the time you don't build them, you solve them.
Ordinarily I'd start by mounting the motherboard, but in the Solo II the absolute first thing you should install is the power supply. SilverStone's Temjin TJ08-E wasn't exactly easy to build either (top-mounted PSUs just seem to be problematic this way), but heaven help you if you ever need to replace your PSU once you've built a system inside the Solo II because you're just not going to be able to fit it around your heatsink. Thankfully the power supply went in alright, and Antec preinstalls most of the mounts for an ATX motherboard by default. The PSU and motherboard were pretty much the easy part.
Update: The Solo II ships with philips head screws attaching the PSU support bar on all sides, so you'll be able to remove the power supply without dismantling the rest of the enclosure.
Antec stashes the drive rails for the two 5.25" drive bays in the bottom of the case, a welcome change that keeps them readily available so that Antec's customer service doesn't have to gracefully send you free replacements (note: they've done that for me as a regular tax-paying ninja before I started doing these reviews). To install the 5.25" drive, along with anything using the 3.5" drive mounts, you'll need to remove the front panel. There are three levers on the inside of the enclosure that you press in, and the front panel actually swings outward on hinges. You're better off just lifting it off and removing it, though.
As much as I appreciate the rails for the optical drive, I've noticed they don't line up quite perfectly by default (you'll see in my completed build that the ODD is recessed), but the real question I have is why this isn't a tool-less installation to begin with. Virtually everybody else has graduated to a tool-less or near-tool-less mounting system for optical drives, but these rails are the exact same ones I installed on my friend's CD burner back when I assembled her AMD Athlon XP 2500+ machine. I wish that were an exaggeration. This needs to be updated desperately.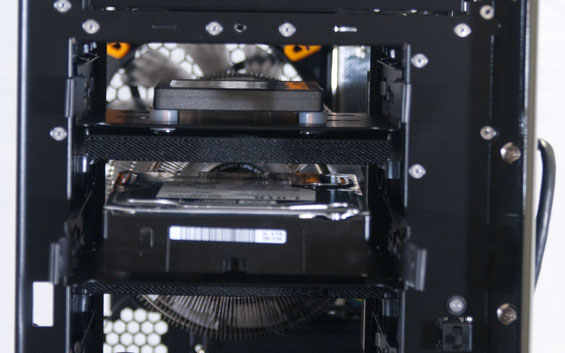 The press materials suggest hard drives are easy to install and upgrade, but don't you believe it. You have to remove the front panel, then unscrew a hinged ventilation grate (also capable of holding a 120mm intake fan) to get to the drive mounting system. From there you can either strap a 3.5" drive in with the suspension system (I'm not a fan), or you can remove the drive sleds and do it that way. I prefer the drive sleds as they include silicone grommets and can support both 3.5" drives and 2.5" drives. As a nice feature, you still use the grommets for mounting 2.5" drives, a reminder that 2.5" mechanical hard drives still exist (something other case manufacturers often forget), though we'd generally recommend 2.5" SSDs for desktop systems.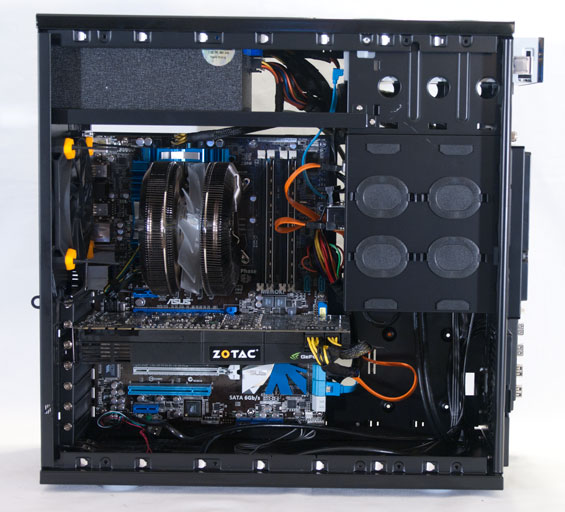 Finally, installing the video card was easy enough (as it usually is), but Antec uses old-fashioned screws for mounting instead of thumbscrews. Honestly I'm not sure I care that much either way; I'm terribly frail and generally just don't have the strength to twist thumbscrews unless I'm in a hurry, and I always wind up using a screwdriver anyhow. Cabling was a red nightmare, though, and again I have to stress: modular power supplies are your friend.
I'm keen to point out that SilverStone sent me a little dongle to try out and I've wound up using it in the last two case tests. This cable converts one SATA power cable into four in a neat line, and it is fantastic.