External Impressions and Cable Configuration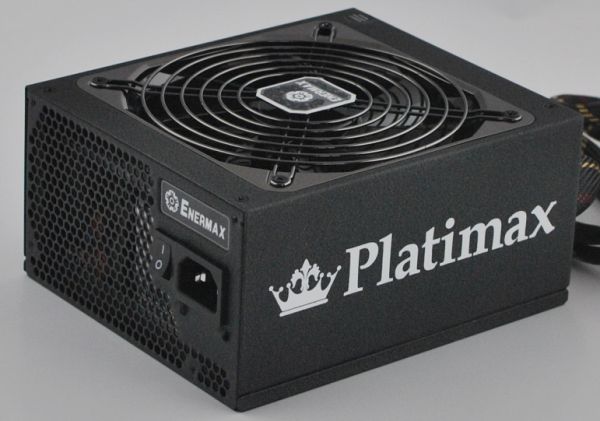 The rugged and very thick material is strongly reminiscent of the Revolution85+ series. The color is charcoal gray, with a platinum-like surface around the fan grille. The grille has an Enermax logo in the middle, with a Platimax logo and a picture of a crown on both sides of the power supply. Our personal preference is that more is less when it comes to logos and such, but others might appreciate the markings on the case.
The modular plugs protrude slightly at the front of the PSU. The PCIe plug sockets have a different color than the ones for the peripheral components. The cable sleeving is high-quality, but the gold and red stripes on the sleeves don't quite fit with the 80 Plus Platinum certification. While it's not likely important for many users, there will be some that dislike the Platimax aesthetic.
Cables and Connectors

Main
24-pin 55cm fixed
ATX12V/EPS12V
4+4-pin 60cm fixed
8-pin 60cm fixed
PCIe
2x 6/8-pin (50cm) modular
2x 6/8-pin (50cm) modular
Peripheral

4x SATA (ca. 45, 60, 75, 90cm) modular




4x SATA (ca. 45, 60, 75, 90cm)

modular

4x Molex (ca. 45, 60, 75, 90cm) modular


4x Molex, 1x FDD (ca. 45, 60, 75, 90, 105cm) modular
The connector configuration is satisfying. Both CPU cables are very long at 60cm. Each of the two PCIe cables reach 50cm. Altogether the model has four PCIe connectors for graphics cards. The eight SATA connectors are not bad for a 750W power rating. The FDD plug, if you still need one, is at the end of one Molex cable harness. The 24-pin and CPU cables are permanently fixed. Enermax prefers a semi-modular connector system for lower wattages; it's only if you buy the 1000W+ models that you get modular mainboard cables. It's an odd distinction, really—are fully modular PSUs someone more for "enthusiasts" that other 80 Plus Platinum power supplies? Does anyone actually detach their CPU/mainboard cables? Regardless, that's how Enermax has chosen to configure this particular model.